Russia Update: February 13, 2017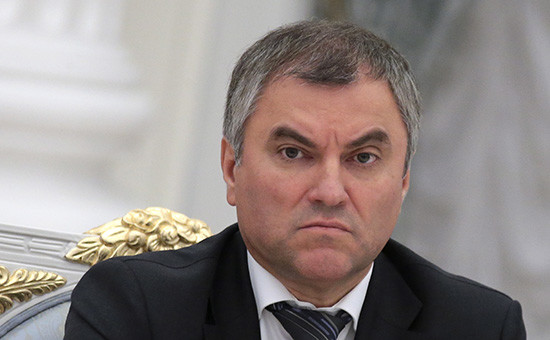 Military Police Battalion from Ingushetia Sent to Syria; Constitutional Court Rules Sentence Review for Dadin
Russian speaker of parliament Vyacheslav Volodin. Photo by Kommersant. 
The ruble is trading at 58.09 to the dollar and 61.56 to the euro. Brent crude is selling for $55.55 per barrel.
The following news items have been taken from 7:40 na perrone, RBC, Gazeta, Fontanka, Meduza, Currenttime TV, Vedomosti, Kommersant, Instagram, Rights in Russia, and The Interpreter.
- Religious Procession Around St. Isaac's Cathedral and Prayer Service with Conservative MP Milonov, Vice Premier Igor Shuvalov's Brother Yury
Russian Opposition Journalist Kara-Murza, Jr. Moved from Intensive Care to Regular Hospital Room
Gazeta reported
today February 13
citing TASS
that Vladimir Kara-Murza, Jr., the opposition journalist who collapsed February 2 with suspected poisoning has been moved from the intensive care ward to a regular hospital room.
"He has been transferred from intensive care to the therapy ward," his lawyer, Vadim Prokhorov was quoted as saying.
On Improvement of Health Condition of Vladimir Kara-Murza, Jr. - as of February 11, 2017 (18:00 Moscow Time)




I am happy to report that Vladimir Kara-Murza is on the mend -- thanks to the efforts of his wonderful doctors and his family, above all Evgenia Kara-Murza [his wife].




Today [journalist and Soviet-era political prisoner] Alexander Podrabinek and I managed to talk directly for a few minutes with Volodya [Vladimir].




Of course, the state of his health is still not back to normal, but all the life-support systems have been shut off, and a positive dynamic is evident.




Possibly, in the next few days if the positive dynamic is kept up, Vladimir Kara-Murza will be transferred out of intensive care.




Then, in any event, a stage of rehabilitation will follow.




Thanks to everyone for their attention and support!
Kara-Murza suffered a similar attack in May 2015, which at that time he and supporters believed was a deliberate poisoning in retaliation for his work. Russian doctors were unable to identify the toxic substance, then or now.
Kara-Murza has worked as program manner for Open Russia founded by former political prisoner and businessman Mikhail Khodorkovsky.
In 2015, Kara-Murza was hospitalized for months and then underwent a prolonged rehabilitation in the US where his family lives. He then decided to return to Russia and resume his work in the fall of 2016.
Right before he collapsed February 2 of this year, he had travelled to the provincial town of Tver, where had had shown a film about slain opposition leader Boris Nemtsov. In past years, both Nemtsov and Kara-Murza had appeared before the US Congress in support of the Magnitsky Act.
"In recent years we have seen that attempts on the lives of people actively protesting against the current regime has become a frequent practice in Russia. In their attempts to rid themselves of any opponents, the ruling groups easily cross from a traditional policy of smearing and general intimidation to individualized violence."
-- Catherine A. Fitzpatrick