Day 1089: February 10, 2017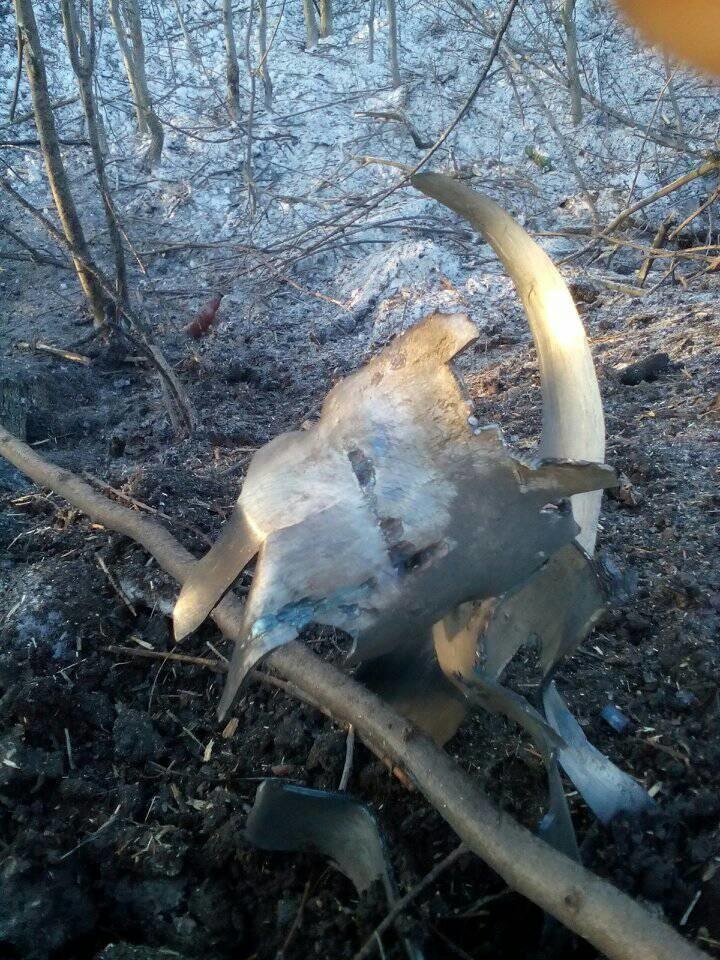 Reports Of Grad Rocket Attacks Near Donetsk This Afternoon
There are reports this afternoon that Russia-backed forces in Donetsk have fired Grad rockets on Ukrainian-controlled Krasnogorovka.
Translation: Grad on Krasnogorovka 14:35.
Oleg Livanchuk, head of the military-civil administration in Krasnogorovka, to the west of Donetsk city, posted on his Facebook page at 16:06 (14:06 GMT), that the town had come under fire "in broad daylight" from Grads and 120-mm mortars.
He posted two photos, one possibly showing twisted wreckage from one of the rockets, and another, the buried tail of a mortar round: 
There are also reports on social media of Grad fire to the north of Donetsk:
Translation: Approximately half a salvo of Grads just fell near Donetsk Airport
Translation: Salvos from Donetsk flying to Avdeyevka.
The Ukrainian military claims that, in addition to Grads and mortars, Russia-backed forces have used tanks and grenade launcher in attacks on Krasnogorovka today.
There have also been reports of mortar fire near Mariupol: 
One civilian was wounded after tripping a mine on the road between the government-held villages of Pavlopol and Chermalyk, outside Mariupol. The Ministry of Defense claims that the mine was left by Russia-backed fighters.
According to the Donetsk police, the victim, born in 1993, suffered shrapnel wounds and blast trauma and is now undergoing surgery. 
Meanwhile, the Ukrainian military has released photos of a Russian drone they claim was shot down on Wednesday near Mariupol. 
Zakharchenko Vows To Avenge Commander's Death As 'Givi' Buried In Donetsk Today
Separatist leaders today took part in the public funeral for Mikhail Tolstykh, the paramilitary commander known by his nom de guerre of Givi who was assassinated on Wednesday
Aleksandr Zakharchenko, leader of the so-called Donetsk People's Republic (DNR), laid flowers on Tolstykh's coffin after it was carried through central Donetsk on an artillery piece:
Zakharchenko, who has blamed the Ukrainian security forces for the killing, said last night:
"They're forcing us to avenge Mishka [affectionate form of Mikhail], to launch an offensive. This is the breakdown of the Minsk agreements. But this offensive would be absolutely irresponsible, therefore we will prepare ourselves, but we will take revenge for Givi in any case."
Tolstykh was
buried this afternoon
next his late comrade, Russian Arsen Pavlov, aka Motorola, who was assassinated in October last year.
Yesterday Pavel Kanygin, special correspondent for Russia's independent Novaya Gazeta published a report based on an online interview with an individual identifying themselves as Igor Mylytsev, aka Frantsuz (Frenchman), who claimed that they were a member of Tolstykh's Somali Battalion and had been involved in his assassination.
The source told Kanygin that he and three other members of the battalion had organized the killing because they felt betrayed by Tolstykh after he had wounded himself to avoid front-line combat in Avdeyevka and called in artillery strikes on their positions, apparently terrified that Ukrainian forces were about to break through their lines.
There had been rumours over the week preceding Tolstykh's death that he had deliberately shot himself in the leg, after separatist news outlets reported he had been injured in combat.
However last night another individual, also claiming to be Mylytsev, told Russian media that his VKontakte account had been hacked and that the statements given to Kanygin were false. This "real" Mylytsev said that he had been discharged from military service in Givi's unit on March 3, due to health reasons, and that his online profile was hacked in September last year. He denied any participation in Tolstykh's death.
An update on Novaya Gazeta's report states that the newspaper is still investigating the claims.
-- Pierre Vaux