Day 1043: December 26, 2016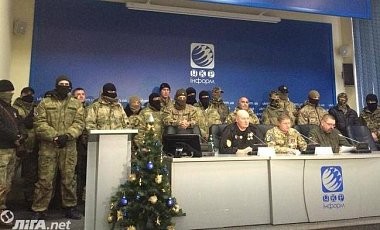 Holiday Ceasefire Broken, 5 Ukrainian Soldiers Wounded; 3 Bodies of Those Killed at Svetlodarsk Returned
As we reported,
the Christmas cease-fire started December 24 didn't hold up past Western Christmas on December 25, although most Orthodox and Uniate Ukrainians will not celebrate Christmas until January 6.
Today December 26, Ukrainian Defense Minister Stepan Poltorak announced at a briefing in Kharkiv that the agreement was not being observed and that Ukrainian positions had been fired on 33 times,
Liga.net reported.
"This is testimony of the aggressive policy that the RF [Russian Federation] is supporting and the aggressive behavior of the terrorist groups in Donetsk and Lugansk," he said. He said Ukrainian forces were monitoring the situation closely and were "prepared to react" if necessary.
Five Ukrainian soldiers were wounded today on the front at Verkhnyetoretskoye and Luganskoye, Col. Andriy Lysenko, spokesman for the Ukrainian Defense Ministry on ATO [Anti-Terrorist Organization] issues
reported at his briefing.
Bodies of Ukrainian Soldiers Killed at Svetlodarsk Returned 
With OSCE monitors present, militants returned the bodies of three Ukrainian soldiers killed at the Svetlodarsk Bulge battles last week, Unian reported. The official KIA count was 8 soldiers from December 18-23 and 33 WIA. Reports that as many as 12 had been killed could not be confirmed. As we reported, this was likely the fiercest battle of the year.
The Defense Ministry continues to deny reports that soldiers taken prisoner were tortured to death, Unian reported. Medical examiners from the Dnepropetrovsk Morgue said Lt. Nikita Yarovoy and soldier Andrei Baybuz, identified by a fellow serviceman and his wife, respectively, died due to bullet wounds, and no other signs of violence was found.
Basile Budik, advisor to the deputy defense minister,
wrote on his Facebook page today
that all three soldiers from the 54th Battalion whose call signs were "Shaytan" [Devil], "Ef" [F] and "Semyanin" [Family Man] were confirmed as having died in battle, and not killed in captivity. Eyewitnesses reported the death of Shaytan [
Nikita Yarovoy
] on December 18. Ef asked that another young fighter be taken from the battlefield and remained behind himself, managing to call his mother before he died. There were reports that Semyanin was wounded and taken prisoner, but his body was found 200 meters from the separatists' positions.
He told me in conversation who had given him this information, to which I provided a video where the faces of the guys are clearly visible, and in what state. And I explained to him that these actions cause harm to the negotiations which our guys were having to exchange the bodies.




Unfortunately, instead of stopping the dissemination of fakes, people are still trying to accuse me of something. 




We all know how much our guys in captivity have been in brutal conditions; we know what many of them had to go through; we have facts of the death of our guys in captivity. And all that together does not give us the right to put out untruthful information.




The question arises -- why is this done?




Why make martyrs out of Heroes?




The guys stood until death and for the sake of their memory we must be honest!



Budik then indicated the names of those involved in the negotiations and who knew the details of the circumstances of how the soldiers died for further information.
DNR and LNR Heads Say They Will Release 2 Women Hostages 
Aleksandr Zakharchenko and Igor Plotnitsky, heads of the self-declared "Peoples Republics of Donetsk and Lugansk" announced that they were prepared to release two women hostages and return them to Ukraine through Nadiya Savchenko, UNIAN reported.
Irina Gerashchenko, first deputy chair of the Verkhovna Rada and representative for Ukraine in the Trilateral Group's humanitarian working sub-group
said the release of any hostage is welcome
and these cases had been discussed since the spring; one worked in the media and another in a state institution. She said that on a unilateral basis, Ukraine had offered the DNR/LNR 15 people from the list of prisoners they had requested, which included 6 women.
Translation: The SBU has not confirmed the transfer by the militants of two women hostages.
Aidar Volunteers Announce Blockade of Occupied Territories
Former Aidar Battalion commander Valentin Likholit, known by his call sign "Batya" [Dad] announced that veterans from Aidar and Donbass were organizing a blockade of the occupied territories and demanding the release of POWs, Liga.net reported.
The announcement followed an ultimatum given on December 16 that if POWs were not freed, the blockade would begin.
They said they would prevent the transport of metals, coal, lumber, commercial amounts of alcohol and cigarettes into territories of the Donbass held by Russia-backed forces. He said the blockade would not affect civilians transporting grain, water, and cereal for their own issue.
He said the volunteers were demanding the release not only of the POWs in official lists but those in lists of the volunteer battalions also known to be held by the separatists. They also expected resistance from authorities who trade with the separatists.
Likholit was held for two months earlier this year on charges of kidnapping. Fellow Aidar soldiers blocked the court house in protest. The case was based on a complaint from the Radical Party's Sergei Melnichuk, the first commander of Aidar, DSNews.ua reported. Former separatists
complained to Melnichuk that the Aidar soldiers had abused them.
-- Catherine A. Fitzpatrick