Russia Update: December 23, 2016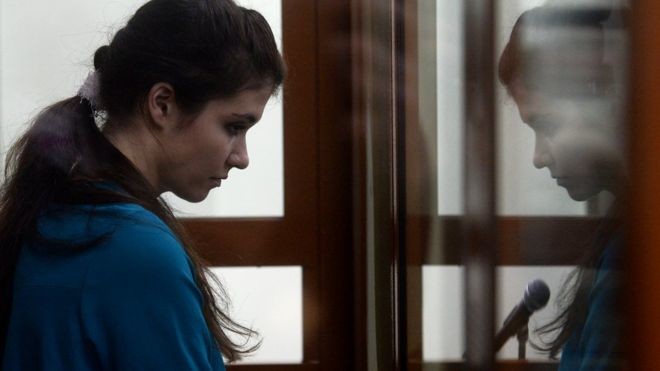 Human Rights Activists Say 4.5 Year Prison Sentence Too Harsh for Moscow University Student Who Tried to Join ISIS
Putin Echoes Trump, Saying 'A Guy on a Couch' May Have Hacked DNC - and Other Highlights from Press Conference
President Vladimir Putin gave his annual marathon press conference today December 23, his most popular of such events throughout the year because journalists -- both loyalist state and pro-Kremlin media as well as critical independent media -- get to ask a lot questions, sometimes quite pointed.
Putin went 3 hours and 50 minutes this year -- not his personal best, but given the prevalence of more soft-ball questions this year, it was long enough to make a reporter from the Guardian (which ran a live blog) say his shoulder hurt, and prompted Gazeta (which live-blogged in Russian) to say "Boorrring..."
Here is the full video (in Russian):
The Twitter parody account summed up the frustrations reporters increasingly have with this format: 
Reporters traditionally try to get attention to themselves in the throng by wearing funny hats and holding up big signs. 
Translation: Russian journalists have come to Putin's annual press conference with his portrait, Trump and the sign "Putin -- this is outer space."
Translation: Annnnd the winner in the nomation for Best Poster.
The reporter is holding up a picture of Boyaryshnik, the lotion containing methanol that poisoned to death at least 72 people in Irkutsk Region who drank it as an "alcohol surrogate". Putin's response to a question about the tragedy was to imply that people -- including "someone from a foreign country" simply wanted to get rich off people, Gazeta reported.
Likely the topic that got the most headlines both in the West and in Russia was Putin's interference in the US elections. Here Putin brushed aside any claims that Russia -- and he personally -- was involved in the hack of the Democratic National Committee (DNC) and other institutions related to the US elections and said it "could be some sitting guy on a couch." 
As the Guardian reported:
On hacking the US election, Putin says that he won't reveal his private conversations with Obama. He says: "Losers always look for ways to accuse someone else. The always forget the most important thing. Let's say some hackers hacked Democratic emails. As Trump said: "Who knows who did it?"

Putin repeats Trump's comments that "maybe it was some guy sitting on a couch who did it". He says that "the truth came out". We discovered that the Democrats were manipulating the election to help Hillary Clinton and hurt Bernie Sanders, Putin says. 
Putin spoke in so much detail about the US elections issue on resignations that followed the disclosures and the "faithless electors" that it almost appeared as if he were trying to imply he personally managed Russia's interference in them. He even said that Russia was among the few countries to know Trump was going to win.
Russia is expected to continue to gain an advantage from the Trump administration.
The election system is "archaic" although "America is a great country," Putin commented.
An acerbic tweet following Putin's  scathing remarks about the US:
The picture on the left shows Obama talking with Putin on the margins of a world summit meeting. The painting on the left is a famous Russian art work depicting Lenin meeting with the peasant supplicants.
Even when Trump tweeted about the need for increased US nuclear defense, virtually at the same time Putin was making his own call for greater nuclear strength for Russia although claiming Russia "wouldn't start a nuclear war," he shrugged, as if to say this is what great statesmen do.
Reuters
Putin says Trump's statement on nuclear weapons no surprise
Politics | Fri Dec 23, 2016 | 5:03am EST MOSCOW Russian President Vladimir Putin said on Friday that a statement by U.S. President-elect Donald Trump about the need for the United States to boost its nuclear capabilities was not a surprise and was normal.
View full page →
Certainly there seemed to be more soft-ball questions this year than in past, to the point that Gazeta commented sarcastically about one reporter's query about environmental issues the government was handling -- with celebratory coverage by the press -- that it was a "question-boast."
On Syria:
Without Russia's involvement, Turkey and Iran couldn't cooperate; Aleppo is the "largest humanitarian action in the world," although impossible without Turkey and Iran -- and of course Russia. 
Kurdistan24 asked about Putin's attitude toward Kurdish independence, and he noted "the courage of the Kurds" but called for acting "within international law". He added that the rights of the Kurds would be guaranteed, but in what form would depend on Iraq and the Kurds themselves; Russia would not interfere in an internal Iraqi issue. 
On Russian Economy:
When a journalist comments that 2016 has been "a turbulent year" for the economy, Putin replies that "everything is relative" and "we have to look at macro-economic indicators". GDP was down last year by 3.8%, Putin says, but predicts the fall in 2017 will be 1%. In short, the economy is "developing positively".
The budget was planned with oil at $40 per barrel; now it's at $55 per barrel, providing 1 trillion 750 billion rubles for the budget, but refrained from speculating about how high oil might go.
On Sechin's Suing of Independent Press
Putin was unapologetic about reporters' concern over the chilling overreach of his close crony, Igor Sechin, CEO of Rosneft, who has successfully sued Novaya Gazeta, Vedomosti and RBC over their critical articles.
"What else can he do to defend his honour and dignity? He goes to court, like in any other civilised country," Putin says. The court has ruled and this is "normal," said Putin.
On Murder of Boris Nemtsov
Five Chechens are currently on trial for the murder of opposition leader Boris Nemtsov in February 2015. But journalists asked about their superior commanders and whether Ruslan Geremeyev, deputy commander of the Sever battalion in Chechnya, would be summoned.
On Heavy Treason Sentence for Woman Who Sent Text About Russian Military Vehicles Headed to Georgia
An RTV journalist, after first asking a smarmy question about what was wrong and hypocritical with American democracy tacked on a query about a 7-year sentence for treason given to a Russian woman who texted to a friend the news that Russian military armor was headed toward Georgia, back at the time of the Russian-Georgian war in 2008. As we reported, there have been a spate of such cases.
Putin first claimed that the Russian judiciary was "independent," which is hardly the case, then went on to say that he felt the sentence was too harsh as well and he would look into the circumstances. 
On Family Violence
Russian liberal media has been covering with concern a State Duma law amendment that would decriminalize some domestic violence. 
Asked about juvenile justice, Putin said "children should not be spanked" and the state should not interfere in the family, promising to return to this issue. 
On Cultural and Political Controversies 
Asked about the conflict over the Yeltsin Center, where some conservatives have protested about a "too negative" portrayal of history at the exhibits there, Putin took the opportunity to say he was against "aggravating" the discussion of Russia's history and noted that the preparations for the 100th anniversary of the 1917 revolution should lead to reconciliation and not division.
A journalist from Znak.com asked why Putin said one thing but did another; Putin said she was too "categorical." The next reporter asked about Russian Orthodox activists who were in fact only driving people away from Orthodoxy by their actions, and the political elite was only "throwing down a challenge to Putin."
Putin asked to stop here. Then he called on both those showing exhibits and patriots to "show restraint". The reference was to extreme Orthodox activists who had demonstrated to shut down exhibits they thought were obscene or maligned the church or were unpatriotic, i.e. a photography exhibit at the Sakharov Center that showed among various conflicts and tragedies around the world, some photos from the war in Ukraine.
On State Oil and Gas Companies
Vedomosti  asked why revenue from Gazprom and Rosneft seems to lodge at Rosneftegaz, a state majority-owned company with stakes in both companies, doesn't find its way to the budget. Putin insisted that Rosneftegaz was "absolutely transparent" and said the company finances sciences and education when the government  cannot do so.
The question was asked because Rosneftegaz is the entity that will receive the funds from the sale of 19.5% of Rosneft's shares, in a deal which has raised a lot of questions because it is not clear where the entire amount of financing referenced by Sechin is available and where it will come from.
On the Bridge over the Kerch Straits and Other Construction Projects
Typical of the fluffy questions was one about the naming of the Kerch Straits bridge being built to forcibly-annexed Crimea by the Russian occupation authorities. There has been some discussion that it would be named after Putin. Recently, strong winds caused construction work on the project to be halted, and in general it faces engineering and political challenges.
A reporter from Yamala asked when construction would start on the long-promised North Latitude Corridor, and Putin said when the time was right.
On Putin's Next Run for Presidency
The Wall Street Journal's Nathan Hodge asked if there would be elections next year. The next presidential elections are scheduled for 2018, but there has been widespread speculation that Putin would move them to 2017 to ensure his victory.
"In which country?" Putin joked.
Then he replied it was "possible" but "not expedient."
-- Catherine A. Fitzpatrick