Day 1019: December 2, 2016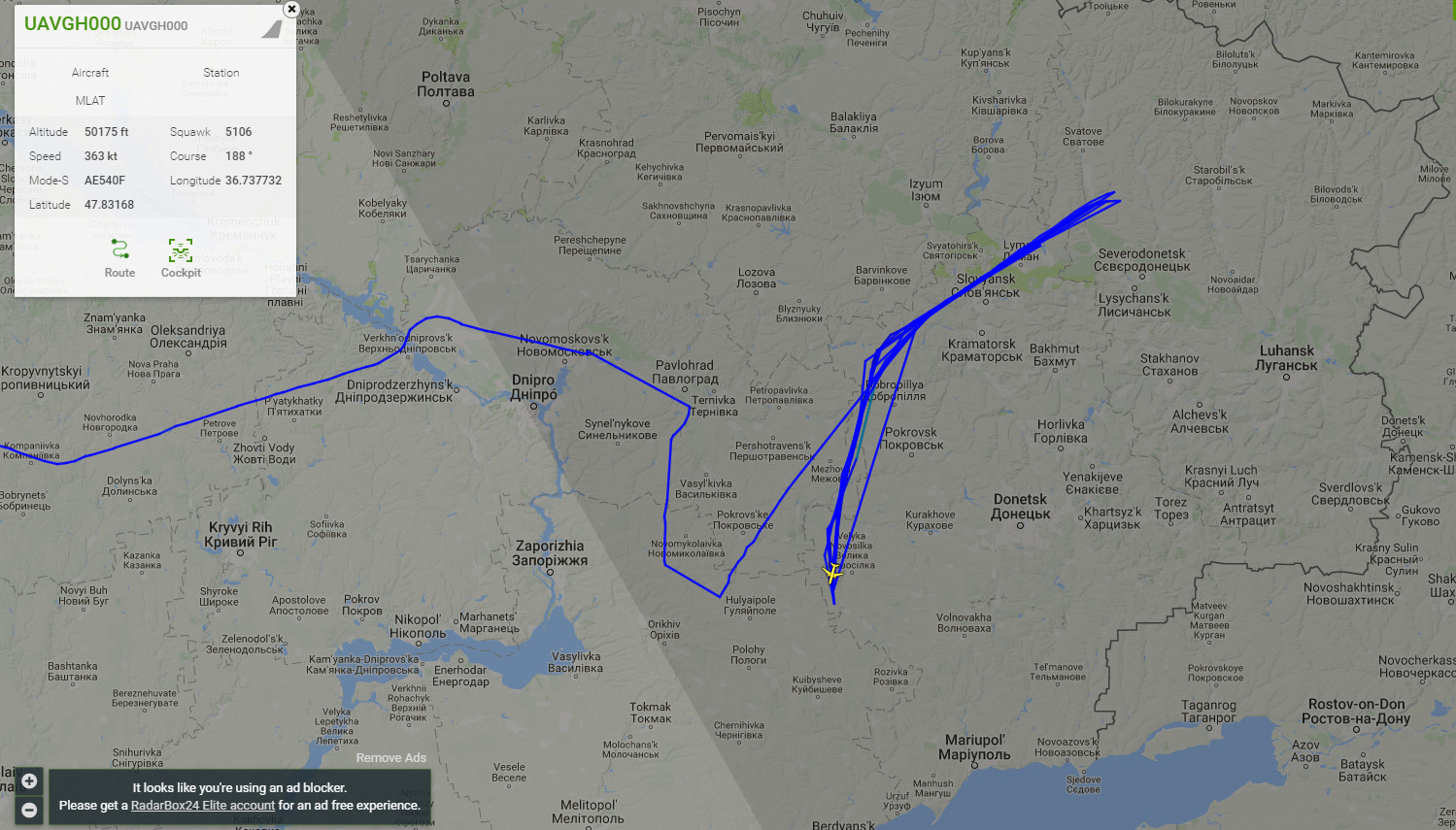 A USAF Global Hawk Reconnaissance Drone Patrolled The Donbass Today
A US Air Force RQ-4A Global Hawk reconnaissance drone was spotted today flying over the Donbass in eastern Ukraine.
This is not the first time that a USAF drone has been recorded flying over Ukraine. Several flight have been reported, most recently, in October this year, a Global Hawk was recorded flying, with its transponder turned on, over Ukraine's Mykolaiv and Kherson regions, near the frontier with Russian-occupied Crimea.

The Aviationist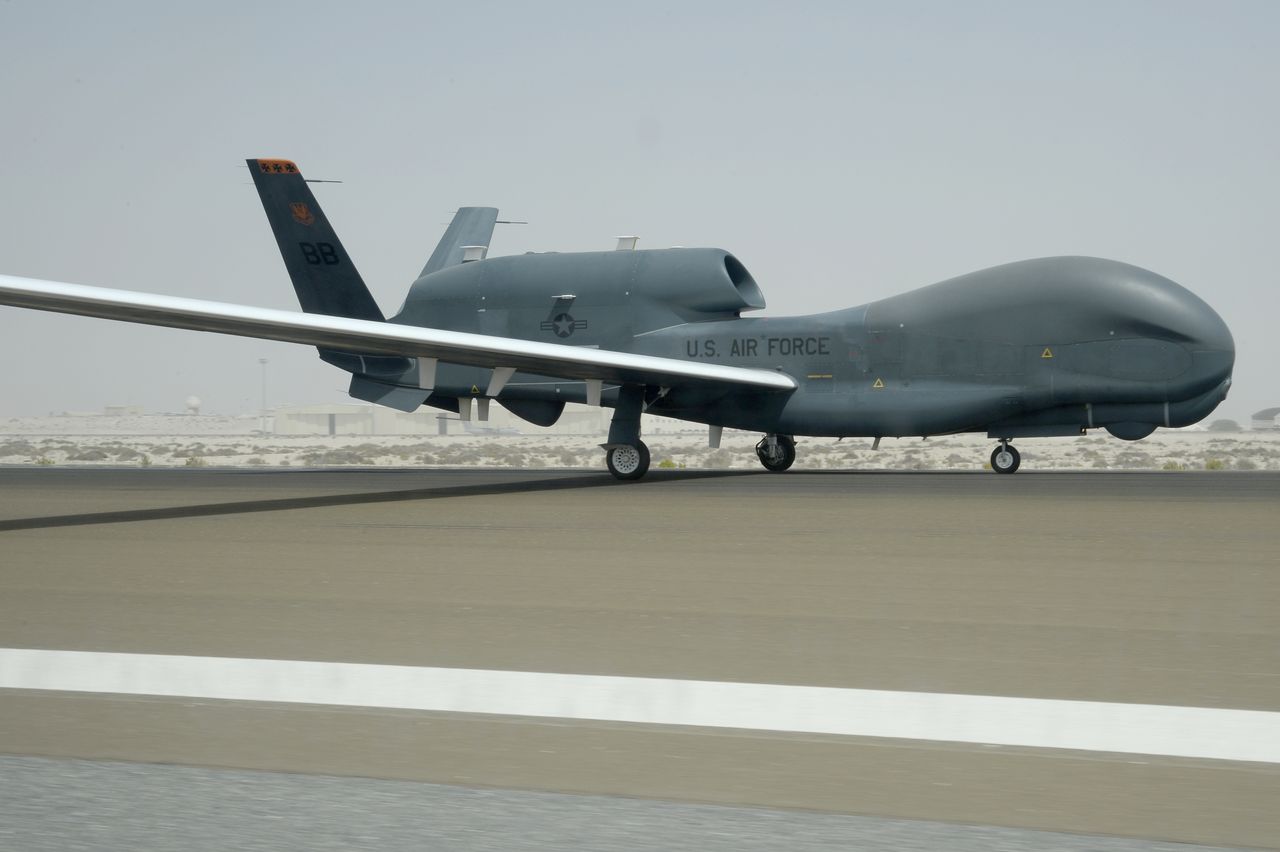 U.S. Air Force RQ-4 Global Hawk drone flew over Ukraine with transponder turned on for everyone to see
Reports of U.S. Air Force RQ-4 Global Hawk UASs (Unmanned Aerial Systems) flying over Ukraine are nothing new. Back in April 2015, quoting Gen. Andrei Kartapolov, Chief of the Main Department for Operations at the Russian General Staff, ITAR TASS reported that American high-altitude long-range drone were regularly spotted over the Black Sea and, beginning in March 2015, they were also monitored flying over Ukraine.
View full page →
However today's flight is the first time we have seen a USAF drone flying near the front line in the Donbass.
The UAV was first spotted by Strategic Sentinel, a US private intelligence firm, using an ADS-B transponder monitoring web service: 
At 14:07:
At 14:08:
The latter two screenshots indicate that the USAF drone spent a considerable length of time flying back and forth between a location just south of Velikaya Novoselka and another to the north of Severodonetsk.
This path maintained a distance of between 60 and 75 kilometres from the front line at all times at an altitude of over 50,000 feet.
While the exact range of the sensors aboard the RQ-4A are classified and depend on the sensor package included, the drone would almost certainly have been able to gather extensive radar and optical data on Russian positions near the front line.
The Russian General Staff claimed in April last year that the use of Global Hawk drones over the Black Sea "increased the depth of data gathering on the territory of Russia by 250 kilometers to 300 kilometers."
Douglas Barrie, Senior Fellow for Military Aerospace at the Institute of Strategic Studies, told The Interpreter that he had no doubt that today's flight would have been able to gather data of value.
In reporting on the flight north of Crimea in October this year, David Cenciotti of The Aviationist suggested that the choice to fly with a transponder turned on, thereby making the surveillance drone visible to the public, had been made to send a message:
We can't completely rule out this happened by accident but considered that the risk of breaking OPSEC with an inaccurate use of ADS-B transponders is very well known it seems quite reasonable, in a period of raising tensions with Russia, to believe that the unmanned aircraft purposely broadcast its position for everyone to see, to let everyone know it was there.

Russian spyplanes have done the some in the past: for instance the Tu-214R, Russia's most advanced intelligence gathering aircraft deployed to Syria and flew along the border with Ukraine with its transponder turned on.
-- Pierre Vaux
Ukraine Suffers Military Casualties From Both Enemy Fire And Betrayal
Ukraine has suffered another day of heavy military casualties.
According to Colonel Andriy Lysenko, spokesman for the Ministry of Defense, one soldier was killed in Krasnogorovka, west of separatist-held Donetsk.
One soldier was wounded in Avdeyevka, to the north of the city, and two were injured by shelling in Shirokino, on the Azov coast, east of Mariupol. 
Furthermore, another Ukrainian soldier, a sergeant commanding a platoon, was killed by a member of his own squad at a front-line position near Novotoshkovskoye, on the Bakhmutka highway in the Lugansk region.
Volunteer Roman Donik reported on Facebook that the killer was one Oleg Olegovich Popov, a serviceman in the 93rd brigade who was originally from Odessa but had enlisted at a recruitment office in the Donetsk town of Krasnoarmeysk.
Donik claimed that Popov had wounded his platoon commander with an assault rifle before finishing him off with a knife, then gathered up guns and grenade launchers and fled in a BMP infantry fighting vehicle. 
When he tried to drive to the Russia-backed forces' line to escape, his vehicle came under mortar fire, causing him to crash. Both Colonel Lysenko and Donik report that he then headed off towards the enemy line on foot.
According to the Ukrainian military, Russia-backed forces conducted 42 attacks yesterday.
-- Pierre Vaux