Russia Update: October 19, 2016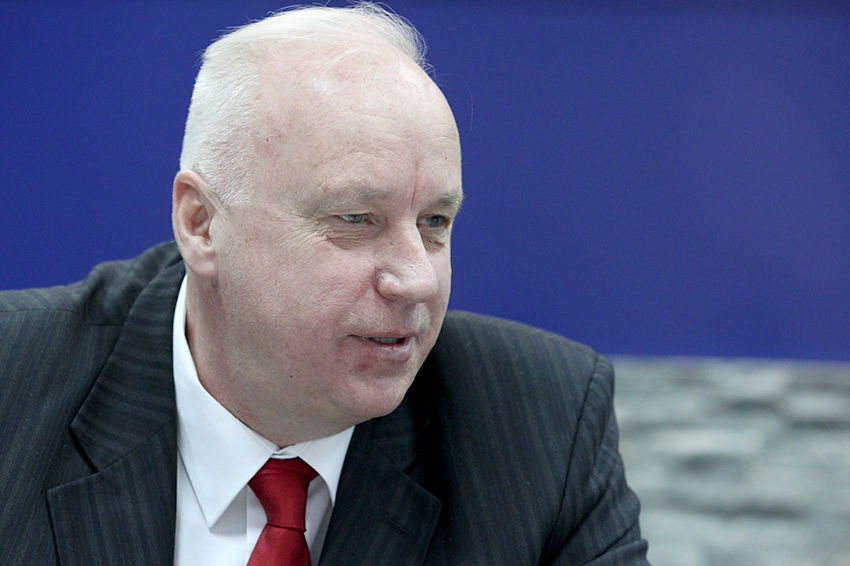 Aleksandr Bastrykin, Head of Investigative Committee, Still in Place and Boasting of Crime-Fighting Successes
On September 27, Novaya Gazeta published an article
noting that the document about his departure, a print-out from the data-base of the presidential office, turned out to be fake. It was first reported by
LegalReport,
and
Novaya Gazeta
obtained a copy and published it as well. The document shows that a request for a resignation had indeed been submitted, and signed by Bastrykin.
But Vladimir Markin, the former spokesman for the IC
who himself had just resigned
, disclaimed the report of Bastrykin's dismissal. And journalists reasoned that the print-out may in fact have been from the file of Markin himself, with his own request that Bastrykin would have signed.
Novaya Gazeta believes "it was not accidental" that the document appeared, and is a sign that in light of prospective reforms, a "war of clans" has broken out in the silovoki or force ministries of intelligence, army, prosecutors, and police. 
Novaya Gazeta reported that it had received another document purporting to be a decree from President Vladimir Putin on the dismantling of the IC and transfer of its functions to the Interior Ministry. Reporters noticed some spelling errors in the text, and several sources within law-enforcement pronounced the document a fake.
Attorney Vadim Klyugvant told Novaya Gazeta that the document was a fake as well, since a change in the code of criminal procedures, which defines the functions of each investigatory agency, could not be made by a presidential directive alone. Even in Russia, where presidential decrees decide many things, it would first have to be submitted to the State Duma as a draft law.
In September, Aleksandr Drymanov, head of the IC for Moscow; Denis Nikandrov, first deputy head of the Moscow IC, and Mikhail Maksimenko, head of internal security for the IC had their offices searched and were detained for their alleged connections to underworld leader Zakhar Kalashov, better known as "Shakro the Young." 
Earlier this week officials announced that the files on Shakro's gang had "gone missing" in 2015 when transferred from one department to another, 
RosBalt reported.
While anything is possible -- child ombudsman Pavel Astakhov was rumored to be dismissed for months before he finally did resign -- it seems Bastrykin still remains in good standing with President Vladimir Putin and is not going anywhere.
In today's interview with
Rossiyskaya Gazeta
, Bastrykin talks about a "secret device" which he called "a forensic light source" that can detect blood from crime scenes not visible to the naked eye.
As 7:40 na perrone points ou
t, he is likely talking about an ultraviolet lamp.
Asked about criminals who wipe their cell phones and computers of digital files, Bastrykin said the IC had a device that could extract such erased files. The IC also has a device called Optik-2 that can reveal hidden video cameras as well as "geo-radars" that "can find metal and non-metal objects in various environments at a distance"; exolocators to find objects submerged in water; and devices that can detect heat spots as well as electronic devices and explosives detectors. Bastrykin also said the IC had special "pneumo-modules" that were able to sustain life in remote areas during major disasters including "technological disasters."
Bastrykin mentioned that all the latest technology was particularly helpful in the department of  "cold cases" whose work is not publicized. He also cited the important role of video surveillance cameras in catching perpetrators, and mentioned a number of high-profile cases that the IC had solved, including the murder of Dmitry Soshnev, head of the Coca Cola plant in St. Petersburg.
But he didn't mention the case of opposition leader Boris Nemtsov, or the fact that investigators were unable to present footage from the surveillance cameras in the area to the court.
Igor Krasnov, deputy head of the IC who handled Nemtsov's case initially, was summoned to give testimony in Nemtsov's murder trial but failed to appear for the second day in a row today. Attorneys for the Nemtsov family as well as the defendants wanted to question Krasnov about the bullet casings found at the scene of the murder, on how they were packaged, the chain of custody of the evidence and why they were not sufficiently examined. The judge had ruled that Krasnov should be called as a witness.
The interview seems designed to portray Bastrykin at the helm of a modern agency with cutting-edge technology to fight crime, and provide positive press coverage after weeks of negative portrayals in the independent media.
-- Catherine A. Fitzpatrick 
Putin and Erdogan Discuss Withdrawal of Nusra Front from Aleppo; Belgian Foreign Ministry Summons Russian Ambassador