Russia Update: October 13, 2016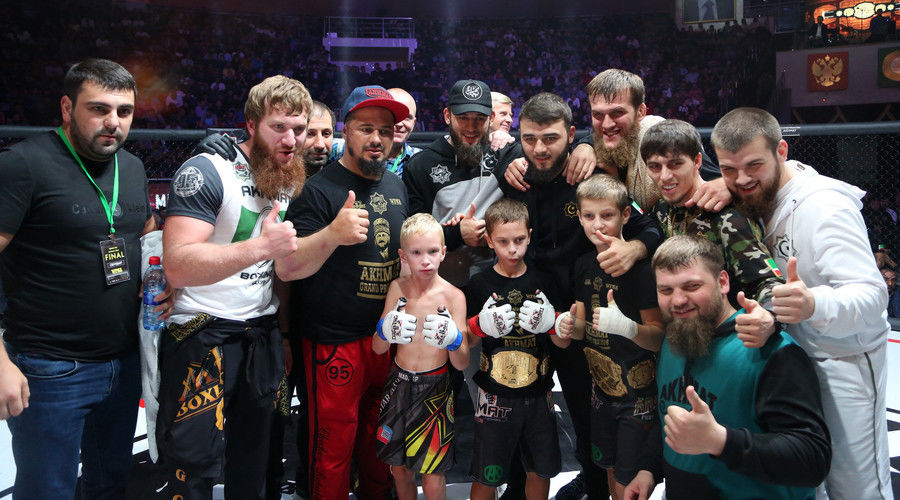 Putin Briefed on Attack on MMA Legend Emelianenko's Teenage Daughter; Links to Kadyrov Probed
Kremlin spokesman Dmitry Peskov says President Vladimir Putin has been informed of an attack on the teenage daughter of Russian heavy-weight legend 
Fedor Emelianenko
 in Moscow,
Novaya Gazeta reports.
Emelianenko's daughter, (variously described by the Russia media as "a teenager" and "
9 years old,
"), not named because she is a minor, was assaulted by unknown attackers while walking home late from school,
Yahoo Sports News reported.
While initially she did not go to the hospital, later she complained of continued pain in her chest and abdomen and her mother took her to the Research Institute of Children's Emergency Surgery and Traumatology where she was diagnosed with "contusion". She was released today, October 13.
Fingers were instantly pointed at Chechen leader Ramzan Kadyrov because of yet another scandal that had broken out last week related to Fedor Emelianenko's criticism of Chechnya including children in a mixed martial arts (MMA) competition (hisInstagram post has since been deleted).
Children are normally not allowed in such competitions as their participation is against MMA rules, and in Chechnya, had no protective gear.
The Russian press and social media seized on the controversy which has roiled for a week as rhetoric mounted on both sides of the issue.
Popular fighter Fedor Emelianenko, head of the MMA Union which governs the sport in Russia, led the criticism, commenting on Instagram:
"Needless to say that kids under age of 12 cannot even attend MMA fights (in Russia) as spectators, but here we had little ones as young as eight beating each other up in front of happy adults."

According to the official rules of the MMA Union that were approved by Russian government, all athletes under the age of 21 must wear helmets and special ankle protection while participating in MMA, and children under 17 cannot perform shirtless.

"I am outraged by the fact that the head of Chechnya was watching over it. Didn't [the Chechen] sports minister tell him about the fact that children under 12 cannot participate in MMA under any circumstances?"
Kadyrov only stepped up the rhetoric as his own sons were involved, saying on his own Instagram account that his 10-year-old Akhmad "showed real masculine character" and "I'm sure there are victorious fights ahead."
He demanded an apology from Emelianenko,
saying "Russian
bogatyrs
[legendary warriors] do not behave in this way."
Abuzayd Vismuradov, the president of the Akhmat Fighting Club, which organized the event, stated that the kids' fights were only for show and were about popularizing the sport. Zamrat Shevkhuzhev , father of the boy knocked out on camera by Kadyrov's son Akhmad
said their fight was rehearsed and staged.
 Asked by a reporter why his son cried after the knockout, if it was fake, he said it was stagefright.
The practice is part of a profound militarization of children in Chechnya, 
as we have reported
, where children often appear in camouflage outfits and are trained at a very early age to handle weapons and practice combat.
The incident also highlights cultural differences between Chechens, Russians and other ethnic groups in the Russian Federation not for the first time; last year a scandal broke out when one of Kadyrov's middle-aged policeman took as his second wife a 17-year-old Chechen girl.
While the Kremlin can often seem to indulge Kadyrov and permitted him to "win the election" for head of the Chechen Republic in the September parliamentary and gubernatorial elections,
on this occasion, presidential spokesman Dmitry Peskov was sharp.
saying the "knockout of a child, especially on television, is a reason for the appropriate oversight agencies to get involved"
Adam Delimkhanov, a relative of Kadyrov's and member of the State Duma
joined the attack on Emelianenko
and claimed he had "stole a win" after "losing shamefully and being harshly beaten" in his controversial June fight with Fabio Maldonado.
Valid Edilov, director of the Akhmat Fight Club, accused Emelianenko of doping.
The Chechen reaction grew so vitriolic that Kadyrov himself was forced to step in and urge others "under the influence of emotions" to stop attacking Emelianenko -- after the damage was done (translation by The Interpreter), Interfax reported:
"I am confident that Fedor Vladimirovich has admitted his mistake. This is proven by the removal from his page of the photo of the boy," Kadyrov commented, using Emelianenko's patronymic."
He said Emelianenko would not have been as critical if he had studied the details of the tournament.
In commenting on the story today, Peskov said "Fedor is my very good comrade, I regard him with great respect, and when the daughter of a comrade is attacked, that is very alarming and unpleasant,"
Interfax reported
.
That means the incident has now become a very personal feud between the Kremlin and Kadyrov. The Kremlin might stand by while journalists, opposition figures, human rights advocates and ordinary citizens with complaints are assaulted by Chechen thugs, but not when it comes to the child of the elite. Ordinary Russians
have also expressed outrage
in a petition that has already gathered more than 10,000 signatures.
Peskov was somewhat cautious in making a pronouncement, however, when asked by reporters if the assault "could have any political consequences":
"On the whole, an attack on a child is completely impermissible, this requires the most resolute measures to discover who has committed this assault. But in this case I would recommend avoiding any parallels, some sort of suspicions, before it is established who did this."
Police say they have studied the tapes from video surveillance cameras on Mytnaya Street in the Zamoskvorechye District in Moscow where the attack took place but "did not discover any useful information." 
A source in law-enforcement told TASS that police are looking at multiple hypotheses regarding the attack on Emelianenko's daughter and are leaning toward an explanation that is not in fact related to her father's statements about the children's MMA in Chechnya, RBC reported.
The source said the attack took place October 11, but the girl didn't say anything at first, and only later told her parents when she pain persisted -- as the controversy in the media continued to flare.
Moskovsky Komsomolets reported that a source said Emelianenko's daughter could not describe her assailants, but seemed afraid, and there was concern that they intimidated her. 
-- Catherine A. Fitzpatrick 
Lavrov Says Russia Doesn't Intend to Fight With US; EU Discussing New Sanctions Against Russia Over Aleppo
The ruble is trading at 63.37 to the dollar and 69.62 to the euro. Brent crude is selling for $51.63. 
The following headlines were taken from 7:40 na Perrone, Gazeta, RBC,  Meduza, BBC, RosBalt, AP, Currenttime.TV