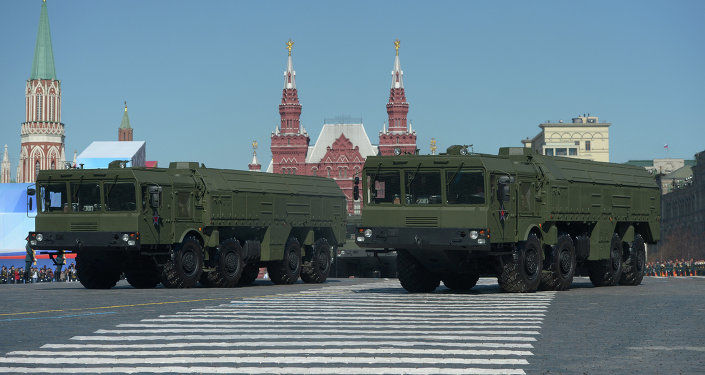 Russian Rhetoric Would Have The World Believe That Nuclear War Is Imminent
2. The Russian airstrike against a UN convoy that killed 19 civilians and 12 aid workers near Aleppo: 
3. The vicious Russian and Syrian airstrikes that have targeted civilians, aid workers, and hospitals, particularly in the besieged city of Aleppo: 
But it is Kremlin that has attempted to paint the United States as the aggressor, the hawk, and Russia as the dove that is striving for peace. Tweets like this from the Russian embassy to the United States have typified more than a week of statements from the Kremlin: 
Then Russia responded by dropping out of several treaties with the U.S. that were designed to facilitate nuclear cooperation on both a civilian and a military level: 
If that was bad, it was about to get worse. The Russian embassy to the U.S. threatened to shoot down coalition airplanes if they crossed Russia in Syria: 
Then Russia bragged about having deployed its most dangerous anti-aircraft weapons in Syria and openly stated that it could shoot down U.S. coalition aircraft:
Now, the Russian Ministry of Emergency Situations (MChS), also known as EMERCOM has made the claim that as many as 40 million Russians will be taking part in emergency drills -- sometimes referred to as nuclear "firedrills" by observers. Though the claim that 40 million people are involved in these drills is perhaps extreme hyperbole, it does not change the fact that this is the message coming out of the Kremlin: 
Raising tensions further, Finland reports that a Russian SU-27 actually violated its airspace this week: 
This has caused Finland to look to the West for protection, but in some ways this plays into the Kremlin propaganda's main talking point -- that they are surrounded by enemies that are allied with the United States. 
And now, the Russian State Duma has approved a measure which would extend Russia's military presence in Syria indefinitely: 
Checking For Patterns In The Daily Casualty Reports From Syria
Every day dozens of Syrians are killed, so one might be forgiven if the numbers become a blur. In reality, however, there are important patterns to the death and violence if one focuses on the geographical distribution and specific causes of death.
Yesterday, October 6, the Local Coordination Committees of Syria reports that 68 people were confirmed to have been killed across the country. The number is not unusual in any way -- in fact, in recent weeks it has not been unusual at all to see 80-100 deaths confirmed by the LCC in a single day.
But yesterday's numbers are in fact somewhat unusual since nearly half of the casualties were killed in a terrorist attack at the Atmeh border crossing, which ISIS has taken credit for.
The LCC reports:
24 martyrs were reported in #Aleppo , most of them passed away in #Atamah crossing blast and during the clashes in #Ikhtrin . 14 in #Idlib , most of them passed away in Atama crossing blast. 12 in #Damascus_and_its_Suburbs , most of them passed away in bombarding #Douma city. 6 in #Daraa . 6 in #Hama . 4 in #Deir_Ezzour . 2 in #Homs . 1 in #Hasaka .
Yesterday, we reported that the ISIS terrorist attack targeted a group Syrian rebels primarily made up of fighters from Failaq al-Sham, a group which is part of Turkey's offensive against ISIS in the north.
The data also tells us that at least for a brief moment the Russian airstrikes focused less on bombing civilians in Aleppo city. Citizens in Douma, Daraa, and Hama, however, were less lucky -- Russian or Syrian airstrikes rocked all of those areas.
One question we might ask -- why? It's already well-established that Russia and Syria are focused on driving the civilian populace from cities it hopes to capture. It also seems clear that Russia benefits from radicalizing the local populace, and hope is clearly the enemy of the Syrian regime. Still, neither Russia nor Assad will ignore military goals in order to bomb civilians, and there is heavy fighting reported in rebel positions south of Aleppo city. 
But as we will show in a later analysis, Russia has also been unusually aggressive in its rhetorical posturing in the last few days, painting the United States as the aggressor while making highly aggressive moves of its own. A heavy civilian death toll might distract from that Kremlin talking point.
See our note about the casualty reports released by the LCC here:
Interpretermag
Who Are The Local Coordination Committees Of Syria?
The LCC's casualty figures are typically a mix of civilians and rebel fighters. They typically do not include deaths from inside territory controlled by the Syrian regime, as the LCC is hunted by the Syrian government and so cannot operate within those areas.
View full page →
-- James Miller