Russia Update: September 20, 2016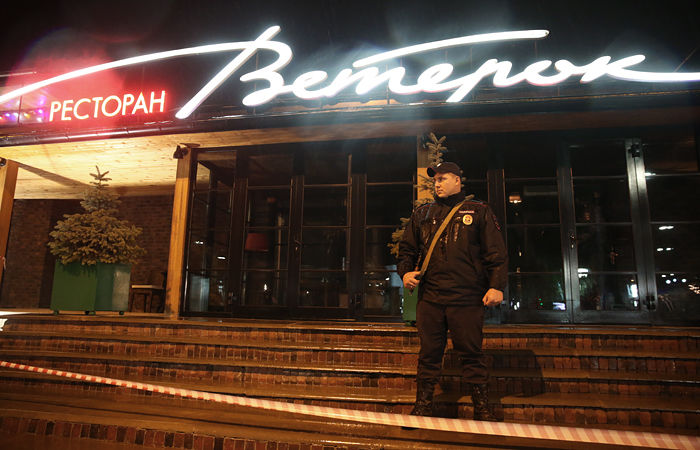 Investigative Committee Says Motive for Murder of Zhilin Likely Business Related; Other Theories Discussed
Russia's Investigative Committee announced that the murder of Yevgeny Zhilin (Yevhen Zhylin), the leader of the Ukrainian paramilitary organization Oplot, was likely related to a business dispute,
Novaya Gazeta reported
, citing
Interfax.
Zhilin, a prominent critic of EuroMaidan whose group Oplot was associated with the titushki, or thugs who attacked demonstrators, was murdered by a bullet to the head while sitting in a restaurant in suburban Moscow.
The killer was described by witnesses as a man wearing a Panama hat, a fake mustache, and dark glasses with yellow anti-reflective lenses, Olga Vradiy, representative of the Moscow Region Department of the Investigative Committee told reporters.
Zhilin had gone to Veterok, a restaurant in the affluent Moscow suburb Gorki-2. The killer was waiting for him in the restaurant, fired several times with a pistol, then fled the scene. 
A second person who was also in the restaurant, Andrei Kozyrev, was severely wounded and hospitalized.
While the IC's main theory of the murder is that it was about a business-related altercation, investigators are also working on other possible motives, and mentioned there could have been merely personal enmity involved.
As RFE/RL reported
, Aleksandr Boroday, the former leader of the DNR, told
Kommersant
that while he believed the murderer's motive was a business dispute, Zhilin may also have been killed in retaliation for his activism in Ukraine, implying a Ukrainian nationalist or security operative could have assassinated him.
But RFE/RL adds that Dmytro Tymchuk proposed the opposite theory, that Russian intelligence could have killed him to remove a living witness to Russia's "hybrid war" against Ukraine.
A rash of assassinations notably in the self-proclaimed Lugansk People's Republic have sparked speculation that either there is infighting among the separatists or that Russian military intelligence kills them to remove those who "know too much" about the Russian invasion and related war crimes. While this is always possible, given how many figures Russian intelligence has actually kept alive and redeployed in various conflicts from Chechnya to Georgia to Moldova, it's not necessarily  the rule that Russian security remove agents or friendly forces they've invested in.
In any event, Zhilin had fled from Ukraine to Russia last year when Ukrainian authorities prepared a criminal case against him.
According to
a lengthy profile of Zhilin at Vesti Ukraina
, Zhilin was born in Kharkiv in 1976 and worked as a machinist in a factory and then as an orderly before entering the Interior Ministry's University in Kharkiv to study at the department of economic security. In 1997, he joined the anti-organized crime department of the Interior Ministry (the police) in Kharkiv Region and then later was assigned to serve in the Kharkiv Region Security Service Department. 
According to his own web site, Zhilin was jailed after the Orange Revolution from 2005-2007 on charges of setting an explosive in the car of Gennday Kernes, secretary of the Kharkiv City Council.  He also appeared as a witness in the case of the poisoning of President Viktor Yushchenko. Ultimately, Zhilin was released and acquitted and was even given compensation for wrongful imprisonment. Kernes himself was a vocal supporter of Oplot.
In 2008, Zhilin was appointed to head the anti-organized crime department in the Kharkiv Interior Ministry and retired early at the age of 34 in 2010 with the rank of captain, since his years in prison and his service fighting organized crime were counted triple and one-and-a-half times, respectively.
It was after he retired from police service that Zhilin founded Oplot [Stronghold] which began as a pro-Russian fight club in Kharkiv. Other chapters of Oplot were formed, notably in Donetsk, where the head of the organization for a time was Aleksandr Zakharchenko, who went on to become the prime minister of the self-proclaimed "Donetsk People's Republic." Some of the members became fighters on the side of the Russian-backed separatists in the Donbass.
The Oplot club spun off other organizations with the same name, according to
Vesti Ukraina -
- a charitable foundation, a civic group, a law office, an auditing company, a news agency and a sports club. 
Espresso TV said
there was even an Oplot supermarket. In 2012, Zhilin decided to return to university and obtained a degree in history from the Vasyl Karain Kharkiv National University.
In January 2014, Zhilin joined others blocking the automobile drivers who had taken part in the EuroMaidan protest who called themselves "Automaidan." He was known as one of the most aggressive activists against the protesters, organizing raids to attack them. 
At that time, Zhilin released an inflammatory video denouncing the Maidan activists and portraying them as violent rebels toppling Lenin statutes for no good reason, and then overthrowing the regime.
He was said once to brag that he had cut off the ear of a Maidan protester, and claimed that he could "tear off their leg, and nothing will happen to me over that," Espreso TV reported.
On February 26, 2015, the Ukrainian Prosecutor General opened a criminal case against Oplot as an "unlawful armed formation" and declared Zhilin wanted. Then for a time then Zhilin appeared as a senior economic advisor in the DNR.
In March 2015, during an inspection by the Kharkiv Region prosecutor's office of the finances of the Kharkiv City Council, it was determined that from the period of 2012-2014, Zhilin had allegedly embezzled more than 1 billion hryvnia ($38.8 million), siphoning public funds, including 100 million hryvnia from utilities in Kharkiv, to various fictitious companies. Zhilin was then declared wanted and in January 2016, an order for his arrest was issued on charges that included kidnapping, and conspiracy by a group of persons to commit physical harm. 
After the Maidan protests, Colonel Cossad said Zhilin was one of only two people at a convention of the Party of Regions in Kharkiv who called for "open resistance to the junta". His contribution to the "cause of the Russian Spring" was "rather substantial" -- Zhilin was among those who at the very early stage of the uprising helped to organize people, many of whom later formed the militia of the Donbass, he said.
-- Catherine A. Fitzpatrick 
AM News: Ukrainian Anti-Maidan Activist Murdered in Russia; OSCE Says Media Control Hurt Elections
The ruble is trading at 64.84 to the dollar and 72.45 to the euro. Brent crude is selling at $45.61 per barrel. 
The following headlines are drawn from 7:40 na Perrone; Currenttime TV, Novaya Gazeta, Interfax, and Meduza.