Russia Update: August 29, 2016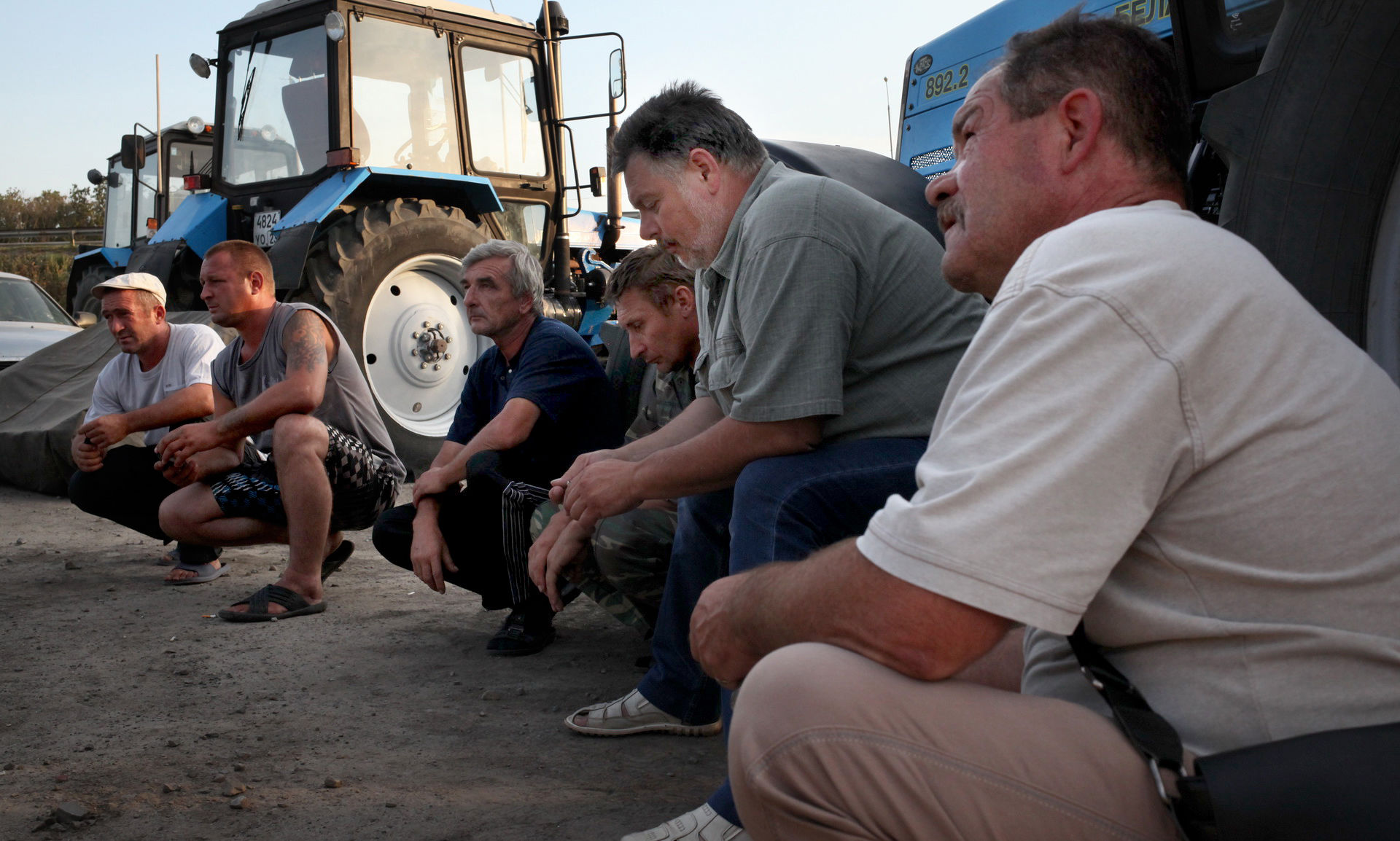 Back Home, Farmers Harassed By Officials They Protested Against; Leader Faces 'Extremism' Charge
As we reported
, a group of some 40 farmers from the town of Kazanskaya in the Kuban region of Krasnodar Territory vowed to drive their tractors as far as Moscow in protest against corrupt local government officials and judges they said illegally seized their land.
They got as far as a town in Rostov Region before they were stopped by riot police, after talks broke down with the governor. Then a number of them were sentenced from 3-10 days in jail, and the rest headed home.
Officials also said they would "crush them like cattle at the slaughterhouse" and that their farms would be inspected with great zeal to look for violations.
Sure enough, when they returned home, officials set about inspecting them.
About 30 FSB agents came to Nikolai Borodin's farm in Kazanskaya, and combed his property thoroughly. The tax inspectors searched the property of relatives of Aleksei Volchenko, the farmer who had led the march who himself is missing. The prosecutor's office summoned some of the other farmers for questioning. Sergei Gerasimenko, father of three young children, was put in jail for three days. Others got summonses regarding administrative violations.
On Saturday, usually a day off, a trial took place in which four protesters were sentenced: Sergei Gorbachev was jailed for 5 days; Slava Petrovsky for 4 days; and Andrei Pezin and Semyon Smykov for 3 days. Others are still waiting for their hearings.
Ludmila Kushnareva, one of the farmers who took part in the march said prosecutors and police visited almost all of the protesters at home:
"It's not known what they are looking for at people's homes. And what they will accuse of them of later. The pressure does not cease."
Nina Karpenko, another participant said they were surprised this could happen to them. She said the deputy of the district traffic police himself accompanied them on a ride of 250 kilometers to the court house.
Oleg Petrov and Nikolai Maslov, two farmers sentenced to 10 days in jail, were transferred to Novocherkassk.
Aleksei Volchenko, the leader of the march, has gone missing. He is not answering his phone and he never made it back home. The last that other farmers heard of him was that he was first fined only, and then departed for Kuban, but then was detained again for 10 days in Ust-Labinsk and is now facing an investigation on criminal charges of "extremism." Family members have not been able to learn of his fate.
State TV has not covered any of these events, neither the march nor the retaliation afterwards, but instead is running programs about how the ruling United Russia party is able to listen to people's problems. 
Various Moscow-based human rights advocates and lawyers have promised to help the farmers, although their ability to resolve cases like this is limited as they themselves are under pressure.
Aleksandr Popkov of the Agora human rights group, itself harassed by authorities and
dubbed a "foreign agent,"
said the farmers had committed no offenses and that the demonstrative seizure of the farmers in a cafe after meeting with the governor was designed to crush any peaceful protest. They said they would attempt to appeal the sentences through the Russian court system and then perhaps send a collective appeal to the European Court of Human Rights -- which is already deluged with cases from Russia.
The farmers are hoping to hold a press conference in Moscow and get more attention to their cause. Ivan Starikov, a former member of the Federation Council, said that the farmers' problems had to be solved systemically. He said there were about 300,000 farmers in Russia who had the same story of illegal land seizure.
While Russia is the largest country in the world with enormous amounts of farmland that can't even be given away for free in some cases (as with a recent campaign in the Far East), the reality is that with poor roads and insufficient infrastructure and support for business, farming can be difficult. Some land is more desirable if very fertile or near roads and local officials have their eyes on it to build shopping malls or office parks or their own country residences. A kind of "eminent domain" can be invoked but without due process or proper compensation. Officials can claim arbitrarily that a farmer owes taxes or loan payments -- often the case -- and seize the land accordingly. 
As one Novaya Gazeta reader, Georgy K. put it, "an enormous territory, where there is no land for farmers. Russia is a country of contrasts."
Another read, Vladimir Vyun, said that the authorities couldn't satisfy the demands of one set of petitioners, or else in a year, 3/4 of the population would march on Moscow with various petitions.
Valentina Pyshikina, the lawyer for some of the farmers said she was denied a visit to her clients. They told her that a visit could only take place during a two-time slot which was just when she had to be in court to defend Rustam Mallamagomedov, a truck driver from the Association of Carriers of Russia who had joined the farmers in solidarity and who was himself beaten and arrested by police and sentenced to 10 days in jail. Another trucker was also sentenced to 10 days in jail and two others were fined 10,000 rubles.
Meanwhile, in Togliatti, workers from the auto plant AvtoVAZagregat blocked the M5 highway to protest against the failure to pay their back wages,
Novaya Gazeta r
eported.
Several dozens workers took part in the action.
Prosecutors have opened up a criminal investigation of AvtoVAZagregat, AvtoVAZagregatTrans,  PoshivAvtoVAZagregat, and AvtoVAZagregat Plast, all subsidiaries of AvtoVAZ, the largest auto manufacturer in Russia. The plants' combined debt to 669 workers is over 44 million rubles ($678,693).
Nikolai Merkushkin, governor of Samara Region where the city of Togliatti, named for a famous Italian Communist, is located said he would "never" pay the workers' back wages,
Novaya Gazeta reported.
When the governor made a visit to the auto plant, the daughter of one of those protesting asked him a question. As the daughter of one of the "long-suffering" AvtoVAZagregat plant workers, she asked when the back wages would be paid, as two years had passed with only promises.
The governor replied:
"Well, this is what I want to say. If you're going to speak in that sort of tone, never! Never! Those who instigated you, ask them."
The woman dug in her heels and replied that she had been speaking "normally" and that two years had passed.
The governor retorted:
"I know. But you listen! You listen to me now. When the American diplomat came here, when he came here to incite just those very people, for a month then they showed them to the whole world. To the whole world! People without pay. We understand. We forced 160 million rubles, 160 million rubles from money earned by private business people who had come here five years ago, we forced them to pay the debts of back wages from their own funds. That's illegal. We forced them illegally. Understand? I could be sued. They could sue me."
Prosecutors say the plant owners did not pay the back wages "out of mercenary or other personal interests," but have not yet brought charges against them.
Journalists who covered the story were later accused of taking the governor's words out of context,
Meduza.io reported.
US Amb. John Tefft visited Samara Region in April, but he didn't travel to Togliatti, Novaya Gazeta reported.
His visit was covered poorly by the state media
said one local news site
,
drugoigorod
, which said the ambassador met with cultural figures, business people and journalists and had nothing to do with the auto plant.
-- Catherine A. Fitzpatrick
AM News: Putin Not to Attend UNGA or Turkey-Russia Soccer Match; Defense Ministry Inspects Non-Military Ministries