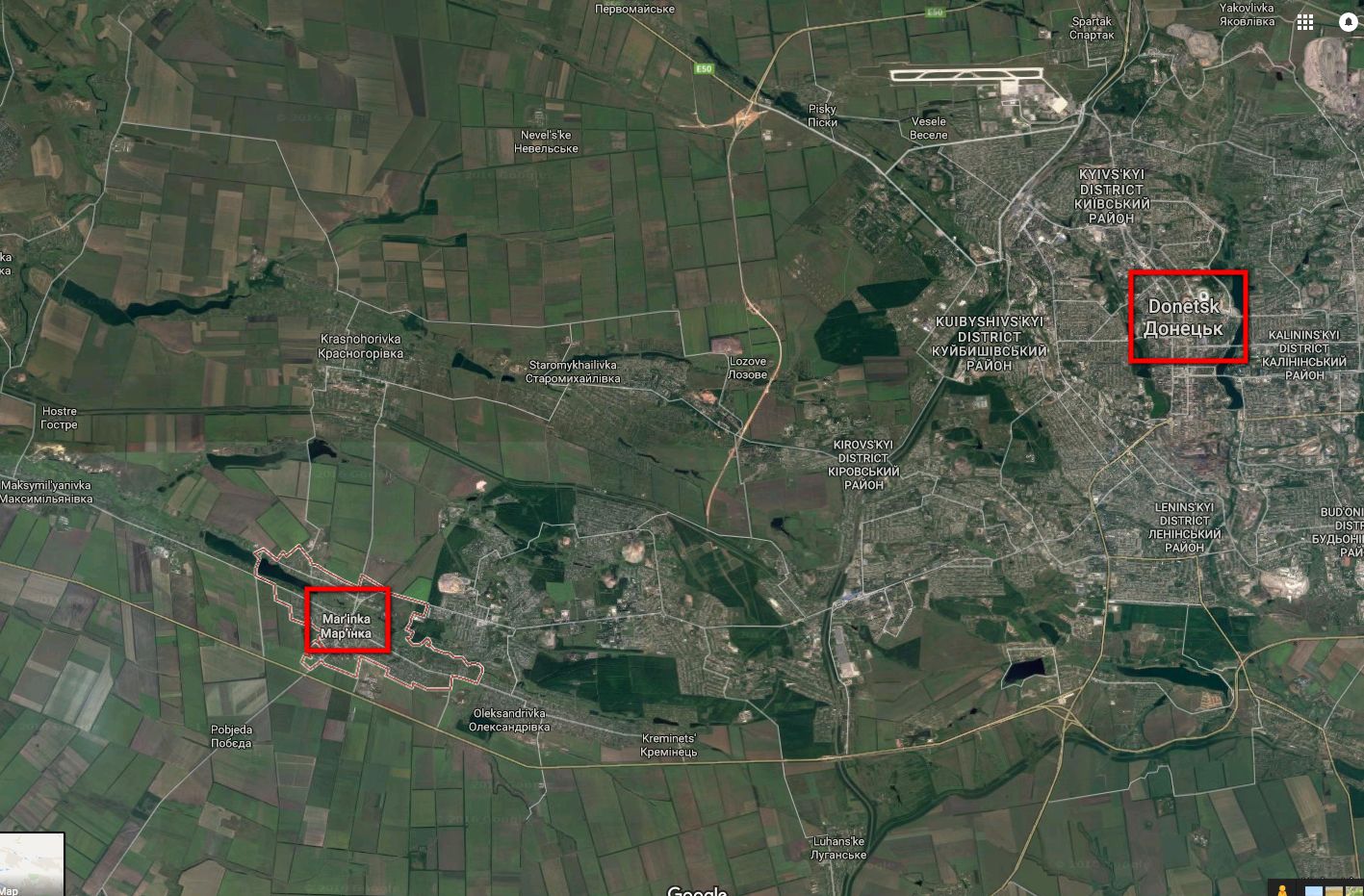 8 Ukrainian Soldiers Wounded; 1 Civilian Killed; AP Footage from Maryinka
Eight Ukrainian soldiers were wounded today, UA Today reported, citing Andriy Lysenko, the presidential spokesman for ATO [Anti-Terrorist] Operation affairs:
The village of Trypillya, located in Ukraine's war zone some 15 km from the frontlines, has also come under fire. Militants fired six shots from a 152mm artillery gun there.

Avdiivka industrial zone remains the hottest point of the armed hostilities in the Donetsk sector, where the militants fired 40 122-mm shells on the Ukrainian army positions in just a half of an hour.

In total, one firefight and 22 enemy attacks were recorded in the Donetsk sector, including 14 cases when the banned heavy weapons were used.

In the Mariupol sector, Russia's hybrid military force fired 120mm mortars on the Ukrainian positions in the towns of Maryinka and Krasnohorivka. They also repeatedly fired 82mm mortars and grenade launchers on the defenders of the village of Shyrokyne.
Maryinka, a town just to the west of Donetsk, continues to be a focus of attacks by Russian-backed forces.
Tomorrow, August 24, is Ukrainian Independence Day, and in the past two years, Russian-sponsored attacks have increased during this period. 
AP has sent a crew to cover the war in Maryinka. This video was made yesterday August 22, 2016.
A woman living in Maryinka who was standing out in front of her home in the evening amidst the gunfire said (translation by The Interpreter):
"We live like this: we've survived, we wake up in the morning, great. We make it to evening -- it's okay for now. But what's next there? Phh! You know, it's like that. Right now it's quiet, we're standing here, we're relaxing and taking a stroll. But during the day here, we can't go outside. They're shooting. Our children don't even go out to play. Because the children are afraid to go outside." 
The Ukrainian soldiers in the video fighting on the side of Kiev are Russian-speaking, which is common. One of the soldiers whose call sign is Volk ("Wolf") had this to say about the people in the town controlled by Ukrainian forces now (translation by The Interpreter):
"Nobody sympathizes with us here, in fact. Just a few. Ninety-percent, one hundred percent are separatists. Ten percent..."
Another soldier interrupts and says:
"Ten percent, twenty percent are normal..."
The first soldier objects:
"What twenty-percent, ten percent are barely mustered [in support]. So that's how it is. They're in the DNR [self-proclaimed Donetsk People's Republic]. Their sons and husbands are out fighting for the DNR. What kind of attitude do you think they can have to us? That's what you have to realize. Sure, you can smile and chat with them a bit but you cannot trust anybody."
One civilian, Tatyana Selyutina, born 1957, was killed in her own home in the town of Zolotoye from shelling by Russian-backed forces, the ATO reported. Militants opened fire from AGS-17 large-caliber machine guns and firearms on Ukrainian positions in Zolotye-4 in Popasnyaya District.
In its reports at 18:00
, the ATO said militants had opened fire 20 times today, with the situation particularly tense along the Mariupol line, which is the path of the coveted Russian land bridge to Crimea, still controlled by Ukraine.
Militants fired 122-mm artillery banned under the Minsk agreements near Mirnoye; 152-mm artillery fired more than 30 rounds at Sionitnoye; and 120-mm artillery pummeled Maryinka and Vodyanoe. Large-caliber machine guns fired on Shirokino; firearms were used in Starognatovka; and near Gnutovo, a BMP was in operation.
Along the Donetsk line, 82-mm mortar launchers were used in Luganskoye and Svetlodarsk with a BMP spotted in the latter, and grenade-launchers and large-caliber machine guns were fired on Verkhnmetoretskoye.
In Lugansk region, 82-mm mortar-launchers and automatic grenade launchers fired on Krymskoye, and firearms were used in Lopaskino; sniper fire was recorded in Zolotoye.
According to the news service of the self-proclaimed "Donetsk People's Republic," DNR commander called on OSCE to note the recent increase in armaments of Ukraine, with President Petro Poroshenko reportedly sending "140 units of armor, including fighter planes and combat helicopters."
If Ukrainian planes appear in the skies over the DNR, forces will "take the appropriate response," said commanders.
While Poroshenko has announced that Ukrainian positions would be reinforced, after the Crimean border clashes, there does not appear to be any confirmation that he has sent planes and helicopters to the front line.
Poroshenko plans to go to the front line for Independence Day, Ukrayinska Pravda reported.
The DNR News also reported that Ukrainian forces fired on three coalmines in Donetsk and fired "290 times" on DNR positions in the last day from 82-mm and 120-mm artillery.
The DNR usually reports every round, not each separate incident of shelling as the Ukrainian Army does.
-- Catherine A. Fitzpatrick