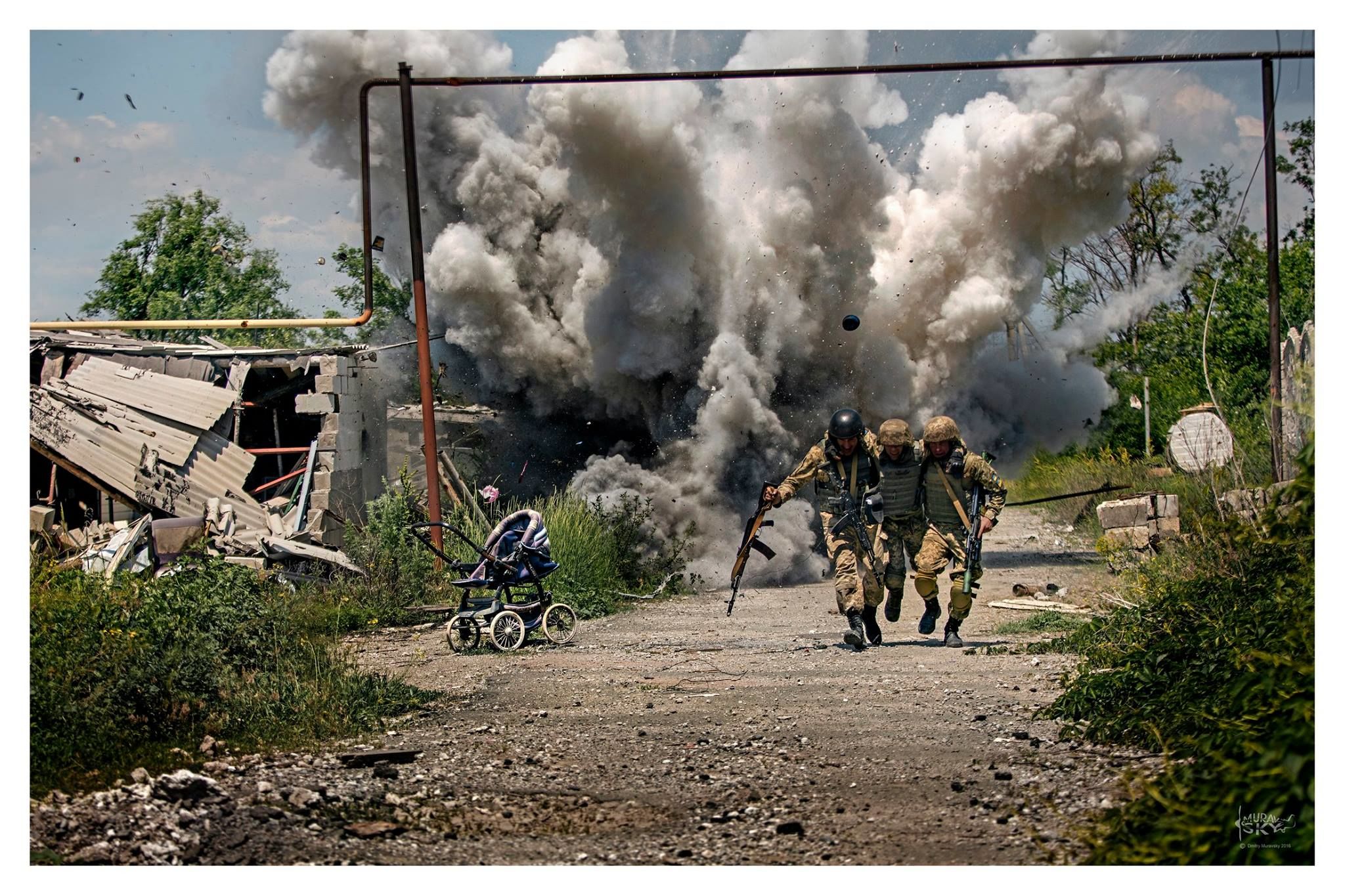 When the War 'Wakes Up' in Shirokino: A Ukrainian Officer's Report from the Front
Dmytro Yuryevich Muravsky, head of the information coordination center at the Defense Ministry's department of communications and press, has posted to Facebook pictures and videos of the war in southeastern Ukraine.
One much discussed photo taken June 4, 2016 in Shirokino (Shyrokine), a town near Mariupol on the Azov Sea coast wrested from Russian-backed militants earlier this year, shows two Ukrainian soldiers helping a third who was wounded to escape, just as a shell strikes behind them. Nearby is an abandoned baby carriage -- nearly all the residents have left the town and only a few remain.
Journalist Yury Butusov described the photo; it was so vivid that some readers claimed it was staged or photoshopped, and Muravsky had to passionately defend his work as authentic.
The ATO and 112 TV reported Russian-backed militants shelled Shirokino on June 4, 2016 with 82-mm artillery. The OSCE Special Monitoring Mission did not happen to cover Shirokino that day.
Recently, Muravsky returned to the front this past week and published an account of recent fighting in Shirokino.  He filmed some interviews with Ukrainian soldiers and at one point they all had to run for cover as a sniper's bullet struck the road near them.
Muravsky also uploaded some more photos he had taken in Shirokino this summer. One shows a soldier running up a village road pushing the same baby carriage as in the other photo, now full of ammunition.
"Once again about the baby carriage.
Yesterday, when we were held up in Shirokino, we became witnesses to how the war 'wakes up'. Basically, the quiet and peaceful day, letting down its heat, woke up the members of this siesta, and provoked by the end of the OSCE employees' work day, began its peformance with the sounds of far-off pops from the shooting of a sniper, inevitably accompanied by the quiet, but very unpleasant whistle of large-caliber bullets. In fact, this sound becomes unpleasant only after you have absolutely accurately begun to distinguish it from other sounds and are able to determine the approximate distance which separates you from the trajectory of the flying bullet.
The next line of development of this evening symphony is the DShK heavy machine gun, loudly announcing to the audience that the sniper's position on our side has been discovered and we must leave it. Falling silent for a short time, everything begins again but now a little to the side from the previous position.  In the orchestra, aside from the solo instrument, there are numerous different participants in the first rows. This is undoubtedly the 'conductor' or commander; the 'prompter' or spotter; the assistants or delivery men bringing the ammunition or helping to change the position and so on, depending how rapidly this play is developing.
The SPG [grenade-launcher], which has been somewhere in the background, almost in the gallery, appears in the next act. The shells flying over our heads generate a rustling, slightly whistling musical performance.
Now the time comes for the AGSes, and their maestros pass by us carrying their heavy instruments on their backs, like bass violins. Not waiting for the next part of this enthralling concert, and making use of the brief intermission, we leave our box and jump into our carriage which has just had a change of a wheel pierced by shrapnel.
Our heavy theater tuxedos really get in the way and make it hard to sit down, but no one hurries to take off his bowler hat, although the sweat ruthlessly stings and blinds our eyes. 
Now, what does this have to do with the baby carriage, you ask?
Why, nothing at all! I just liked the photo of these savvy fellows, motivated by an intelligent laziness to use everything surrounding them to preserve their precious strength, running through the open ground between houses.
All these photos were made in the village of Shirokino in the summer of this year."
-- Catherine A. Fitzpatrick 
1 Ukrainian Soldier Dead, 4 Wounded; Ukrainian JCCC Documents Russian-Backed Militants Firing on Towns
Oleksandr Motuzianyk, spokesman on ATO affairs for the presidential administration, reported that one Ukrainian soldier was killed and four wounded, and that 49 attacks had been made on Ukrainian positions today
Avdeyevka, Mayorsk, Zaytsevo and Luganskoye were fired on with grenade-launchers and large-caliber machine guns, and Peski and the Butovka coal mine were shelled with 82- and 120-mm artillery. Militants struck Svetlodarsk with 152-mm and 120-mm artillery, and BMPs were active near Luganskoye and Zaytsevo.
On the Mariupol line, 120- and 80-mm artillery were used on Maryinka, Vodyanoye and Shirokino as well as grenade-launchers and large-caliber machine guns. Armed provocations with the use of grenade launchers and firearms occurred in Gnutovoye and Novotroitskoye. Near Starognatovka and Shirokino, BMPs were used and 122-mm artillery were fired on Beryozovoye. A sniper appeared twice in Gnutovoye.
In Lugansk Region, militants fired on Zheltoye and Zolotoye with grenade-launchers, 82-mm mortar launchers were fired on Stanitsa Luganskaya, and firearms were used on Popasnaya.
o Maryinka Among 'Hottest' War Zones 
Today, Lt. Col. Vadim Bakay, press officer of the Ukrainian Joint Control and Coordination Committee wrote on the ATO's Facebook page that Maryinka was among the "hottest" of the war zones.
The town is fired on by the Russian-backed fighters nearly every day. The residential areas suffer significantly each time. Artillery of 82-mm, 122-mm and 152-mm caliber has been used, as recently as August 18. Incendiaries are fired that make the roofs of homes catch on fire. The JCCC documented all the addresses where damage occurred, and said fortunately there were no civilians wounded. 
o Militants Engage in 'Self-Shooting' to Pin Shelling on Ukrainian Army 
Lt. Col. Bakay also posted an article on the ATO's Facebook page today summarizing research of craters, shells and other evidence in the town of Kadiivka (formerly called Stakhanov before the de-communization) which is near the line of contact. They defend the Ukrainian Army against claims by the forces of the self-declared Donetsk and Lugansk People's Republic, that they are shelling civilian areas in this town.
The ATO notes that Russian-backed separatists claim that 700 shells a day are fired at the time. "What is this but a lack of a sense of reality?" they ask. If that many shells really were fired every day in this area, the town would have long ago been flattened. They say that claims are made of 152-mm artillery instead of 82-mm artillery, so that the known distances which the artillery are capable of shooting can be reconciled. They want to avoid admitting that they themselves are firing from certain areas in Lugansk Region, which the OSCE Special Monitoring Mission observers have confirmed. 
On August 18, the pro-Russian media said that the Ukrainian Army had fired on Kadiivka with 122-m artillery. In theory, shelling could come from Ukrainian-controlled Popasnaya, Troitskoye and Novozvanovka, those towns nearest to the line of contact. Yet the distance from each of these towns used in Ukrainian defense positions is at least 18 km, which significantly exceeds the distance the 122-mm artillery is capable of firing. 
The ATO believes that because there has been less fighting in Lugansk lately, and therefore the pro-Russian forces would find it harder to show the Ukrainian army firing on civilian areas, they had to find a location where they could make this point. This was hard to do in these more rural regions, unlike the area around Donetsk where there are many homes close together.
So they chose Kadiivka. But why not Pervomaysk or Kirovsk? Because those towns are much closer to the line of contact, and what the militants want to claim is that heavy artillery with greater distances are being used in violation of Minsk.  So the "self-shooting" which the militants organize to pin it on the Ukrainians is done from Kirovsk and Pervomaysk. The distance from those towns to Kadiivka is far enough that residents can't see where the firing is coming from, but can only hear and see the impacts.
-- Catherine A. Fitzpatrick