Nine Now Detained by Russia in Connection with Alleged Crimean Border Incursion; Two Charged
The number of people arrested in connection with alleged incursions earlier this month on the border of Russian-occupied Crimea has increased to nine, Interfax reported, citing a source in Russian law-enforcement.
No names were provided but the latest two detainees were said to be residents of Crimea who had obtained Russian citizenship.
Two of the detainees have already been charged with attempting terrorist attacks, said Interfax. 
Accounts of the incidents and number of detainees have varied in Russian media citing government leaks. 
The initial statement from the Federal Security Service (FSB) did not give a figure for the detainees, and gave only one name, Yevhen Panov, a former ATO volunteer fighter and nuclear plant worker whose friends and family believe he was abducted.
Subsequently, two other names were given, Rydvan Suleimanov, a Crimean Tatar accused of "jihad," and Andrei Zakhtey, bringing the total to three known detainees.
The Kremlin has accused Ukrainian military intelligence of masterminding the incursion. But one of the officers named in a forced TV confession by Panov denies he had any association with intelligence.
Today Foreign Minister Sergei Lavrov said Russia had "undeniable evidence" of Ukrainian intelligence involvement in clashes at the Crimean border, but declined to provide details, Moscow Times reported.
He said Russia was prepared to show the evidence to Western partners but "not for TV," Ren-TV reported. 
German Foreign Minister Frank-Walter Steinmeier, who met with Lavrov and who has urged Ukraine to show restraint since the incident, said he had not seen proof of the incidents and had only heard both the Russian and Ukrainian version of events.
-- Catherine A. Fitzpatrick 
Ukrainian Media Reports Identify of Russian Soldier Killed at Alleged Crimean Border Clash
Neither the Ukrainian or Russian governments have confirmed the identity of the soldier reportedly killed.
The soldier's name was Semyon Sychev, age 22, and he was said to have served in the 247th Paratroopers' Storm Regiment stationed in Stavropol, and also appears to have fought in the Donbass. He served as a mechanic and driver. His friends say he had two wounds which were not fatal, but lost a lot of blood on the way to the hospital. (Some news reports say he died at the age of 30, which appears to be a mistake.)
We were unable to locate the VKontakte account for the soldier killed indicated by Vesti-Ukraine and others under the name "Syoma Sychev" as indicated; the profile of another paratrooper with the same name, age 20, from  Andzhero-Suzhensk is unrelated.
As we reported, according to an FSB leak to Kommersant, the 247th was sent to the north of Crimea to reinforce anti-terrorist operations and reportedly found saboteurs on the night of August 7-8 on the shores of Lake Savash, after another incident the previous night where FSB agents reportedly discovered saboteurs near the Artyomsk border crossing.
A firefight ensued and one paratrooper -- evidently Sychev -- was reported as killed when a bullet landed in his neck above his bullet-proof jacket. This version of the story told by the FSB doesn't sound like the two non-threatening wounds later described by friends.
According to
Vesti-Ukraine,
which studied Sychev's profile on Vkontakte, Sychev was born in Primalkinskoye in the Prokladnensky District of Kabardino-Balkaria in Russia's North Caucasus. His regiment has 1,500 soldiers, armor and self-propelled Nona artillery. They took part in the second Chechen war and also the Georgian war.
Vesti-Ukraine
says that Sychev's account on VKontakte shows a picture of him dated August 1, 2014 with a geotag near the village of Golovinka in the Neklinovsky District of Rostov Region, 50 kilometers from the Ukrainian border and 75 kilometers fro Amvrosievka.
As we reported in January 2015,
Golovinka is a large staging area near the Ukrainian border. used by the Russian military prior.
Another photo shows him just a stone's throw away from the Ukrainian border near the village of Chkalova in Myasnikovsky District in Russia. 
Yet another photo taken in February 2015 shows him with a buddy wearing a skull mask. Neither of them have identifying chevrons and it is not clear where they are. 
A photo of Sychev also turns up in the album of Maksim Maskimov who was in the Somali battalion of the self-declared "Donetsk People's Republic" who was reportedly among the police who broke up the Maidan protests earlier. Sychev, Maksimov and an unidentified man are sitting in the October Park in Rostov. The two other men are bandaged and were wounded, and Sychev himself, wearing his paratrooper's undershirt but flip-flops may have also been in the hospital.
-- Catherine A. Fitzpatrick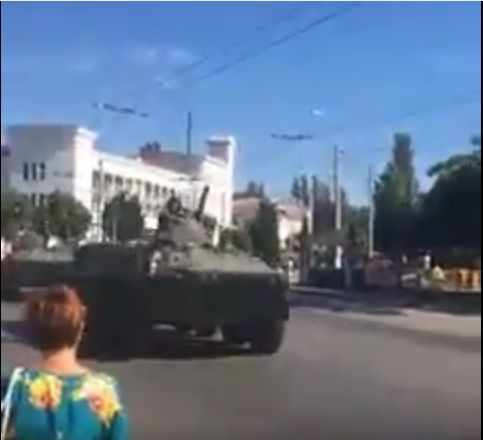 Increased Russia Military Convoys on the Move in Past Week
Another video uploaded August 10 was said to be taken near Belogorsk (Bilohirsk) in Russian-occupied Crimea.
A driver named Slava Lim uploaded a video on August 9 titled "Armor On Guard of the Peninsula," according to the metadata. The video does not appear before this date in reverse search.
A VKontakte reader of the blogger Voyenny Osvedomitel' said the armor was always there. Others said that all the pictures shown didn't constitute enough to make an invasion.