Russian Foreign Ministry Reveals 2nd Detainee in Crimean Border Clashes; 1st Charged with 'Sabotage'
The Russian Foreign Ministry has issued a statement identifying a second detainee out of seven reportedly arrested after Crimean border clashes which reportedly took place this weekend.
The site is currently showing an "under repair" sign about "technical work" under way.
Meanwhile, the notice, which was visible earlier today, is being discussed on social media.
An avid war blogger Necro Mancer (@666_mancer) who reports daily in detail on fighting in and around Donetsk, has identified some of the suspect's social media accounts.
Translation: And here, it seems another "super-agent" caught by the FSB from the Ukrainian diversionary and reconnaissance group. #Crimea .
The individual identified is Andrei Romanovich Zakhtey, born November 3, 1975, who lists his home town as Borislav but is also shown as being from Yevpatoriya, Russia. He advertises on his VKontakte page: "Help for applying for Russian citizenship for residents of the near abroad and countries of the former USSR. It's all official!!! Write."
He has also been found on a Russian jobs site offering his services for apartment repairs. There he says he lives in Odintsovo and can do jobs in the Moscow area as well as Crimea.
Yet another site, where his profile has the exact same name and birthdate, shows him as living in Saki.
One Twitter user commented to Necro Mancer that he couldn't understand the principle under which such a person was chosen, either for the mission or to be abducted to claim he was on the mission, given that he didn't even show any sympathies for Ukraine.
Translation: This poor fellow will clearly admit to anything, even in burning down the Reichstag. He has children.
Meanwhile, Slon reports, citing RIA Novosti, that Yevhen Panov, the former Ukrainian ATO [Anti-Terrorist Operation] volunteer fighter who left the war last year and who friends and family say was abducted in Zaporozhia, has been charged with "sabotage."
At the FSB's request, the Kiev District Court in Russian-occupied Simferopol in the Crimea held a closed session and made the charges.
According to Kryminform, Panov entered Crimea legally and was supposed to help extract the "saboteurs" back to the Ukrainian mainland. As we reported, his brother Igor Kotelyanets said he believes Panov was abducted, because he had gone to a cottage dressed only in a t-shirt, athletic pants and sneakers, and his knapsack with a uniform and equipment was left at home.
Slon points out the discrepancy in the number of detainees reported by various state media. RIA Novosti said on August 10 that there were seven; TASS said today there were "about 10".  TASS said four may have returned to Ukraine.
The FSB said that all the detainees had confessed.
Slon said that officials provided no other details about the second detainee. His last name, combined with the patronymic, would not be so common. It is likely his profile on various social media, one of which says he lives in the Ukrainian town of Borislav.
-- Catherine A. Fitzpatrick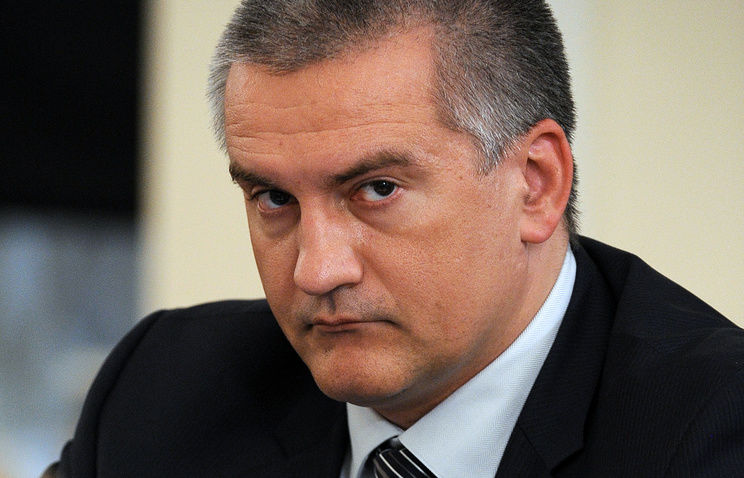 Aksyonov Claims US Behind 'Terror Plot,' Calls For 'Saboteurs' To Be Killed And Strung Up
Sergei Aksyonov, the Kremlin-backed prime minister of the Russian-occupied Ukrainian Autonomous Republic of Crimea, has claimed that the United States played a role in the alleged terror plot that the FSB claims to have foiled over the weekend.
Russia's state-owned TASS news agency reports that Aksyonov told Rossiya 24 that he is sure that the US State Department was behind the affair as he believes Ukrainian officers would not have the "spirit" needed to embark on a course of "terror" against their own people.
Meanwhile RFE/RL's Crimean service reports that Aksyonov, who used to be known as 'Goblin' in his days as an overseer with a criminal gang, went on to say that Ukrainian "saboteurs" should receive medieval punishment:
"We need to do to saboteurs what farmers do to crows who steal their crops: kill them and hang them up opposite the border so that others aren't tempted."
-- Pierre Vaux
US Ambassador to Ukraine Issues Strong Statement on Crimea, Calling Russian Claims 'False Accusations'
Amb. Geoffrey Pyatt, US envoy to Ukraine, has issued a series of strongly-worded tweets about the Russian claims yesterday of a "foiled terrorist attack" on the border of Russian-occupied Crimea and Ukraine at the Armyansk crossing.
Amb. Pyatt posted five tweets in English, Ukrainian and Russian:
The Kremlin's version of events have shifted both before the official FSB announcement of the alleged border clash and after, saying first 4, then 5, and now 7 Ukrainians and Russians have been arrested. So far, only one detainee has been shown, Yevgeny Panov, a former ATO soldier and nuclear power plant worker whose family and friends say he was abducted.
President Vladimir Putin said yesterday that he would "not pass by" the killing of an FSB officer and Russian soldier in the incident. The nature of any retaliation is not yet known.
-- Catherine A. Fitzpatrick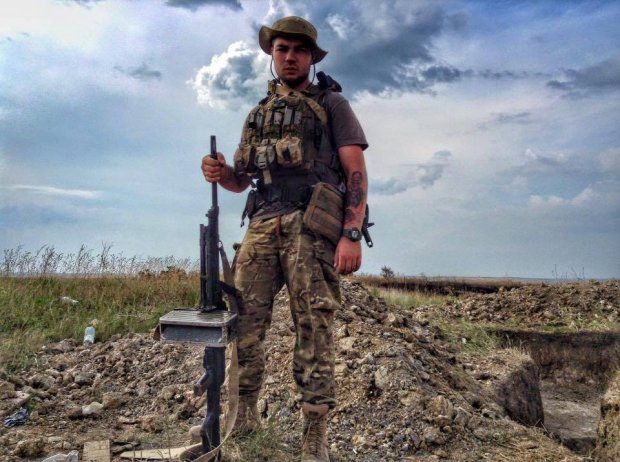 One Ukrainian Soldier Killed, Four Wounded After Night Of Heavy Shelling
Reports on social media last night describe heavy fighting near the airport and Avdeyevka, with outbound shelling from separatist-held Makeyevka, an eastern suburb of Donetsk.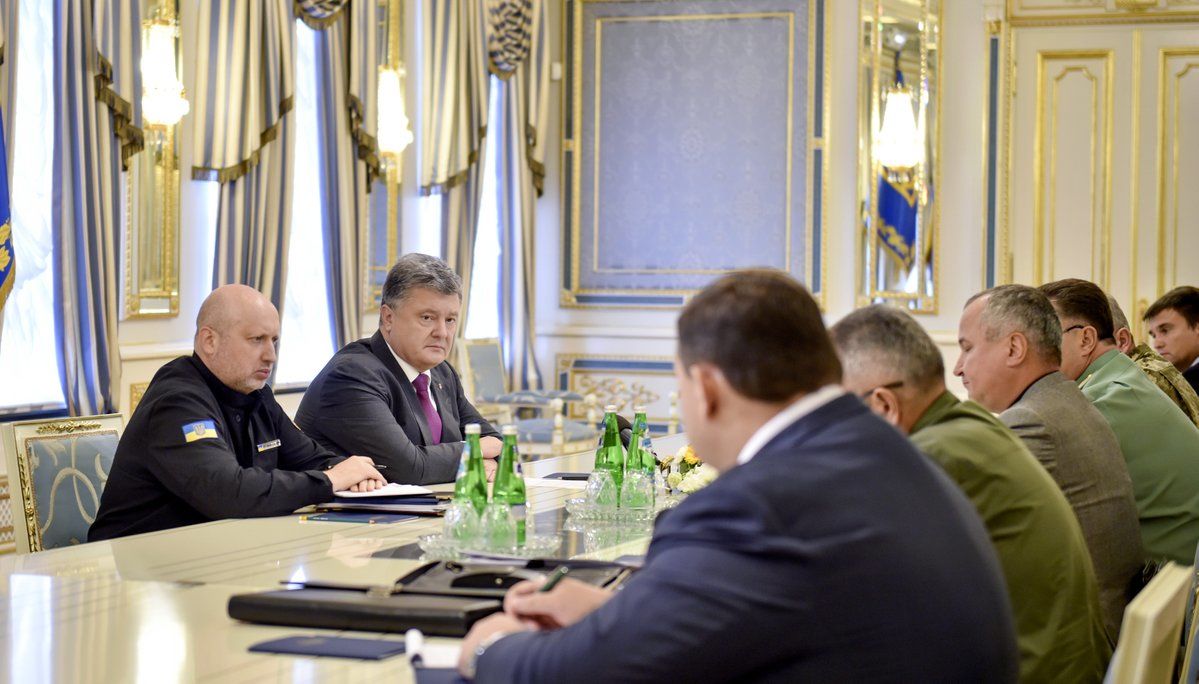 Poroshenko Places All Forces On Frontier With Occupied Crimea And In Donbass On Combat Alert
President Petro Poroshenko has ordered that all Ukrainian military forces along the frontier with Russian-occupied Crimea be brought up to full combat readiness.
Poroshenko made the announcement after a meeting with officials including the Secretary of the National Defense and Security Council, Oleksandr Turchynov; the defense minister, Stepan Poltorak; the head of the Ukrainian Security Service, Vasyl Hrytsak; the chief of the General Staff, Viktor Muzhenko; and the foreign minister, Pavlo Klimkin.
Translation: I have given orders for the raising of the combat readiness of all units near the administrative border with the Autonomous Republic of Crimea and across the whole contact line in the Donbass.
-- Pierre Vaux