Russia Update: August 4, 2016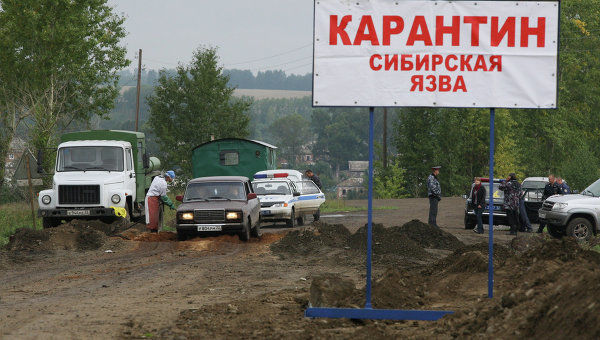 Defense Ministry Sends Crew to Disinfect Region Stricken with Siberian Anthrax; 90 Hospitalized
The Russian Defense Ministry has sent a team, armed with the latest system for aerosol disinfection, to Yamal where people and animals are stricken with Siberian anthrax, Novaya Gazeta reports.
A week ago there were reports of a die-off of some 1,500 to 2,300 reindeer, the source of livelihood for the Nenets nomadic people in the Nenets-Yamal Autonomous Region in Russia's far north.
Earlier this week, eight people were reported ill with active cases of anthrax, three of whom were children. One of these children, aged 12, then died. Then reports indicated 20 residents of Yamalo-Nenets Autonomous Region were ill.
Now, at least 90 nomads have been hospitalized with symptoms of the deadly disease in the regional hospital in Salekhard, Interfax reported. At least 200 people have been given preventive treatment with antibiotics. Authorities have quarantined the area.
This form of anthrax can be contracted by eating tainted meat, in this case reindeer meat which is a staple of the nomad diet. But people can also be infected through small cuts or by inhaling the toxins. The Nemal people rely on reindeer for transportation and use their skins for huts and also drink their milk, high in fat and protein. Every Nenets has a sacred reindeer which he doesn't slaughter or ride.
Yaroslav Roshchupkin, an aide to the commander of the Central Military District described how the military was combating the outbreak, TASS reported:
"A military transport plane has deployed in Yamalo-Nenets Autonomous Region the latest Orlan system for aerosol disinfectant from Yeakterinburg to Salekhard, from where it will travel on its own to the Siberian anthrax area to perform the assignment. 

The Orlan is a modular system, adopted in 2015, mounted on the chassis of a KamAZ-53501. It can deploy up to eight self-powered treatment sites with a capacity of 50 units of equipment per house and up to 90 square meters of surface per minute. The system is outfitted with a operable crane and hydraulic lifts."
 Personal safety suits and structures are also being supplied.
Anna Popova, the head of Rospotrebnadzor, the consumer oversight agency, said that the outbreak of Siberian anthrax in Yamal was localized and that there was no threat it would spread to other regions.
Regional authorities say an unusually hot summer for this extreme northern area was the reason for the spread of the disease,
Interfax reported.
NBC said
a thawed carcass was the origin of the outbreak.
Vladimir Chuprov, head of the energy department of Greenpeace said that climate change was responsible for the outbreak:
"One of the consequences of climate change is the increase of such outbreaks of infectious diseases. Carcasses of animals who died in epidemics tens and hundreds of years ago and old cemeteries are 'conserved' in the permafrost. Due to warming, the frost melts and they end up on the surface, spores are forced and the infection spreads against."
He said the anthrax spore remained active up to 100 years. He also said that as the permafrost melts, companies in search of precious metals come to mine in areas they could not reach previously, and this strips away the soil, which can unearth buried spores.
The nomadic people have been evacuated by the government from the area and housed in temporary camps. Volunteers are gathering food and clothing for them.
Nikolai Vlasov, deputy head of Roselkhoznadzor, the agricultural oversight agency, blamed local authorities for not compelling people to get vaccinations against Siberian anthrax. He said vaccinations were available for both people and animals and had few side effects, and that this was the only way to prevent the disease.
Unlike other officials who claimed there was no danger of outbreaks elsewhere, Vlasov said it was quite possible for sporadic outbreaks to occur anywhere, and the pasturing areas were too large to disinfect. Only mandatory vaccinations would prevent the disease, he reiterated.
-- Catherine A. Fitzpatrick