Police Have New, Undisclosed Details on Murder of Sheremet; Ukrainian Interior Minister Avakov Denies Police Tailed Him
A source in the Ukrainian National Police said today that investigators must first precisely identify the suspects in the murder of Belarusian journalist Pavel Sheremet before they can publish police sketches now so as not to harm the investigation,
Ukrainska Pravda reported. 
Sheremet, a Belarusian journalist forced to flee his homeland who worked in Russia for a time and obtained Russian citizenship had ultimately found a haven in Ukraine for the last 5 years but was murdered July 20 evidently in connection with his work.
The police source said that investigators are working on various hypotheses for the murder.
"There are details, interesting details, but we will not disclose them," the source said.
Seven FBI agents were brought in to assist the investigation and conducted an examination of the car, owned by Sheremet's common-law wife Olena Prytula, which he was driving when the blast occurred, Gordonua.com reported. They also analyzed the kind of explosives used, which were placed under the driver's seat. Some of them FBI agents remain in Ukraine while others have returned home.
Ukrainian Prosecutor General Yuriy Lutsenko said on TV 112 Ukraina on July 25 that the FBI was due to present a report to him on the explosives on July 27. The report has not been publicized.
Last week Arsen Avakov, Ukraine's Interior Minister in charge of police, denied that Vadim Troyan, in charge of the National Police, order surveillance on Pavel Sheremet, the Belarusian journalist killed July 20,
Gordonua.com reports
(translation by
The Interpreter
):
"It's an absolute fake, which was planed by a publication. What do you call it? 'Dump tank'? Absolutely unfounded, fabricated story, it has no relationship to the truth."
Avakov used the term slivnoy bachok ("dump tank") which is regional Russian slang for unscrupulous journalists who leak disinformation or compromising material about public figures in the media, often for pay.
He added that the investigation has some facts not known to the broad public regarding the murder, but believes it is not necessary to publish them now. Said Avakov:
"The case is being investigated in detail and competently. Unfortunately, it is not one of those that can be investigated in two days. It's an enormous mass of information."
Avakov also announced a reward of 200,000 hryvnia (US $8,064) for information leaching to the solving of the murder.
A pro-Russian publication Izvestie.ua reported that supposedly Troyan had put members of Azov Battalion, now working in the National Police, to tail Sheremet for reasons unknown. While Sheremet's last article was critical of some Azov members, he spoke positively of its leader Andriy Biletski and Azov praised his work in a statement on their web site.
The Ukrainian media has also revealed
now that three weeks before he died, Sheremet made a trip to Moscow, where he saw people close to Boris Nemtsov, the opposition leader who was his friend and who was assassinated on February 27, 2016. Ukrainian Military Prosecutor Anatoliy Matios said that Sheremet also met with Aleksandr Klimenko, the former Minister of Revenue and Tariffs who fled to Moscow along with former president Viktor Yanukovych.
Matios said Sheremet himself told him of the meeting with Klimenko, three days before his death, where they had planned a trip he was to make to the front line on July 26.
"I don't want to get into conspiracy theories, but at the last meeting with Pavel, we discussed a lot of things. He was always an optimist, here was a bright person, but at that moment, he painted his trip about three weeks ago to the city of Moscow in rather sad colors, still and all, where he said was able to meet with everyone, as he said, who was in the circle close to Boris Nemtsov.




I don't want to place accents, but [the meeting with Klimenko] did happen, he told me about it... By virtue of his journalistic activity he visited the so-called Moscow City office center where all our quasi-exiles are located, whom we will definitely reach and put on trial. He had a meeting with one of those exiles -- the ex-minister of revenue and tariffs Klimenko."
Matios said he didn't have a chance to discuss the conversation with Klimenko in detail but said the information would be made public.  He said the murder was notable for its cynicism, nastiness and "absolute confidence" that the murderer wouldn't be caught.
Said Yashin:
"I am not an investigator, I don't have all the complete information. I think the key hypothesis which must be checked, on which it is necessary to concentrate, is the hypothesis of the involvement of [Russian] intelligence services. Undoubtedly, the Kremlin and Putin had a motive: the destabilization of the situation in Ukraine, dealing a blow to the reputation of the Ukrainian authorities, toward whom the Kremlin continues to be very hostile. That's on the one hand.




On the other hand, it is an entirely unambiguous message, a message for those Russian emigrants who made their way to Kiev and who, believing that they are in safety, criticize the Putin regime."
Yashin said that at one time he and Sheremet had discussed how they should have convinced Nemtsov to move to Kiev, that this would have saved his life. He said at that time, Sheremet said:
"If someone has illusions that the Putin intelligence services cannot reach the person they need in Kiev, this is a misconception."
Olena Prytula, Sheremet's common-law wife and the head of
Ukrainska Pravda
, where he worked, said she equated bloggers harassing him online with the murderer,
Gordonua.com reported.
"In our last evening, Pasha [Pavel] and I went around in circles carefully, counting up the coveted 10,000 steps. Before that, he had read the post by Sergei Ivanov, who wrote the usual nastiness about me. Pasha was very hurt, we spent OUR LAST CONVERSATION on that asshole. We spoke of how some people have a calling to bring pain to other people. At that moment, we didn't know that there were even other people who were hatching the plan of his murder.

I deliberately place an equal sign between those who blew him up and those who poisoned the last night of his life. This can't be.  We must put an end to this harassment and hatred on Facebook. It is murder by word. 

And not only those who write all that are guilty. You can tear a person into bits not only with a bomb. More to blame are those who pay for this hatred.

I am confident that the investigators will find the murderers. But let's not kill each other."
Her reference to "10,000 steps" is a belief that this many steps a day is needed to keep in good health. 
-- Catherine A. Fitzpatrick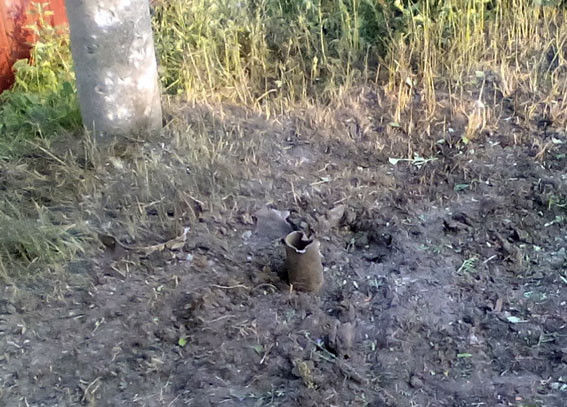 Shelling Reported Along Much The Front In Ukraine Last Night
Fortunately no casualties were reported.
Savchenko Declares Hunger Strike Until Progress On Release Of Ukrainian Prisoners Of War
Nadiya Savchenko has declared she will go on hunger strike until Ukrainian captives are released by Russian-backed forces.
Savchenko, a former military officer and now Batkivshchyna MP, who was released from Russian captivity after her capture, illegal rendition and show trial, announced her intentions at a press conference this morning.
Leviy Bereg reports that Savchenko said:
"One of the mechanisms to accelerate my release was a hunger protest at the inactivity of the Ukrainian authorities. As of today, I am again declaring a hunger strike at the inactivity of the governments of the whole world with regards to the release of Ukrainians from captivity. I will keep up my fast until the day of a positive result."
Savchenko called on relatives of captives to go to the Presidential Administration and demand that President Poroshenko, "who sent your children, not his own, to their deaths," meet them and report on what was being done to free prisoners.
There are fears, however, that many of the Ukrainian soldiers the Russian-backed separatists claim to hold in captivity are already dead.
Translation: Savchenko: People and children will start talking to one another earlier than politicians.
Translation: Savchenko: The Minsk process has run out of steam.
Translation: Savchenko calls on the owners of television channels to set up repeater stations for broadcasts to the self-styled DNR and LNR.
Translation: Savchenko: We need not be divided, we have the same values. Both Maidan and AntiMaidan stood for the same values, but they could not understand this.
Translation: Savchenko: The people have long been ready for self-government and self-organization.

Translation: Savchenko confirmed her readiness for negotiations with the ringleaders of the 'DNR' and 'LNR.'
Last week the head of the self-declared Lugansk People's Republic (LNR), Igor Plotnitsky, announced that he had ordered the creation of a contact group for negotiations with Savchenko. 
Plotnitsky, who was personally involved in Savchenko's abduction to Russia according to the former captive's testimony during her show trial, claimed that he would guarantee his former prisoner's security if she travelled to the separatist-held 'republic.'
-- Pierre Vaux