Russia Update: July 26, 2016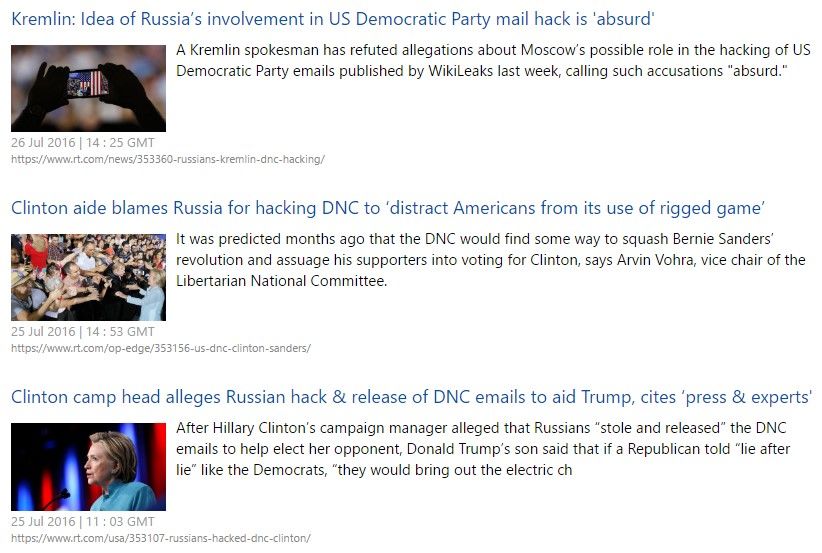 Russia's US Election Coverage: Muted At Home, Biased Abroad
In wake of the hack into the  Democratic National Committee there are many who believe that the Russian government is trying to directly influence the outcome of the American election.The Interpreter has analyzed that theory in a separate article, and the findings are clear -- there is strong evidence linking the Russian government to this hack. Furthermore the Kremlin had the means, motive, and opportunity to hack the DNC with the intention of derailing the election of Hillary Clinton.
Interpretermag
The Kremlin Is Working Hard To Make Donald Trump President
The evidence clearly implicates the Russian government in the hacking of the DNC, a clear attempt to influence November's election. And it's not the only one.
View full page →
It is also worth examining how this story is being covered in the Russian media in order to see how this issue is playing out in the public sphere.
When the news initially broke on June 14 that Russian hackers were reported to have broken into the computers of the DNC, the Russian media -- state, pro-Kremlin and independent -- covered the event, but briefly, and using only Western media reports. Gazeta.ru, for example, a fairly independent paper, summarized the news story in The Washington Post.
They described the hackers as "working for the Russian government" as the American press did, and were sure to quote the Russian Embassy, which said they "knew nothing about such intrusions."
Meduza -- an online news site based in Latvia run by journalists who were fired or left Lenta when it came under greater pressure from the Kremlin -- reported that the hackers were "suspected" to have broken into the DNC's computers and quoted presidential spokesman Dmitry Peskov
as denying the claim.
Like the American media at the time, the Russian stories focused only on the "opposition research" about the Republican candidate Donald Trump.
Vedomosti,
an independent business news outlet
summarized
a
Bloomberg piece
on June 22, saying thousands of documents could have been stolen.
When WikiLeaks published the files last week -- which meant that they got them from hackers who are,
the evidence clearly indicates
, Russian --
LifeNews
, a TV and news service close to Russian intelligence and police, and
Moskovskiye Komsomolets,
a news site sometimes critical of the government, reported the denial from Wikileaks founder Julian Assange that Russian hackers had obtained them. 
"There is no evidence that Russia stood behind the attack of the DNC," he was quoted as saying, although security experts have found plenty of evidence that sophisticated hackers were behind the breach. Like other pro-Kremlin and state media, LifeNews
also ran Peskov's denial
 uncritically.
These outlets were
delighted to report today
Foreign Minister Sergei Lavrov's reply to a journalist who asked him today about the hacks while in a meeting in Laos, where he is meeting with other foreign ministers.
"Well, I don't want to use four-letter words," he said in English (video below via the Russian English-language propaganda network RT). 
RBC quoted the New Republic's analysis to say that in fact the Democratic primary wasn't rigged in favor of Hillary Clinton.
Although in the US, many lengthy reports have appeared detailing the ways in which President Vladimir Putin appears to back Trump and manipulate the elections (notably by Franklin Foer), it seems no Russian media has done its own analysis of whether this could be true.
While Russia's domestic media does take a daily interest in the twists and turns of the US election, reporting the results from each state primary and any significant developments, the story of the hack has not been as big a story as the Russian government's own hacks of its opposition. Russia is preoccupied now with its own elections and scandals such as the search of the home of the head of the Federal Customs Service. 

This also makes sense on a practical level, however. The Russian-language media would have very little influence over the American election. Therefore it is also worth looking at Russia's English-language propaganda networks, RT and Sputnik.
On RT (formerly Russia Today), clicking on their "America" page is the easiest way to see RT's election coverage at a glance. There are 13 stories on the front page, and at time of publishing 10 of them focus on the American election. A breakdown:
- A link to RT's DNC liveblog
- An article about Jill Stein, a liberal who is running as a third-party candidate and is attempting to court supporters of Bernie Sanders
- An article about how Bernie Sanders campaign manage asked Sanders supporters to stop calling for the arrest of Hillary Clinton
- An article about how Bernie Sanders refused to get into a Twitter fight with Martin Shkreli, "possibly the most hated man in America."
- Two videos about how Oscar-winning actress Susan Sarandon is leaving the Democratic party.
- An examination of comments made by Michele Obama that say Hillary Clinton is a good role model for children.
- A heavily-editorialized headline about how Bernie Sanders disappointed his supporters by backing Hillary Clinton.
- An interesting comparison between Clinton's choice for Vice President, Tim Kaine, and Donald Trump's pick of Mike Pence. In the summary of the two candidates, RT describes Kaine as a "surprise" choice who holds positions that are "at odds with those of Sanders' left-leaning supporters." Pence, on the other hand, is described glowingly:
"Indiana Governor Mike Pence is a conservative Republican who once described himself as "Rush Limbaugh on decaf." He presents a calming influence to counterbalance Trump's brash personality. His experience and evangelical ties make him a strong running mate for Trump's ticket.

"Pence has six terms in Congress and four years as governor under his belt, allowing for a full examination of his stance on the issues."

The rest of the article, a breakdown of policy positions, was more nuanced.
In other words, RT's coverage is largely focused on Bernie Sanders, who lost the Democratic nomination, than it is on either of the two major party nominees. RT's coverage clearly shows an anti-Clinton and pro-Sanders slant. Scrolling deeper into RT's coverage reveals that Trump is often quoted uncritically, at least in major headlines and article summaries, and often on topics that are embarrassing or at odds with Hillary Clinton.
It may be covered somewhere else on RT's website, but the only article on the DNC hacking scandal that we were able to find by scrolling through their "America" page was entitled "'RIGGED': Trump slams DNC for 'vicious plan to destroy' Bernie exposed in WikiLeaks emails." 
Running a search for "hack" on RT reveals three articles, two of which are clearly critical of Clinton and the claims that the Russian government was responsible for the hack, and a third is more subtle in its anti-Clinton bias (but said bias is clearly present).
Sputnik News, the more hawkish and foreign-policy-centric of the two Russian English propaganda networks, is also more clearly biased against Clinton. On their US news page, there are twenty articles, there are only seven articles on the US election. One praises Sanders' "political revolution," another is an editorial which paints Clinton as anti-Russian, a third brands Clinton's claim that the Russians were behind the DNC hack as a "desperate move," two quote Edward Snowden in his criticism of Clinton and the DNC, one brands the Democratic convention as a "disaster," and one focuses on corruption allegations against Clinton's "'long time friend'" Congresswoman Debbie Wasserman Schultz. 
If Russia's domestic media is biased in its coverage of the American election, it is subtly so. The English-language, Kremlin-run "news" outlets, on the other hand, are wearing their bias like a badge on their chests. 
-- Catherine A. Fitzpatrick, James Miller