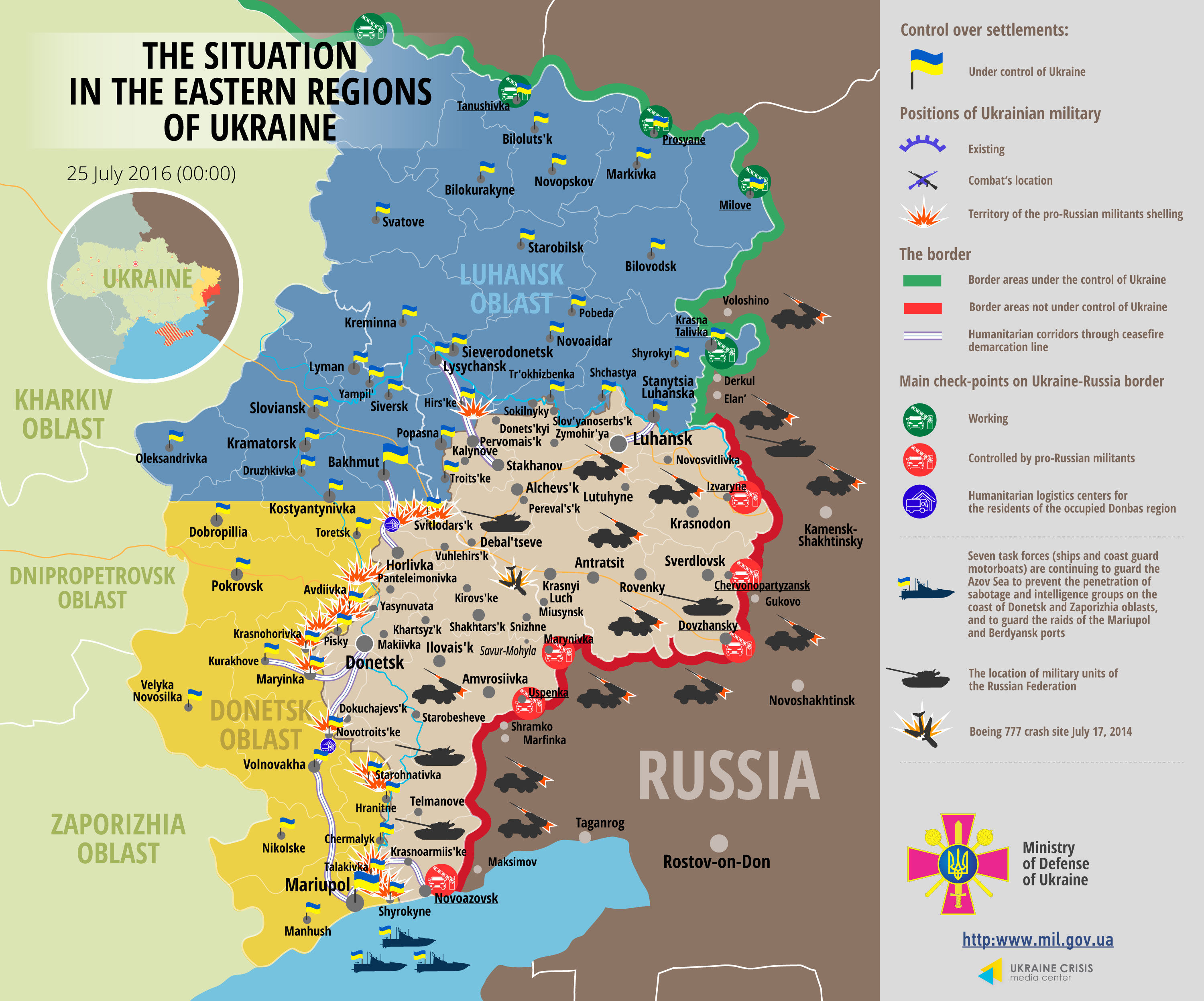 Ukraine Reports Heavy Shelling Near Donetsk And Mariupol; 3 KIA, 3 WIA Yesterday
The Ukrainian military reports that three servicemen were killed and another three wounded in the Donbass yesterday.
Colonel Andriy Lysenko, military spokesman for the Presidential Administration, told reporters that two Ukrainian soldiers were killed in Avdeyevka, where one was wounded; while the other was killed and one wounded in Nevelskoye. Another soldier was wounded in Starognatovka.
Outside the conflict zone, one Ukrainian soldier was killed and eight wounded when a 120 mm mortar round exploded this morning at a training area in the Nikolaev region. 
According to this morning's ATO Press Center report, Russian-backed forces conducted 58 attacks yesterday.
Particularly heavy shelling was reported in the south, near Mariupol.
Military press officer Vitaliy Kirillov told 0629.com.ua that for around ten minutes last night, Russian-backed forces conducted simultaneous barrages across the whole front line in the Mariupol area.
According to Kirillov, Russian-backed fighters used mortars, infantry fighting vehicle cannons and recoilless rifles in attacks near Talakovka, Gnutovo, Vodyanoye and Shirokino.
The shelling was so intense that another local news site, Mariupol.tv, reported that residents across the city could hear the sounds of the barrage.
Some residents reported that they heard the sound of Grad rockets, but Kirillov claimed that this was in fact the sound of several different types of weapons being used at once. Colonel Lysenko said that the General Staff had received no reports of Grad use last night. 
Another seven attacks were reported after midnight, with mortars again used near Talakovka and Vodyanoye. 
The self-declared Donetsk People's Republic (DNR) reported that two civilians were wounded by Ukrainian fire in separatist-held Kominternovo, east of Mariupol.
Meanwhile Kirillov claimed that the village had in fact been shelled by Russian-backed fighters at the same time as the massed barrage on Ukrainian-positions, so as to discredit the Ukrainian armed forces.  
Further northeast of Mariupol, the ATO Press Center reported that positions near Novogrigoryevka were shelled with 122 mm artillery, while both 120 and 82 mm mortars were used against Starognatovka, where Colonel Lysenko reported one wounded.
To the north of Donetsk, where all the rest of Ukraine's casualties yesterday were suffered, the ATO Press Center reports that mortars were used to shell positions near Novoselovka Vtoraya, Opytnoye, Nevelskoye, the Butovka mine and Avdeyevka, where a skirmish reportedly took place between Ukrainian and Russian-backed fighters.
It was in Avdeyevka that the Donetsk Regional Administration reports a civilian man was wounded by a shell blast over the weekend.
Meanwhile only two attacks were reported yesterday in the Lugansk region. According to Serhiy Berets, a military press officer, Ukrainian positions near Orekhovo and Zolotoye were attacked with grenade launchers and small arms.
The DNR, which accused Ukrainian forces of firing on separatist-held territory 570 times over 24 hours, reported today that three of their fighters had been wounded by Ukrainian fire within the last 24 hours.
-- Pierre Vaux
Ukrainian Prosecutor General Investigating Claim That National Police, Former Azov Tailed Sheremet
Prosecutor General Yuriy Lutsenko is investigating a claim that Vadim Troyan, first deputy head of the National Police had  placed Pavel Sheremet, the journalist slain July 20 in a car bomb, under surveillance before his death,
112.Ukraina
and
Unian
reported.
Izvestiya.ua, affiliated with the original Izvestiya in Russia,
claimed in an article on July 21
that an internal probe in the National Police turned up the fact that police were trailing Sheremet and other prominent figures. According to
Izvestiya.ua:
"Earlier the media reported that Sheremet and his common-law wife Olena Prytula knew that external surveillance was maintained on him by the Interior Ministry, and for that reason refused to take security."
"This information does not correspond with reality," said the ministry, denying there was any kind of internal investigation.
Supposedly Dekanoidze was followed when she went to meet a US citizen. 
As Izvestiya reported, a video taken by Channel 17 has been circulated on the Internet showing the scenes immediately after the car which Sheremet was driving, which belonged to his partner Olena Prytula, exploded from a device placed under the driver's seat. 
The video shows two men, said by Izvestiya to be "Troyan's operatives," one of whom was a allegedly a former fighter for the Azov regiment. Troyan is a former deputy commander of Azov, when it was still a battalion-sized volunteer unit. In addition both he and Azov's commander, Andriy Biletsky, were members of the neo-Nazi Patriot of Ukraine organisation.
The men seen in the video are not named by either the media or the Interior Ministry.
Channel 17 arrived so quickly on the scene of the murder that it aroused suspicions that they knew about it beforehand. 
"A geopolitical hypothesis is being reviewed, where the 'Russian trail' is indicated. A certain number of questions are connected precisely with this; why did Channel 17 in fact arrive first at the scene of the crime. Were they warned, did they know about what was to happen. Of course this cannot be left without the attention of investigators."
For their part, Channel 17 said in
a statement published with their video on YouTube on July 20
that they were near Sheremet's home at that time because they had been waiting for Mayor Vitali Klitschko who lives nearby, to interview him for a show on de-communization which was set to air July 22. When they heard the explosion, they ran to the scene.
All of the Ukrainian media who have published this story have run a still only, with the face blacked out of the man in Channel 17's video who was claimed to be an Azov fighter.
The still is a screen grab taken from the Channel 17 video, and the heavyset man in a white shirt with a black bag slung over his shoulder can be seen from the beginning, and close up at 0:21 as he turns away, carrying a large bottle of water. While one man struggles to pull Sheremet out of the burning car and another pours water on the car, this man does nothing.
At 1:11, he turns to face the camera of the person filming the scene. So if he or a second man (not indicated) are involved in the murder, it's not clear why they would remain on the scene and allowed themselves to be filmed.
A security camera trained on the crossroads shows first a large man in a white shirt with a black bag crossing the street, right before the bomb goes off, then ducking and running. A second man in a white shirt with a black bag then comes running a few minutes later toward the car; this appears to be the former Azov fighter.
The purported presence of the former Azov fighter has fueled the belief that Sheremet's murder could have been perpetrated by Azov, ostensibly motivated by anger at 
the last article he wrote,
detailing the ways in which "men in camouflage" from Azov were blocking a court house when law-enforcers tried to bring in suspects.
Yet the article has been selectively quoted, and the last paragraphs in fact speak positively about Azov's leader, praising him for controlling his men when the Ukrainian Security Service [SBU] wanted to search their barracks after a gang of bank robbers were apprehended, one of whom turned out to be an Azov fighter (translation by The Interpreter):
I can imagine how difficult this decision [to cooperate with the SBU] was for Biletsky; after all, it went against the existing trend, when a man in camouflage, especially from the ATO zone, is always right and afraid of nothing.

And this example illustrates that when rational people from different forces -- the SBU and Azov -- find a common language, no terrible stupidities will happen.

Of course, Andriy Biletsky must continue to be watched carefully. He has progressed very far in the last two years and his maturing, but his radical and Nazi youth still sometimes lets itself be known. But you and I can distinguish between a responsible patriot who is mistaken and a crook and an opportunist.

And it is to such volunteers as Azov's Biletsky or the peace-keeper Teteruk we must orient, and not to those strange people in camouflage which right now are blocking the work of the anti-corruption prosecutors outside Solomen District Court in Kiev.



Under the conditions of the information blockade on our movement, Pavel was not afraid to write about us -- thanks to him the web publication Ukrainska Pravda began a series of reports on the Evgen Konovalets sergeants' school, and this morning Pavel Sheremet was to cover an action by Azov in support of the coal miners.




We have lost one of our few friends in Ukrainian journalism. Against the backdrop of the grey mass of controlled media, Pavel Sheremet was a real man who did not fear the truth, no matter how inconvenient it was.
Thus a possible explanation for the presence of the National Police and specifically someone from Azov might be related to those plans.
Sheremet left his house on the morning of July 20 and the bomb detonated around 7:45 am. The radio program ran daily from 8:00-11:00 am. His last program on July 19 was about the designers of the new Ukrainian army uniform.
According to RIA Novosti, Azov's demonstration only lasted about an hour.
So it's not clear how Sheremet could have gone to the march and made it to the station in time, unless the show, or parts of it, were taped. Alternatively he may have intended to mention it in passing.
This aspect of Sheremet's plans on the day of his murder has not been covered by most Ukrainian media, and only mentioned by the pro-Russian news service strana.ua and picked up on some social media.
Translation: an explosion occurred in the car in which the journalist Sheremet was traveling to cover the action of the Azov battalion. As a result of the traumas sustained, he died.
Biletsky spoke at Sheremet's funeral in Minsk, and thanked him for his coverage, saying he covered the Azov battalion not out of friendship but from professionalism, LifeNews reported. 
Varchenko, the Interior Ministry adviser, also said that the video published from the surveillance camera was authentic. He said the video shown by media on the Internet was compiled by law-enforcers from several different surveillance videos, and was published in order to try to help catch the perpetrator.
But other law-enforcers complained that the video was published, because it might help the perpetrators to escape justice.
Roman Govda, head of the prosecutor's office, is assisting the Kiev police who are investigating Shermet's murder. Yuriy Lutsenko, prosecutor general of Ukraine, has said that the main hypothesis for the murder of Sheremet was revenge for his journalism, 112.ua reported. The FBI has been brought in to assess the explosives and car.
Ukrainska Pravda reports today that Khatia Dekanoidze, the head of the National Police, has told reporters that Troyan, who is currently on leave, will answer questions on his matter when he returns.
-- Catherine A. Fitzpatrick