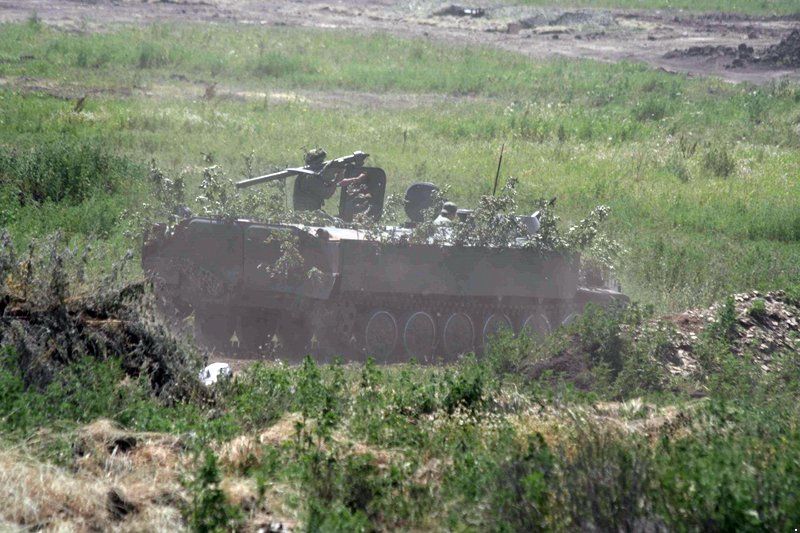 Ukraine Reports 66 Attacks Yesterday; 1 KIA, 2 WIA In Maryinka
The Ukrainian military reports 66 attacks by Russian-backed forces yesterday, including an assault on  a checkpoint in Maryinka, west of Donetsk, that left one Ukrainian serviceman dead and two wounded.
According to Colonel Andriy Lysenko, military spokesman for the Presidential Administration, the attack took place between 20:00 and 21:00 last night and was carried out by a group of a ten fighters.
"The militants came within grenade-throwing distance and opened fire with small arms and under-barrel grenade launchers on our troops. In response Ukrainian soldiers used small arms and repelled the occupiers."
According to this morning's ATO Press Center report, Russian-backed forces used mortars in attacks across most of the front line, with the heaviest fighting reported near Donetsk and Mariupol. 
Military spokesman Oleg Sushinsky told the 112 television channel that there had been another 11 attacks, most of them conducted with mortars or grenade launchers near Donetsk and Mariupol, between midnight and 6:00 today.
One civilian was wounded by gunfire in government-controlled Avdeyevka, north of Donetsk.
The Donetsk Regional Administration announced that the woman was wounded yesterday and is now being treated in a hospital in Mirnograd.
Two children were wounded by an explosive device in separatist-held Dmitrovka, near the Russian border.
According to the Darya Morozovaya, ombudsman for human rights in the self-declared Donetsk People's Republic, the two children, aged 10 and 12, received multiple shrapnel wounds after the as-yet unidentified device exploded yesterday.
It should be noted that while Dmitrovka is far from the current front line, it was the scene of intense fighting in the summer of 2014, when Ukrainian forces deployed in this area were shelled by both Russian-backed forces inside Ukraine and Russian artillery on the other side of the border. As such the area may well have a large quantity of unexploded ordnance. 
-- Pierre Vaux
Video Appears To Show Woman Planting Bomb Under Pavel Sheremet's Car
Video footage has been released which purportedly shows Belarusian journalist Pavel Sheremet's killers planting a bomb under his car.
As we reported last night, Ukrainian investigators said that they had found surveillance camera footage of this moment in the early hours of July 20.
Today Obozrevatel has published what they say is the video, taken from several cameras and showing an unidentified woman carrying a bag to the Subaru car belonging to Sheremet's partner, Ukrainska Pravda editor Olena Prytula.
She is accompanied by a man, who walks with a distinctive limp, who appears to keep watch from the other side of the road.
At 2:39 am, according to the video time stamp, the woman stops and kneels down on the driver's side of the car. After around a minute on the floor beside the car, she walks off.
Sheremet was killed when a bomb went off under his side of the car while he was driving to work just after 7:45.
A memorial service for Sheremet took place today ahead of his burial in his native Minsk tomorrow.