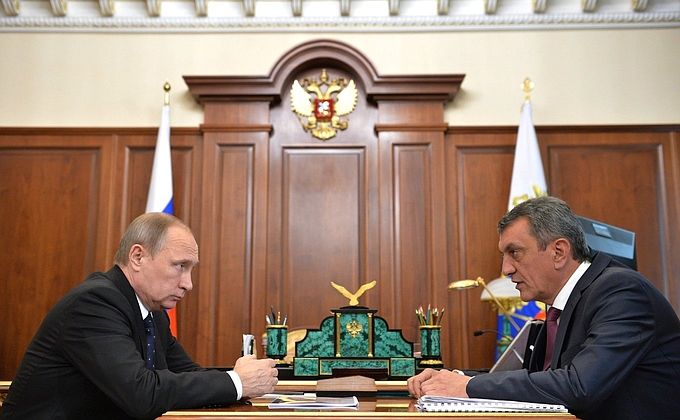 Putin Cancels 3 Domestic Trips, Possibly Over Abkhazia Crisis and Turkish Relations
President Vladimir Putin has cancelled his planned domestic trips this week to Altai, Yakutia and Novgorod, possibly because of the crisis in Abkhazia and negotiations with Turkey,
RBC.ru reports.
RBC says three sources close to the Kremlin informed them of the cancellations, although presidential spokesman Dmitry Peskov told RBC that none of these trips had been announced:
"They were among dozens of proposed [trips]. Inquiries were made and so on. But they had not been finally confirmed," said Peskov.
Putin was supposed to visit Altay Territory yesterday where he was to take part in a meeting of the State Council on tourism; the meeting was previously announced by Aleksey Konyushkov, deputy director of the Federal Agency for Tourism,
altapress.ru reported.
But sources told RBC that presidential aide Igor Levitin was unable to coordinate the timing for unexplained reasons, although Levitin himself was on a trip and unavailable for comment.
Today, July 6, Putin was expected to attend a conference of the United Popular Front (ONF) in Yakutia, but sources told RBC that the trip was in fact cancelled last week.
Then tomorrow, July 7, according to a source, Putin was supposed to go to Novgorod Region where he was to visit the Akron company owned by billionaire Vyacheslav Kantor and hold a government meeting on rare earth metals.
The source said the visit was cancelled just last night and moved to late July.
Putin was last seen in public on July 1 on a trip to Finland, where he warned Finnish leaders not to join NATO.
This week, kremlin.ru has posted reports of meetings with governors, but the last time Putin "went missing" in 2015, it was discovered that previously-recorded video tapes of such meetings were used, and now it is not certain they were made live.
For example, today a news brief about a meeting with Sergei Menyaylo, governor of Russian-occupied Sevastopol appeared at 14:10, but a Oleg Nikolayev, who is running for a seat in the State Duma from the Party of Growth, told RBC that he had been on the same flight as Menyaylo, but it had departed from Moscow for Sevastopol at 6:45 am today.
Menyailo's press secretary had no comment, and presidential spokesman Dmitry Peskov re-directed inquiries to Menyailo's office. "Today is an elastic concept. It can be either today early in the morning, or late in the evening yesterday," he told RBC.
A source closed to the Kremlin
told Gazeta.ru
that Putin may have cancelled his domestic trips due to the international situation, specifically in Turkey and Abkhazia:
"The international agenda has now come to the foreground. The aligning of relations with Turkey is underway and the discussion of the situation in Abkhazia, where the climate has worsened. In that connection, additional meetings and events are being held including with the participation of the Security Council. There may be personnel changes. The president wants to concentrate and not be distracted, the regional trips have been moved to August and September closer to the elections."
As RFE/RL reported
, this week some 1,500 opposition protesters in Abkhazia, a breakaway region of Georgian under Russian control, attempted to storm the Interior Ministry's building to demand the resignation of the interior minister. 
Leonid Dzapshba, the Russian-backed self-styled interior minister was dismissed by President Raul Khajimba and the protesters' other demands were being negotiated.
Another odd thing that happened this week is that Putin signed a law on the National Guard whose text differed from the law passed by the State Duma. Kremlin officials were investigating how the discrepancy occurred.
-- Catherine A. Fitzpatrick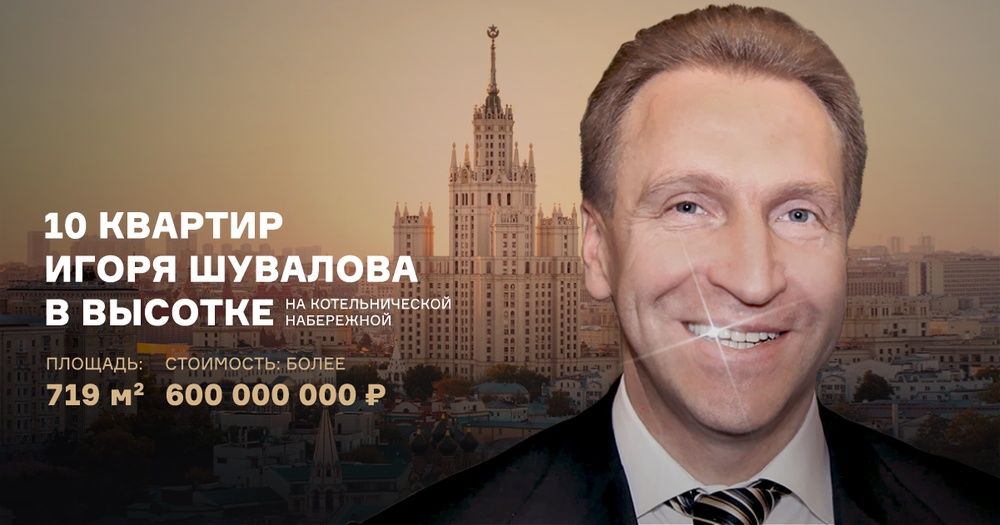 Russian Deputy Prime Minister Shuvalov's Property Manager Claims No Violation In 'Tsar Apartment' Deal
The property manager of Igor Shuvalov, Russia's first deputy prime minister, has come forward to explain that he is handling Shuvalov's property essentially in a blind trust,
RBC.ru reported.
"The idea was to create a unique property. And how we should proceed further was a secondary issue. If a quality buyer appeared, it would have to be sold. Obviously, in the event the apartments were put together, the property would be sold at a significant premium. It's an investment, after all."
Kotlyarenko said he purchased the apartments himself in the interests of his client. Asked if Shuvalov should have included them in his mandatory declaration as a government official, he said, "only if he buys them or begins to use them." He also acknowledged that the apartments could be transferred to Shuvalov's family.
Kotlyarenko said the "American construction" of the "blind trust" was not usually done in Russia in this fashion. He said Russian law did require him to send reports to his client "that no one read."
He insisted that Shuvalov did not follow his investments and that there was no conflict of interest. He said he had working capital of 30 billion rubles ($464 million), but not all of this came from Shuvalov and his family. He wrote off Navalny's concerns as "personal enmity and envy."
On July 4, anti-corruption campaigner Alexey Navalny published a blog post accusing Shuvalov of hiding his ownership of prestigious apartments on Kotelnicheskaya Street in one of the famous Stalin towers.
Navalny said Shuvalov was in the process of buying up apartments in the historic building in the center of Moscow; tenants had tipped off his organization the Anti-Corruption Foundation (FBK) to the process.
Navalny dubbed the largest dwelling in the building, the "Tsar Apartment," i.e. an apartment fit for a king, and contrasted it with an infamous statement by Shuvalov on a trip to Kazan, where he mocked people acquiring apartments only 20 x 20 meters in size, saying it was 600 times that size. 
More than a year ago, tenants in the building contacted FBK, saying "somebody important is buying up the apartments." The reason they knew the buyer was important was because he arrived with a motorcade and security from the FSO, the Federal Protection Service which guards the president and top Kremlin officials. The FBK checked records and didn't find any top officials getting the largest apartments, which they figured they would be interested in. 
After not finding anything of interest, they decided to go through and check all 700 apartments. That was when the found that some buyer had acquired the central apartment in the main tower, and then was buying the neighboring apartments up, one by one, purchasing 10 over a period of two years, all on the 14th floor. The apartments were going for more than 43 and 96 million rubles (US $665,743 and $1.48 million, judging from realty ads), so Navalny figured the buyer must be a billionaire.
He discovered that his name was Sergei Pavlovich Kotlyarenko, and he had never heard of him; he did not seem to be related to the known oligarchs. After digging for his biography, the FBK found he had worked from 1999-2004 in the Russian Fund for Federal Property, a government body that manage's state holdings, and the presidential administration. These dates coincided with the period when Shuvalov headed the Fund for Federal Property from 1998-2000. It turned out that the two men were classmates, and Shuvalov had helped his friend with his career, finding him jobs in whatever department he worked. More importantly, he assigned to Kotlyarenko the job of handling his family's properties -- which
Navalny had been following in the past.
Supposedly, Shuvalov had turned the properties over to Kotlyarenko in a "blind trust," where he would manage them without Shuvalov's involvement. Kotlyarenko is listed as the sole owner of a company named Profdir which in turn manages other companies, all listed as the property of Shuvalov and his family members.
The people who originally lived in the apartments were persuaded to move to other apartments with pledges of renovation and bonuses.
"We have no doubts that Kotlyarenko is buying up the apartments in the tower without bargaining in fact for Shuvalov. With Shuvalova's money," said Navalny.
RBC investigated Navalny's findings further, and a source within the property registry agency told them that Kotlyarenko owns 11 apartments in the Stalin building, all next to each other. A spokesman from Shuvalov's office said that his properties and those of his family were being managed and were properly declared.
The principle of the "blind trust" is that Shuvalov is not supposed to be following the investments. But TV Rain interviewed a tenant in the building who said he had seen Shuvalov come there many times.
Navalny writes that Shuvalov's lavish acquisitions were especially galling after the rest of the country was supposed to put on their St. George ribbons and "gather around the leader, the party, and the government" after the annexation of Crimea, but tighten their belts in an economic crisis and accept losses of savings, wages and pensions.
Meanwhile, government leaders are able to "catch golden fish in these muddy waters," says Navalny. Shuvalov already has a mansion and dozens of servants, as Navalny has reported in the past; last year, Navalny exposed Shuvalov's hidden ownership of a London apartment.
Navalny posted a video of Shuvalov speaking at the World Economic Forum, where he explains that the Russian people are prepared to put up with any sacrifices, eating less food and using less electricity, but if any forces tried to pressure them from the outside to change their leader, this would only make them more united and determined to back him.
Navalny added another tid-bit -- the building on Kotelnicheskaya had obtained $46 million in government funds for capital repairs
Translation: And do you know which building in Moscow wangled 3 billion rubles (!!!) for capital repairs? The very one where Shavalov began buying up the apartments.
-- Catherine A. Fitzpatrick