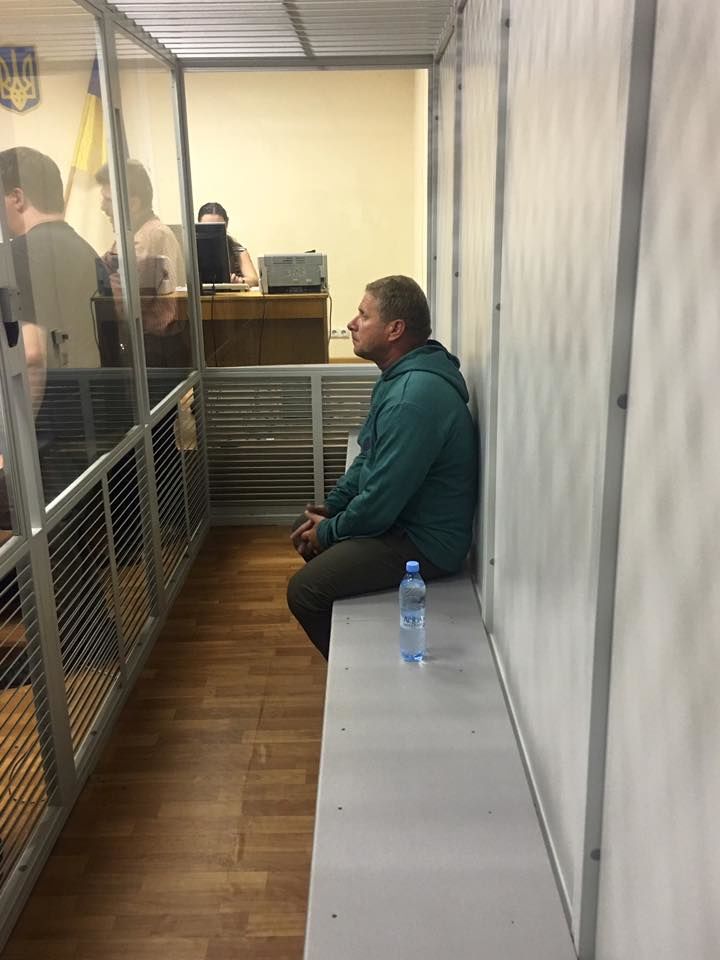 Aidar Commander Jailed on Charges of Looting, Kidnapping Over LNR Complaint; Fighters Block Courtroom
Valentin Likholit, known by his nom de guerre "Batka" ("Father"), former head of the Aidar Battalion where Ukrainian soldier Nadiya Savchenko served, was arrested Friday, July 1 on charges of unlawful formation of armed persons, theft, looting, kidnapping of persons and stealing of their personal property and equipment, Gordonua.com reported.
His lawyers filed a petition asking that he be released to await trial under house arrest but it was rejected. 
"Batka has been locked up for 2 months. There was a fight in the courtroom. They poured water on the judge. I saw how the police were giving weapons to some of those in plainclothes. Then people in balaclavas and civilian clothing, one of them armed with a machine gun, entered the courtroom. The cops said they were military spetsnaz.

There was another brief clash, after which the 'balaclavas' were removed from the building. If they were really from the Ukrainian Armed Forces, it's not clear what they were doing in the building, in the center of Kiev.

An investigative operations group from the police arrived. The people's deputies and fighters from the volunteer battalions announced the blockading of the courtroom.

I don't want to make a judgement, but I will note that if the prosecutor's office were as active with cases of collaborators such as Kazakov, then today's incident might have been avoided. It's offensive. Difficult. My poor country."
"This is the session where the issue of the selection of the measures of restraint for Valentin "Batya" Likholet from Aidar will be decided.
The military prosecutor's office is accusing him of a number of criminal offenses.
The plaintiff is Severodonetsk Mayor Kazakov and his accomplices which infiltrated the 'Russian World' in the current capital of Lugansk Region and remained unpunished. The charge: 'three tape recorders, three foreign movie cameras, three domestic cigarette cases, a suede jackets.'
Valentin Kazakov is a protege of the head of the Opposition Bloc, Yury Boyko.

Judge Kristin Gladun is conducting herself normally and in balanced fashon but it must not be forgottgen that she is the one who took Andrei Portnov off the wanted list and the GPU is investigating a criminal case involving her. That is, she is essentially on the hook. Yegor Sobolev says Batya was the commander of Nadezhda Savchenko. Savchenko did not come to the trial. Former Aidar battalion commander Melnichuk gave testimony against Batya, but that's another story completely.
Channel 24 said
the judge ruled to keep him in pre-trial detention for 2 months.
Supporters blocked the Pechera Court, preventing their former commander from being brought out,
Unian reported
.
Yegor Sobolev, an MP from Samopomoch, said that Judge Gladun had ordered the arrest on the basis of charges from the leaders of the so-called Lugansk People's Republic in Severodonetsk.
He said fighters from Aidar and Donbass arrived at the court and barricaded the doors, and planned to storm it, but the storming didn't take place. Then Azov fighters led by Andriy Beletskiy arrived to join the others in demanding Likholit's release. 
The charges were based on a complaint by Sergei Melnichuk, a member of parliament from the group Volya Naroda (People's Will), Gordonua.com reported. 
According to Gordonua.com, Igor Mosiychuk, an MP from the Radical Party said that supporters of Likholit from Aidar had decided to put up a tent camp on the Kreshchatik. "This could be the start of a new stage of the national revolution," he said.
-- Catherine A. Fitzpatrick 
1 Ukrainian Soldier Killed, 2 Wounded in Battle; 5 Russian-Backed Militants Killed, 7 Wounded; 1 Civilian Injured
One Ukrainian soldier was killed and two were wounded in battle,
Unian.net reported,
citing Andrei Lysenko, presidential administration spokesman for ATO [Anti-Terrorist Operation] issues.
He said that the Russian-backed separatists suffered 5 killed and 7 wounded. "Most of the losses of the enemy were from the so-called 9th Separate Storm Motorized Regiment of the Marines operating on the Mariupol line," he said.
The Russian-backed separatist news service did not confirm these casualties, but
reported that one civilian
, born 1937, was wounded in shelling on Zaytsevo from the village of Zhovanka by Ukrainian forces.
At 6:00 am, the ATO reported on its Facebook page that Russian-backed militants had fired 48 times on their positions including with artillery banned under the Minsk accord. In Luganskoye, 122-m and 120-mm artillery were used. The areas around Verkhnetoretskoye, Troitskoye and Avdeyevka, where 120-mm artillery was used, remained hot spots.
On the Mariupol line, 19 enemy shellings were recorded. Near Krasnogorovka, 120-mm artillery was used and ATO positions at Talakovka, Novotroitskoye and Beryozovoe were fired on. Lugansk Region was quieter, with one shot from a rifle near Popasnaya.
Lysenko said fighting intensified along the whole front from Zaytsevo to the industrial zone in Avdeyevka with firing from both sides.
He said that the Ukrainian Defense Ministry had information that a division of the 331th Parachute Regiment of the 98th Airborne Division from Kostroma had arrived in the Donbass. He said they would be used for diversionary and reconnaissance operations along the front from Luganskoye to Krasnogorovka.
Fighting was also intense near Mariupol, noting the 19 shellings, 5 of which involved artillery. Nearly 90 shells of various calibers were fired. A drone was also noted, said Lysenko.
The ATO published a second report later today
noting 120-mm artillery used against their positions in Luganskoye and grenade-launchers in Avdeyevka and Mayorsk. Ukrainians were also fired on in Novoselovka and Novgorodskaya. Maryinka, Krasnogorovka, Beryozovoye and Novotroitskoye on the Mariupol line were also fired upon, including by 120-mm artillery; there was also recorded 82-mm artillery in Starognatovka and Shirokino, as well as snipers active near Novotroitskoye.
Unian published a video
that was uploaded to YouTube of a night battle at the Svetlodar Bulge June 30-July 1, in which 10 Ukrainian soldiers were wounded.
-- Catherine A. Fitzpatrick