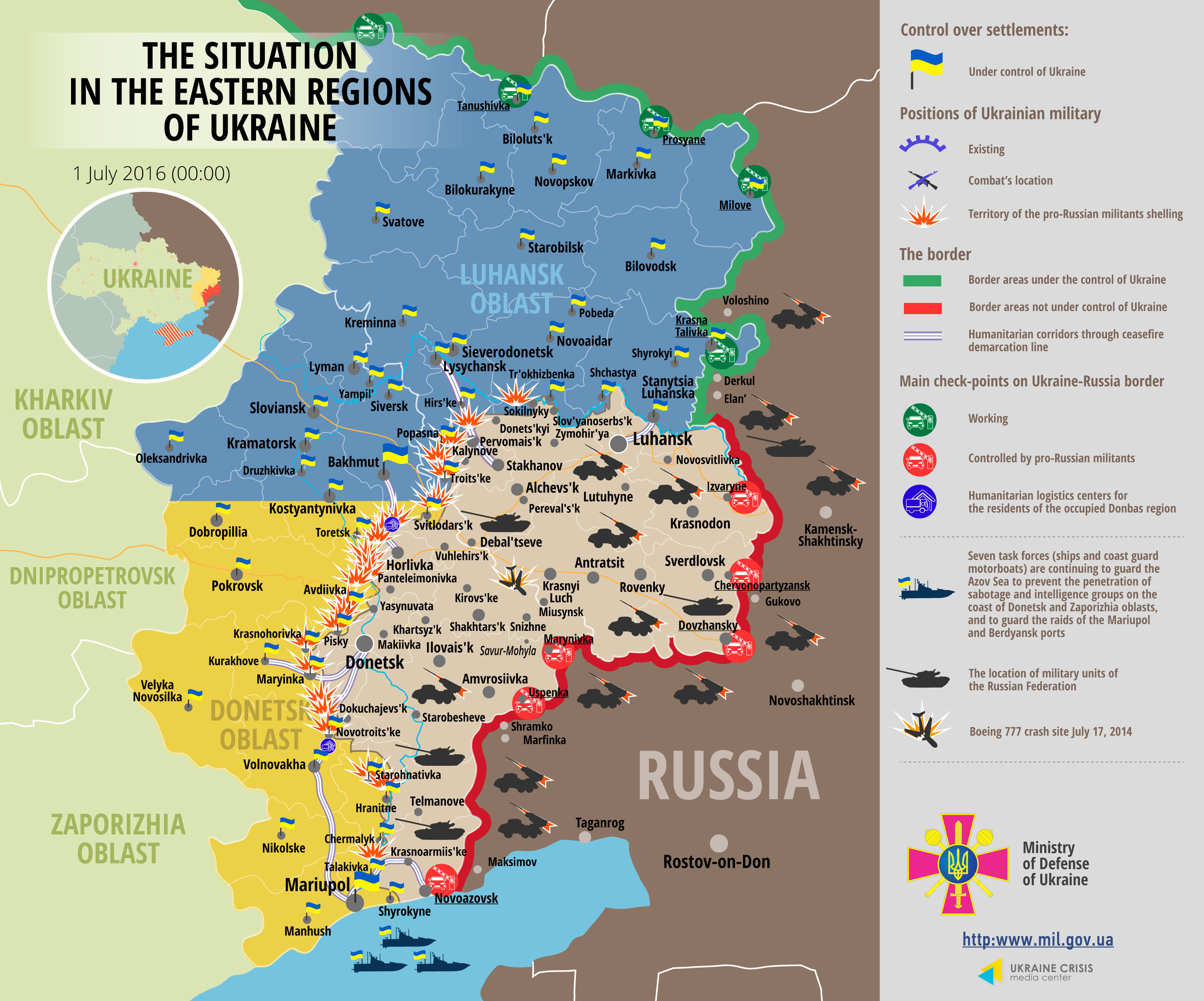 One Ukrainian Soldier Killed, Four Wounded Yesterday; Heavy Shelling In The East
Colonel Andriy Lysenko, military spokesman for the Ukrainian Presidential Administration, has announced that one Ukrainian soldier was killed and four wounded yesterday.
Lysenko told reporters that Russian-backed forces were continuing to shell Ukrainian positions in the Svetlodarsk area, northeast of separatist-held Debaltsevo, with 122 and 152 mm artillery.
It was this area that saw some of the most intense fighting in recent months on Wednesday, when Ukrainian forces, in what Kiev described as a counterattack but separatists have labelled an offensive, pushed Russian-backed forces back by more than a kilometer before returning to their original positions.
Yesterday, the Ukrainian military ATO Press Center claims, saw 58 attacks by Russian-backed fighters across the front line.
According to the report, in addition to the heavy artillery described by Colonel Lysenko, positions near Luganskoye, just east of Svetlodarsk, were shelled with 120 mm mortars.
These same weapons were reportedly used in attacks near Troitskoye, to the north east on the border with the Lugansk region. 
Meanwhile Ukrainian positions to the north of both Gorlovka and Donetsk were attacked with grenade launchers and small arms.
To the west and south of the separatist-held regional capital, positions near Krasnogorovka, Beryozovoye and Novotroitskoye were reportedly shelled with mortars. 
At the same time, the pro-separatist Donetsk News Agency reported, citing separatist officials, that two civilians had been wounded by Ukrainian shelling -- one in Dokuchaevsk, near Novotroitskoye, and another in Yasinovataya, southeast of Avdeyevka.
Ukrainian military spokesman Oleg Sushinsky told the 112 television channel this morning that there had also been attacks near Starognatovka, east of Volonavkha, and Shirokino, on the Azov coast.
In the Lugansk region, the ATO Press Center reported that positions near Novozvanovka and Novoaleksandrovka, outside the town of Popasnaya, had been shelled with 122 mm artillery, while those near Krymskoye were fired on with anti-aircraft guns.
--Pierre Vaux
Ukrainian PM Confident His Country Will Join European Union Within 10 Years
Germany's Frankfurter Allgemeine Zeitung reports that Volodymyr Groysman, the Ukrainian prime minister, has said that he is confident that Ukraine will join the European Union within ten years.
"We're on the European path, and for us this means: freedom, human rights and a strong economy."
Groysman claimed that Ukraine had already succeeded to some extent in aligning standards with those of the EU - particularly with regards to corruption - citing new transparency regulations on government spending.
But with Ukraine considered the most corrupt country in Europe by Transparency International, Groysman acknowledged that there was a lot more work to be done, particularly with regards to judicial reform and improving the investment climate.

The prime minister was critical of the British decision to leave the EU:
"I respect the right of a sovereign state to make such a decision. But I always believe that one should preserve accomplishments. It was an important signal that the majority of the younger generation in Great Britain voted to remain in the European Union."
In an interview with Ukrainska Pravda published today, the American historian Timothy Snyder says that he does not believe that the British exit from the EU will lead to the collapse of the EU, as some have feared. Instead, the negative effects of leaving on the UK will serve as a demonstrative example, damaging the claims of far-right populists like France's Marine Le Pen, that their countries would be better off outside the Union.
On the impact of 'Brexit' for Ukraine, Snyder says:
"I think it is important, both for Ukrainians and for everyone to realize that the process of European integration is full of turning points, crises and difficulties. None the less, it continues and, as a whole, is moving in the right direction. And look, when people see Brexit and assert: 'there you go, this means that Europe is doomed' - they are just helping reinforce the doom of Europe with their words.

I don't think that Brexit means that Europe is doomed. It only means that Europe will change, but we still don't know precisely how.

I think that it's important for Ukrainians to say: 'the values defended by Europe, such as civil society, the rule of law, market competition, a normally functioning state apparatus - we support them. Yes, we like the rules of this game. Whether or not the state is a concrete member of the EU - this is already less important. The important thing is that we support this project as a whole.'

It seems to me that such arguments are helpful for Ukraine, no less than for the whole of Europe. Europe is in constant need of all possible support and, despite the fact that this is probably not obvious at first glance: everything happening in Eastern Europe has its own reflection in the West."
Snyder does however acknowledge that Ukraine had dropped as a priority for the EU, saying that, like the former Warsaw Pact nations which garnered considerable attention up until around 1991, but then had to spend several years undergoing arduous reform, Ukraine is no longer seen as a "crisis" but as a "problem."
"The only way to get out of this situation is to proceed under one's own efforts.

In other words, you need to get to work, if you do not want to become a 'crisis' again, and this will mean yet another Russian invasion or another Maidan. I wouldn't like this to happen, I want a peaceful and stable improvement of the situation in Ukraine.

The thing is that if there is a peaceful and stable improvement in Ukraine and the rule of law is established, then the Europeans will be interested in you, because the conditions for investment will arise, followed by political interest, which in turn brings you the chance to become a member of the EU."
-- Pierre Vaux