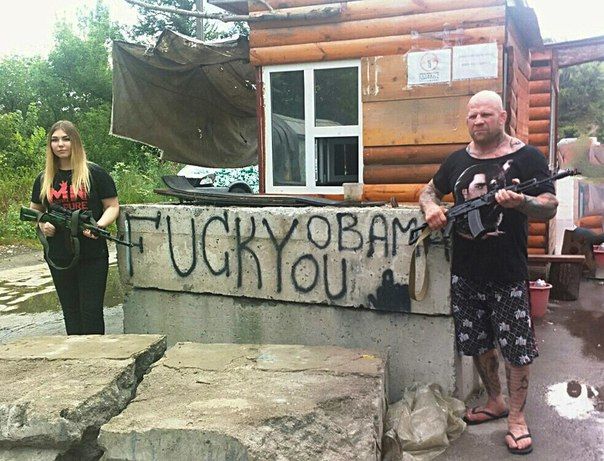 US MMA Fighter Jeff Monson Travels To Separatist-Held Lugansk And Poses With Kalashnikov
Jeff Monson, an American mixed martial arts (MMA) fighter, who publicly requested and obtained Russian citizenship last year, has been photographed posing with an assault rifle in separatist-held Ukraine.
Maryana Naumova, a Russian weight lifter, posted photographs on her VKontakte page yesterday of her and Monson in separatist-held territory, purportedly near government-held Stanitsa Luganskaya.
According to Naumova, they travelled to within 150 meters of a Ukrainian military checkpoint.
Another photo showed Monson and Naumova meeting with members of the Donbass chapter of Russia's fiercely pro-Putin Night Wolves motorcycle club and the 'interior minister' of the self-declared Lugansk People's Republic (LNR):
The two gave a press conference in separatist-held Lugansk, at which Monson suggested he may "choke" Ukrainian President Petro Poroshenko were he to meet him:
-- Pierre Vaux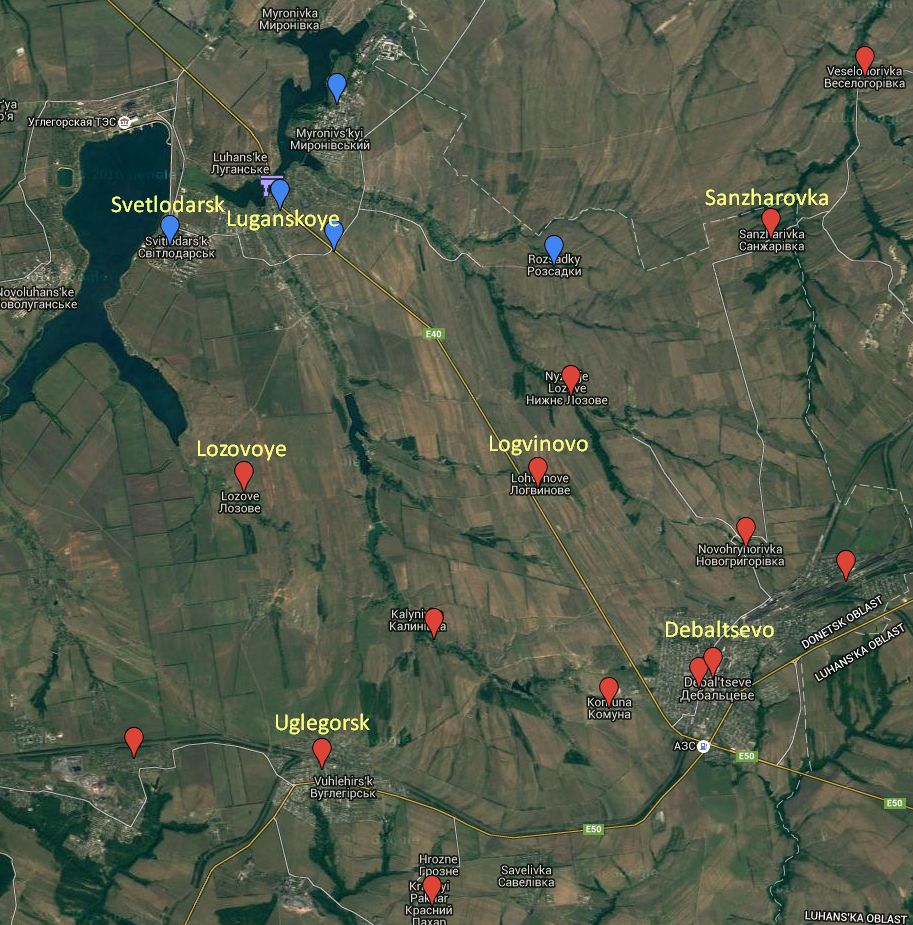 Heavy Fighting Reported Near Debaltsevo This Afternoon
There are reports this afternoon of heavy fighting on the front line near separatist-held Debaltsevo.
Locals in Ugelgorsk (Vulehirsk in Ukrainian) told Novosti Donbassa that Russian-backed fighters in the town were firing artillery in the direction of government-controlled Svetlodarsk.
There are corresponding reports of impacts near government-controlled Luganskoye, east of the Svetlodarsk reservoir: 
Vlad Kazarin, a Ukrainian soldier, tweeted:
Translation: The separatist guns aren't stopping at all.
Translation: They're working with D-30 [howitzers]. 152 mm, 80 mm, 120 mm, 122 mm, tanks.
Last night, Novosti Donbassa reports, Ukrainian troops managed to take control of two hilltops near Logvinovo, a village on the highway between Luganskoye and Debaltsevo. In addition, Ukrainian forces have reportedly encircled separatist-held Sanzharovka and dug in 2 kilometers away from Uglegorsk.
It was in this area that one Ukrainian fighter - Paris Opera singer Vasyl Slipak - was killed and two wounded at around 6 this morning.
TSN reported that the casualties this morning had occurred as Russian-backed fighters attempted to assault Ukrainian positions, supported by armoured vehicles. 
From TSN's correspondent:
The soldiers say that the enemy came right up to their positions and close combat broke out. Troops from the 54th and 25th brigades, as well as volunteers from Pravyi Sektor, began to push the militants back. In the end, they succeeded in pushing the militants back by one and a half kilometers.

The Ukrainian fighters managed to take one of the militants' defensive positions, where a whole platoon was destroyed. But they were subsequently given orders to leave the area. Ammunition found at the site was rigged with explosives and blown up.
Some pro-separatist sources,
such as Crimean blogger Colonel Cassad
, are reporting the fighting as a Ukrainian offensive, begun overnight, and directed at Logvinovo, Sanzharovka, and also Lozovoye to the west. 
Separatist military commander Igor Bezler has also reported that Ukrainian troops seized the heights near Logvinovo.
RusVesna, a pro-separatist propaganda site, claims this afternoon that Ukrainian forces have suffered heavy losses - two T-64 tanks and several armoured vehicles knocked out.
Fighting continues now around the village, with Ukrainian forces reportedly returning artillery fire towards Uglegorsk:
Translation: We have real full-scale war around Svetlodarsk and Logvinovo.
-- Pierre Vaux
Ukrainian Singer With Paris Opera Killed Fighting In Donbass Today As War Grinds On
Ukrainian media have been reporting this morning on the death of Vasyl Slipak, a prominent singer with the Paris Opera, who was killed fighting with the Pravyi Sektor Volunteer Corps (DUK) this morning.
Ukrainska Pravda was told by one of Slipak's comrades that he was shot dead by a sniper outside Luganskoye, northeast of separatist-held Debaltsevo, at around 6 am today.
In addition to sniper fire, the soldier told the news site that their positions had come under attack from enemy artillery, tanks and infantry. Two other Ukrainian fighters were wounded in the fighting.
Meanwhile Arkady Radkivsky, a military press officer, told the site that reports from the front line were still being verified, but he could confirm that positions in the area had come under fire from infantry fighting vehicles (BMPs) and mortars this morning.
Slipak had worked in France for 19 years, joining the Paris Opera in 1997 as a bass-baritone, enjoying a successful career as a frequent soloist and was voted Best Male Performer of 2011 at the Armel International Opera Competition in Szeged, Hungary.
He was interviewed by Ukraine's Hromadske public television station in June last year on the front line:
At noon today Colonel Andriy Lysenko, military spokesman for the Presidential Administration, told reporters that four Ukrainian servicemen were wounded yesterday but said that he could not yet confirm the reports of Slipak's death today.
Meanwhile Donetsk news site 62.ua reports, citing the separatist-backed city administration, that two civilians were wounded in the western Petrovksy district as a result of shelling by Ukrainian forces.
The Russian-backed, self-declared Donetsk People's Republic (DNR) claimed today that Ukrainian forces had fired on separatist-held territory 830 times over 24 hours.
According to the DNR, Ukrainian troops used 152 and 122  mm artillery, in addition to mortars, grenade launchers, BMP cannons and small arms, in attacks on the outskirts of Donetsk and Gorlovka, as well as settlements in the south of the region.
Meanwhile, the Ukrainian military's ATO Press Center reported 51 attacks by Russian-backed forces yesterday.
According to the report, Russian-backed fighters used mortars to shell positions near Avdeyevka, the Butovka mine, Opytnoye and Nevelskoye, to the north of Donetsk, as well as Novgorodskoye and Zaytsevo, near Gorlovka.
BMPs opened fire on troops near Mayorsk, while grenade launchers and heavy machine guns were used in attacks near Peski, Beryozovoye, Luganskoye and Troitskoye.
The report claims that Russian-backed fighters shelled positions near Novotroitskoye, on the Donetsk-Mariupol highway, and Lebedinskoye, near Mariupol, with 122 mm self-propelled artillery, while both 82 and 120 mm mortars were used to shell Krasnogorovka, west of Donetsk, and Shirokino, east of Mariupol. 
In addition, positions near Gnutovo, Talakovka and Starognatovka reportedly came under small-arms and grenade-launcher fire.
In the Lugansk region, the military reports that positions near Novozvanovka were shelled with mortars, while those near Krymskoye and Zolotoye were attacked with small arms and automatic grenade launchers.
-- Pierre Vaux