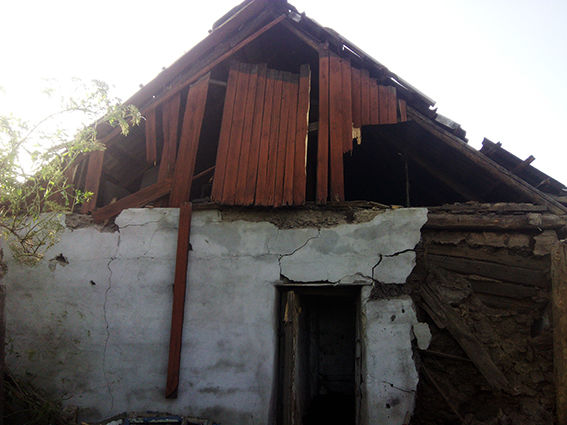 Major Surge In Shelling Leaves 11 Ukrainian Soldiers Wounded, 1 Dead
The Ukrainian military reported today that 11 of their troops were wounded and one was killed yesterday, a day which saw widespread use of heavy artillery across the front line.
Colonel Oleksandr Motuzyanyk, military spokesman for the Presidential Administration, told reporters that the casualties were all the result of enemy fire. 
At least two of the soldiers were wounded in the Lugansk region. According to the regional administration, Russian-backed fighters bombarded Ukrainian positions near the village of Novozvanovka with 120 mm mortars, self-propelled 122 mm artillery, grenade launchers and machine guns. It was in this area that the casualties were incurred.
On the other side of the region, the administration reports that the village of Kamyshnoye, northeast of Stanitsa Luganskaya, was shelled with 120 mm mortars.
In addition to yesterday's military casualties, police report that one member of the Peacekeeper special police battalion was killed and another four wounded this morning when a military vehicle collided with a portacabin at a checkpoint outside Donetsk.
Civilians have suffered too, with the Donetsk regional police reporting that a 57-year-old civilian man was wounded last night when Russian-backed fighters shelled Avdeyevka, north of Donetsk, damaging three houses.
Police photos:
According to this morning's ATO Press Center report, Russian-backed fighters conducted 46 attacks yesterday, 22 of them in the Donetsk area.
The Ukrainian military claims that mortars were used to shell their positions near Avdeyevka, Peski, Verkhnetoretskoye, and Troitskoye which was also shelled with artillery, like those near Kamenka, Novoselovka Vtoraya and Nevelskoye.
To the north of separatist-held Gorlovka, Ukrainian troops in Zaytsevo told the TSN news channel last night that they had come under fire from 82 mm mortars and 152 mm artillery for seven hours  - from 22:00 until 3:30 yesterday morning.
One soldier said: 
"We were running under shells and bullets. I spent the whole night in the trenches running about from one place to another."
One Ukrainian defensive position was reportedly destroyed, in addition to the home of a 70-year-old local resident.
The ATO Press Center reports that mortar attacks on Zaytsevo continued yesterday evening.
In the south, Ukrainian positions near Vodyanoye were shelled with 82 mm mortars.
This was confirmed yesterday by the OSCE Special Monitoring Mission to Ukraine, whose members were caught in the shelling: 
The ATO Press Center also reports 120 mm mortar attacks on positions in neighbouring Talakovka and Shirokino, as well as Taramchuk, on the Donetsk-Mariupol highway.
Meanwhile the self-declared Donetsk People's Republic (DNR) accused Ukrainian forces of firing 521 times on separatist-held territory over 24 hours.
According to the DNR, Ukrainian troops used heavy artillery, mortars and tanks to shell the outskirts of Donetsk and Gorlovka, as well as the southern settlements of Dokuchaevsk, Kominternovo and Sakhanka.
-- Pierre Vaux