Russia Update: June 15, 2016
Russian Senator Complains About Violation of Rules in Re-Confirming Chaika as Prosecutor General
Anton Belyakov, a member of the United Russia party in the Federation Council, or upper chamber of parliament, from Vladimimr Region believes that Prosecutor Yury Chaika was recently re-confirmed after President Vladimir Putin's nomination in violation of parliamentary procedures,
T
V Rain
and
RBC 
report.
Chaika, 65, was reconfirmed by the Federation Council by a vote of 152 in favor despite allegations made by anti-corruption campaigner Alexei Navalny, who released a film detailing dubious business deals by Chaika's two sons.
Earlier, the Duma had voted in favor of Chaika's continuation, although some members had wanted the allegations investigated. 
But the follow-up was sent to the prosecutor general's office itself.
Belyakov was the only MP who managed to ask Chaika whether the persons who had commissioned the film produced by Navalny's Anti-Corruption Fund were found. Chaika claimed the CIA and MI6 were behind the video expose, and Russian state media produced crude fabrications smearing Navalny and William Browder, CEO of Hermitage Capital and the main campaigner for whistleblower Sergei Magnitsky, as their agent.
Then Senators Valentina Petrenko and Yury Vorobyov spoke, and Belyakov signed on to the speaker's list to ask another question, along with two other senators.
But after Vorobyov spoke, Nikolai Yodorov, first deputy speaker of the Federation Council said:

"Respected colleagues, I think it's clear to everyone in our auditorium, let's vote, why waste time."
Belyakov said "essentially, the discussion was cut off." Then speaker Valentina Matvienko put the measure to a vote.
He said such violations of the rules happen often, and the rules committee enables them so as to make such decisions easier to pass.
Belyakov is the chair of the Association of Aggrieved Investors and chair of the Public Anti-Corruption Committee of the Inter-Regional Civic Organization.
His activities seem to be anti-opposition, however, and not in tune with Navalny. In 2011, he asked Chaika to investigate whether Boris Nemtsov, an opposition leader slain in 2015, was financed from abroad.
That same year, at an opposition meeting called Anti-Seliger, he said he found a jamming device and sent a parliamentary inquiry about it to the head of the Interior Ministry. He was also behind an effort along with Andrei Nazarov of United Russia and Maksim Rokhmistrov of the Liberal Democracy Party of Russia demanding that the prosecutor investigate Golos, and NGO which monitor elections and reported on violations.
Belyakov did not indicate what further questions he and others might have had for Chaika.
-- Catherine A. Fitzpatrick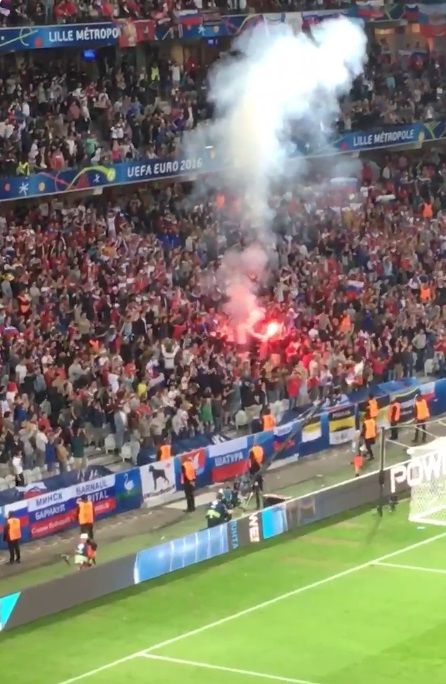 Russia Summons French Ambassador Over Detention Of Football Fans; Russian Media Blames Ukrainian Citizen
The Russian Foreign Ministry summoned the French ambassador to Moscow today to protest the detention of Russian soccer fans during the Euro 2016 championship,
Sputnik International reported.
While Russian Foreign Minister Sergei Lavrov acknowledged that the behavior of some fans was unacceptable, he claimed there were "provocateurs". He said further "fueling of anti-Russian sentiment over Russia's participation in the championship" could "aggravate relations with France," said Sputnik. The Russian Foreign Minister called yesterday's detentions "discriminatory".
As we reported yesterday, according to TV Rain, French police had to conduct an investigation because one of the British fans injured in the brawl had died. This report was based on the account of Aleksandr Shprygin, one of the detainees.
But today
Slon.ru,
citing
TASS, 
said that the British citizen was not deceased, but declared "brain dead" from his serious injuries.
Daniil Boltaks, consul general in Marseilles said (translation by The Interpreter)
"Today in Marseilles investigative actions will be undertaken. The process of establishing identity will take place, since the status of the British fan has sharply deteriorated. As far as we know from the information from our French colleagues, he has been declared brain dead, and in that connection certain investigative actions must be conducted."
The case is now with the prefect of the Alpes-Maritimes district, who will decide whether to deport all the Russian fans as they constitute a threat to national security, or allow them to remain. 
The Russian media has found an angle to shift attention from the initial group of 43 Russian soccer fans detained.
RIA Novosti has reported, citing a Ukrainian foreign ministry official that a Ukrainian citizen was detained in Lille with a car with Russian Feederation license plates, carrying baseball bats.
Orest Starak of the Ukrainian Foreign Ministry's Department of Consular Service told RIA Novosti:
"Information has come from the French police that during one of the raids which local police were conducting with the purpose of securing the city during the soccer championship, they found baseball bats in an automobile with Russian plates... According to local legislation, they are equated to cold weapons. A citizen of Ukraine, a native of Kiev was behind the wheel of the car."
According to the Ukrainian official, the Ukrainian citizen had resided in Russia for a long time. A woman was detained along with him whose citizenship was being established. 
Russian media outlets also cited Simon Rowntree, a parody sports commentator account with a humorous profile based on a fictional news company.
French prosecutors determined this week that Russian soccer fans had instigated the violence at the match in which a number of people were injured and fans from other countries were also detained. 
The United European Football Association (Uefa) has issued a suspended disqualification of Russia in the championship, and if there are any more such incidents, the disqualification will go into effect. Russian fans set off smoke flares in Lille where they lost a match to Slovakia, prompting speculation that Russia would now be disqualified.
But Russia managed to squeak by again:
Russian Sports Minister Vitaly Mutko complained that Russia's loss to Slovakia was "undeserved," 
RBC reported
. Leonid Slutsky, the main trainer of the Russian team said the tensions from recent events "had not influenced our team in any way" although he said they "loss their concentration" during half-time.
President Vladimir Putin convened a Security Council meeting today with the permanent members of the Council to discuss the "lessons learned" from the French soccer debacle, 
RBC reported.
 Presidential spokesman Dmitry Peskov said the meeting focused on security for the upcoming 2018 world championship based on the experience in France.
Russia is to host the FIFA World Cup 2018, amid constant scandals related to bribe-taking of FIFA officials and doping by Russian athletes.
-- Catherine A. Fitzpatrick
Russian Federation Council Passes Law Restricting News Aggregators with Heavy Fines
The Russian Federation Council, the upper chamber of parliament, approved a law restricting news aggregators,
Novaya Gazeta
reported,
citing Interfax.
The law bans news aggregators from publishing calls for terrorism or public justification of terrorism; state secrets; and materials that promote pornography or cruelty or which contain swear language.
They are also required "not to allow the news aggregator to be used for the purpose of concealing or falsifying information in the public interest or disseminating unreliable news in the public interest in the guise of accurate reports."
To comply with the law, the providers must maintain an archive of six months of news they have blocked.
Failure to comply with a demand from the state censor to remove information is punishable by fines from 600,000 to 1,000,000 rubles ($9,136 - $15,247) for legal persons (companies). For individual citizens, the fine is 50,000 to 100,000 ($762 - $1,524) and for officials it is 200,000 to 400,000 ($3,049 to $6,098).
As we reported on February,
the State Duma proposed an amendment to equate news aggregators such as Yandex and Google to media, forcing them to comply with strict media laws in Russia. 
Aleksei Kazakov of Just Russia and Aleksandr Yushchenko of the Communmist Party of the Russian Federation were the authors of the law,
RBC reported in February.
The draft amendments reflected the growing influence of news aggregators; "in their influence, they exceed media," said Kazakov.
They defined "news aggregator" as any Internet site with an audience of more than one million users per day which formats and distributes information. The original drafters wanted to forced Yandex and others to obtain licenses at Roskomnadzor, the state censor and media manager, in order to run news aggregations, and would thus be subject to having their site blocked like other media. Their most controversial change was a demand to have news aggregators check the factual accuracy of the content disseminated.
Internet companies strenuously objected. 
Yandex indexes more than 100,000 news items from more than 7,000 sources; it does not edit them and does not publish their full texts:
As Ochip Mandzhikov, head of Yandex's press service stated at the time:

"Yandex News is objectively limited in the capacity to check the legality and reliability of news information prepared by third parties and cannot bear responsibility for such information."
RBC reported that Leonid Levich, chairman of the Duma Committee on Information Policy, revised amendments to the draft law after discussions with Internet service providers and government officials and said "solutions were found for 
practically all disputed issues which suited the Russian Internet community."
At that juncture the amendments removed the most controversial element of the draft -- the requirement that news aggregators check the reliability of all the content they distribute. Companies said that they would virtually be forced to stop news aggregation if this demand became law as it was technically impossible to check numerous news items. They pointed out that since they were distributing information from media already registered and considered lawful, they should not be fulfilling this function of inspection.
The amendment had also originally limited aggregators to those who had only 20% or less foreign investment in their companies, but was then changed to allow any foreign persons as long as they had a Russian legal entity as the founder. 
Thus, Yandex would not be forced to change its ownership structure, and Google would presumably "find a legal solution to this problem" by creating a Russian entity that could continue aggregating news for users.
Last week, Sergei Plugotarenko, director of the Russian Association for Electronic Communications (RAEK) which unites more than 100 Internet companies, said there were still concerns despite some improvements in the draft law regarding Roskomnadzor's demands and the definition of "owner of a news aggregator" which was considered too vague. It wasn't clear if social networks such as VKontakte, Facebook, Twitter and so on would be defined as "news aggregators."  
But as with other Russian laws, it was expected that these details would be worked out in the "normative acts" or the instructions for agencies as to how to implement the law. 
Plutogarenko said that it followed from the law's definitions that Internet service providers could only be considered news aggregators if they themselves developed and distributed news, i.e. if the company placed news curated itself on its main page, as distinct from disseminating news posted by users.
Despite the prospect of the amendments removing the requirements of pre-inspection, Tatyana Isayeva, head of Yandex, said last week
in a Facebook discussion
hat the company would no longer include unregistered publications in its indexes,
Novaya Gazeta reported.
 Now the service would have to check "tens of thousands of reports" which was impossible to do with news sources that were not already registered. She also said it would stop aggregating foreign news sites.
The passage of the law indicates that the Internet business sector in Russia still has some clout to mitigate impulses from the Kremlin and docile parliament for draconian censorship burdens, yet this influence is limited. While the aggregators will be free of having to prove news collected by automatic processes is "reliable," they will still have to monitor it for "incitement of terrorism," pornography and so on. Yet if they are only publishing already-licensed and approved outlets, the job is expected to be lighter.
In 2014,  Yandex lost 10% of its share value after President Vladimir Putin said implied a meeting with Internet business executives that the Internet was "founded by the CIA" and Yandex was pressured by foreigners on its board.
-- Catherine A. Fitzpatrick