Russia Update: June 10, 2016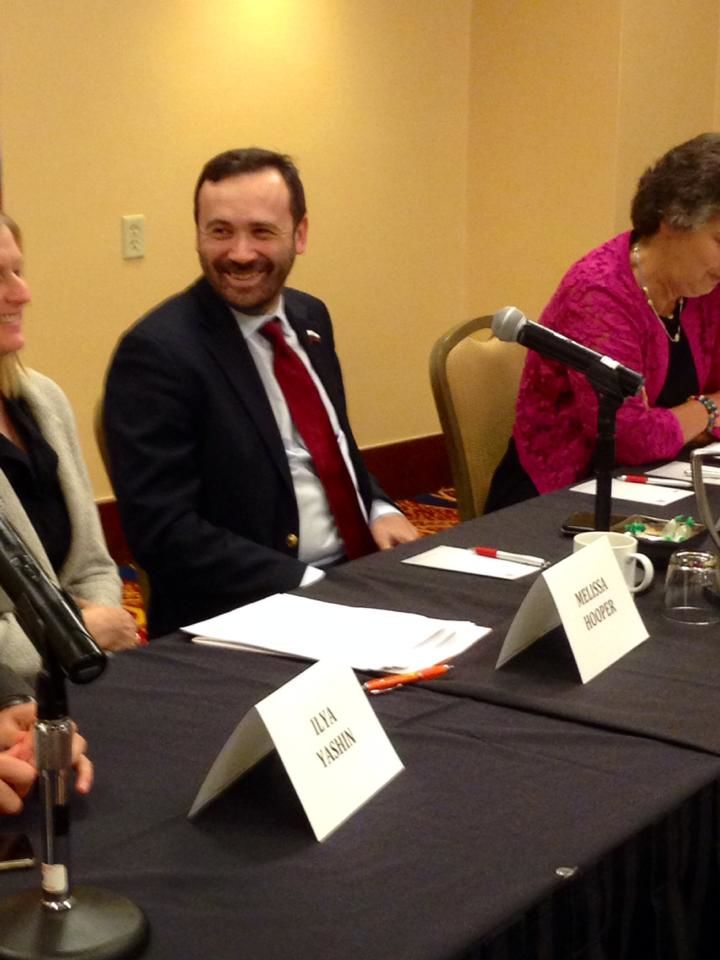 Russian Parliamentarian Ponomarev Stripped of His Mandate; Only MP to Vote Against Crimea Annexation
Ilya Ponomarev, the Just Russia faction member and deputy of the State Duma who was the only MP to vote against the annexation of the Crimea, was stripped of his mandate,
Novaya Gazeta
and
Meduza
reported, citing
Interfax.
Ponomarev learned about the loss of his seat, which had long been in the works, while speaking on a panel at a conference organized by the Russian emigre organization 4FreeRussia in Washington, DC, Novaya Gazeta journalist Alexandra Garmazhapova reported on her Facebook page.
The vote was 413 in favor of removing Ponomarev's mandate and 3 opposed. Dmitry Gudko, an opposition member of the Duma said less than 200 deputies were present during the vote, but evidently had proxies from absentee members.
Denis Lebedev published a photo of the 2/3rds empty Duma, nothing that 123 out of the 450 deputies were present, and the irony of MPs who had themselves not shown up for a vote deciding to expel their colleague for absences.
In a videotaped message posted by Duma member Dmitry Gudkov,
Ponomarev said that out of 45 of his aides in parliament, 9 had been forced to leave Russia since law-enforcers had opened a total of 20 criminal cases. In Ponomarev's own case, he was forced to flee Russia last year when
authorities claimed
that he had
received excessive consulting fees
from the Skolkovo Foundation, an innovation project started by then-president Dmitry Medvedev which then later fell on troubled times. He
denied the charges.
Three of his aides have wound up in prison, including Leonid Razvozzhayev, one of the Bolotnaya Square defendants tried for anti-Putin demonstration in May 2012.
Last July, Ponomarev was stripped of parliamentary immunity and placed under arrest in absentia. Parliamentarians finally passed a law stripping members of their mandate for "non-fulfillment of their duties" for a 30-day period. President Vladimir Putin signed the measure into law in early May and it is now in effect.
Ponomarev said he had been an MP for nine years, a period he characterized "a time of hopes and the ridding of many illusions."
Aleksandr Mitrofanov, another MP, is also facing expulsion but action has not been taken yet. Mitrofanov also was forced to flee abroad last year due to a criminal case. 
-- Catherine A. Fitzpatrick
Parnas Opposition Candidate Fined $23,135; Police Co-Defendant Niknorov Sentenced to 3.9 Years
Parnas opposition party candidate Andrei Pivovarov was sentenced to a fine of 1.5 million rubles ($23,135), and his co-defendant, policeman Aleksey Niknorov, was sentenced to 3 years and 9 months of standard-regimen labor camp with a fine of 3 million rubles ($46,287),
Mediazona reported.
The prosecution had asked for 3 years' suspended sentence and 2 years' parole for Pivovarov and 6 years of actual labor colony time for his co-defendant.
Pivovarov  was attempting to run as an alternative candidate in local elections to the Kostroma Region legislature when he suspected that some of the signatures on his petition to be placed on the ballot had been made fraudulent so as to deliberately disqualify him.
He went to the police and asked them to check his list with a law-enforcement data base. Then he and the police officer who obliged him, were arrested and accused of misuse of government data bases.
Pivovarov, who was at that time head of the Parnas election headquarters, was accused of giving 50,000 rubles to Niknorov to check the database. Both Pivovarov and Niknorov were held in detention from July through September 2015. Pivovarov was released from the Konstroma pre-trial detention center
on bail pending trial
and Niknorov was put under house arrest.
The Lenin District Court in Kostroma sentenced Pivovarov to a fine of 2.4 million rubles ($37,040) but it was reduced to take account of his time served in pre-trial detention.
"The strict sentence is the revenge of the police for his [Niknorov's] civic position," Pivovarov commented on the policeman's sentence. Niknorov was charged with exceeding his authority, unauthorized access to computer information and receiving a bribe.
Nikonorov originally confessed to the charges then retracted his testimony. Pivovarov denied the charges and plead not guilty, although his attorney acknowledged that he had the intention to check the authenticity of the signatures for the ballot.
Pivovarov's case was being watched closely to see if any Parnas candidate would be allowed to run in the elections and have a fair chance of obtaining a Duma seat. But according to 4FreeRussia, a Washington, DC-based Russian emigre group promoting democracy and human rights, with his suspended sentence, Pivovarov cannot run for office for 12 years.
That leaves Mikhail Kasyanov, the head of the party where once slain opposition leader Boris Nemtsov served as co-chairman. Kasyanov, former prime minister and former finance minister, has been subjected to repeated physical attacks when he has attempted to travel to various Russian cities to campaign. Earlier this year he was embroiled in a scandal when the state propaganda channel NTV ran a lurid take-down of him based on clandestine film footage exposing him in an affair with another Parnas member, Natalya Pelevina. Pelevina has in turn been accused of receiving foreign aid to campaign on behalf of the Bolotnaya Square defendants and has been repeatedly interrogated and searched, and forced to sign a pledge not to leave town.
Some Parnas members as well as fellow members of the Democratic Coalition formed with Alexey Navalny's Party of Progress and other opposition groups called for Kasyanov either to relinquish his claim to the first place on the party list and for Pelevina also to cease her campaign, or to participate in opposition primaries to see if they still had public support after the scandal. Kasyanov refused and Navalny and other members left the Coalition, essentially breaking up the opposition's unity on the eve of September parliamentary elections.
-- Catherine A. Fitzpatrick