Russia Update: June 7, 2016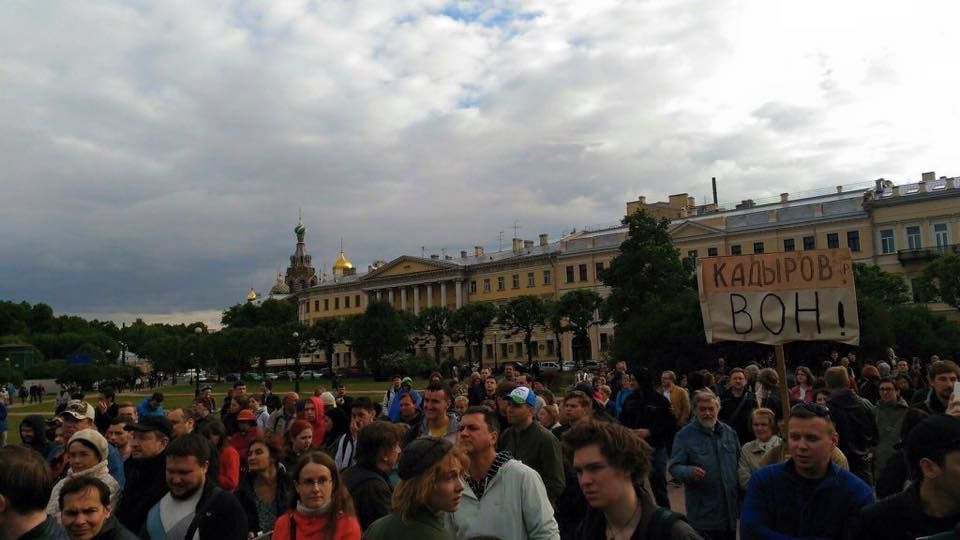 Activists Protest Naming of Bridge for Kadyrov; NOD Counter-Demonstrator Detained; Prosecutor Probes NOD
St. Petersburg, built on a swamp on the coast with a network of canals, has numerous bridges, mainly with Soviet-era names, some of which are being renamed now.
In a statement on VKontakte
about the issue mentioning a number of Russian writers who wound up in exile of the GULAG, the organizers wrote:

"In St. Petersburg, there is no street for Serge Dovlatov, no bridge for Joseph Brodsky, no Vladimir Nabokov Square, no OBERIU Avenue, no Viktor Tsoi Embankment, no Ilya Averbakh Lane, not even any Aleksandr Vvedensky Cul-de-sac. with the restoration of the "old names" Gogol and Staykov-Shchedrin Streets have disappeared and have not returned to our toponymy. 

It seems our remarkable city could be decorated with hundreds of names of wonderful people who lived and created works in St. Petersburg.

But at a time when the question arises of what to name a bridge, the only name coming to mine to the 'powers-that-be' is Akhmat Kadyrov, a person who is not only controversial and who for many personifies war but most importantly is extremely far away from our city, who never lived here and has never done anything for it."
Vitaly Milonov, a conservative member of the St. Petersburg legislature proposed naming a bridge for Kadyrov and 9 people on the city naming commission voted in favor of it, with 6 opposed and 2 abstaining.
About 80,000 people signed a petition
against naming the bridge for Kadyrov, and a number of prominent figures joined including Oleg Basilashvili, an actor, and movie director Aleksandr Sokurov. Opponents of the motion suggested calling the bridge for one of St. Petersburg's most famous poets, Anna Akhmatova.
There were no arrests at the rally, but counter-demonstrators attempted to disrupt the event. One member of the ultraright National Liberation Movement (NOD) climbed on a pole and was then detained by police.
Interestingly, at the behest of two St. Petersburg legislators, the Prosecutor General's Office has ordered an inspection of the National Liberation Movement (NOD), 
BBC reports.
The group, headed by Duma deputy Yevgeny Fyodorov, a member of the United Russia party, has been visible at numerous actions countering the liberal opposition, human rights activists and artists and has enjoyed immunity.
Recently NOD members were involved in throwing indelible disinfectant and eggs at high-school students who took part in an essay contest organized by Memorial Society on the Stalin era. They've also thrown eggs at Mikhail Kasyanov, the leader of the Parnas party and regularly destroy the memorial to Boris Nemtsov on the Bolshoi Moskvoretsky Bridge in Moscow.
St. Petersburg law-makers Boris Vishnevsky and Aleksandr Kobrinsky published a response from the prosecutor on their Facebook page.
Fyodorov denies that the members of his group were involved in this attack.
-- Catherine A. Fitzpatrick
AM News: Deputies Beaten for Protest; State Journalist Beaten for Covering Mayor Accused of Bribes