Russia Is Clearly Disappointed At Austria's Election Results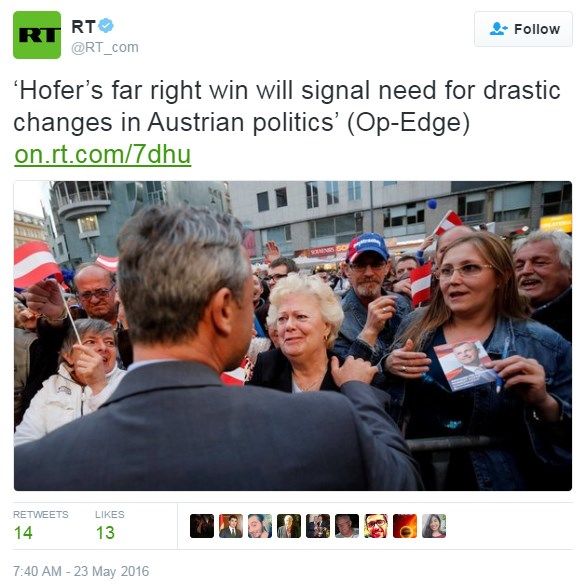 RT Tweets the Wrong Headline About Winner Of Austrian Presidential Race
Far-right candidate Norbert Hofer, the nominee of the Freedom Party, has been narrowly defeated by Green Party candidate Alexander Van der Bellen in the race to become Austria's next president. The New York Times reports:
In Sunday's runoff election, he received 49.7 percent of the vote, narrowly losing to Alexander Van der Bellen, a 72-year-old economics professor and former Green Party leader.

Though he ultimately lost the race, Mr. Hofer's showing was the first time the Freedom Party, which was founded by former Nazis and Teutonic nationalists in the 1950s, had come close to gaining 50 percent of the popular vote.

Mr. Hofer campaigned on strengthening the country's borders and its army, limiting benefits for immigrants and favoring Austrians in the job market.

The far-right party, whose motto is "Austria first," holds 40 of the 183 seats in the National Council.
Nytimes
How Far Is Europe Swinging to the Right?
The charts above show election results in 20 European countries, with right-wing populist and far-right parties highlighted in red. Norbert Hofer of the nationalist and anti-immigration Freedom Party emerged as the clear front-runner in the first round of the presidential election in Austria in late April, winning 35 percent of the vote.
View full page →
Some question whether it's right to call Hofer a neo-Nazi, but others say the devil is in the details since he is supported by neo-Nazis and even borrows their symbolism.
Europe Online Magazine describes Hofer as "the friendly face of Austria's far right," writes that Hofer is careful to sugar-coat his nationalistic message with personal anecdotes and broader, more populist, themes, noting that even the manager of the center-right People's Party says Hofer is a "wolf in sheep's clothing":
In interviews and in speeches during his campaign, Hofer has called for a European Union that gives more power to its member states, has demanded tough law-and-order policies against delinquent refugees, and has called migrants "invaders."

At the same time, Hofer has been able to create emotional bonds with potential voters by telling anecdotes about his cat that tries to bark like a dog, or by giving gripping accounts of his 2003 paragliding accident that left him with a serious spine injury and a walking stick.

Hofer's soft public image belies the fact that he was a key author of the Freedom Party's party platform, which defines "our homeland of Austria as part of the German-speaking linguistic and cultural community ..."

Although Hofer has stressed that he is an Austrian patriot, and not a pan-German nationalist, he is a member of a far-right student union that views the "German fatherland as independent from state borders" in one of its publications.


The BBC notes that Hofer's party often uses the blue cornflower as their symbol -- a symbol with a complicated past, but one that has been used by neo-Nazi organizations after more recognizable Nazi symbols were banned:
"The cornflower is a complicated symbol," Vienna historian, Bernhard Weidinger, tells me. "It was the German Kaiser Wilhelm's favourite flower, and was used by pan-German nationalists in the 19th Century.

"Then between 1934 and 1938, when the Nazis were a banned party in Austria, it was the secret symbol they used to wear in order to recognise each other."

Nowadays, it's traditional for Austrian MPs to wear a flower in their buttonholes at the opening of parliament, he explains. The colour of the Freedom Party is blue, so they wear a cornflower.

"You are not a neo-Nazi if you wear a cornflower," he continues. "But it is fair to say that the Freedom Party cultivates a certain ambivalence when it comes to the past."
BBC News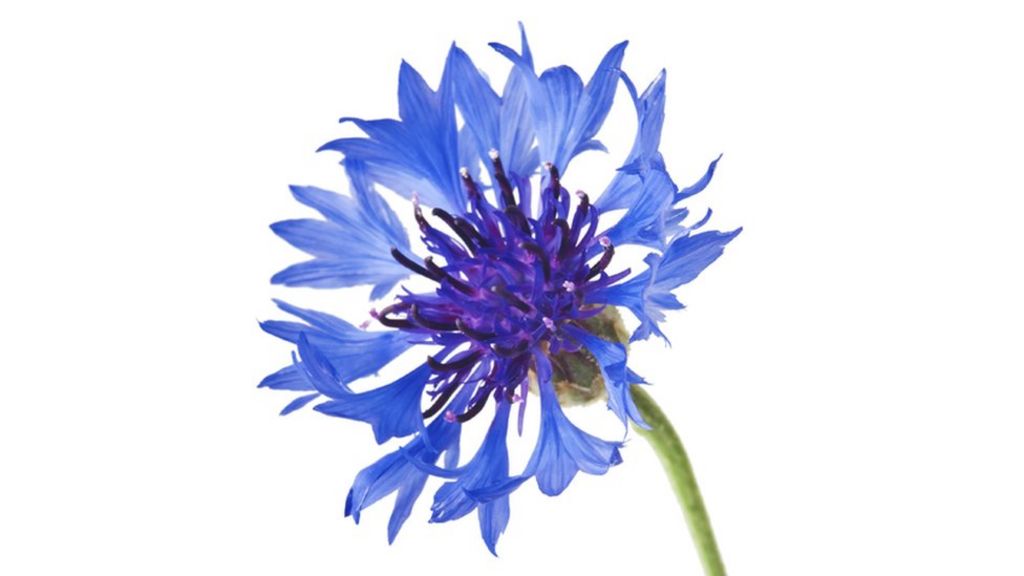 The beautiful flower with an ugly past - BBC News
It looks simple - a pretty blue cornflower - but this plant is causing controversy in Austria. It's the chosen flower of the far-right Freedom Party, even though it was once associated with the Nazis. Dieter Dorner takes a long sip of his Gemischtes, a mix of dark beer and lager, and smiles.
View full page →
Hofer has downplayed any connection with extremists while simultaneously moving the Freedom Party closer to its Nazi roots. The Guardian reports:
Having risen up the ranks as a political adviser to Haider's successor, Heinz-Christian Strache, Hofer was tasked with rewriting the FPÖ [Freedom Party] manifesto in 2011, reintroducing a "commitment to a German people and cultural community". He used a German phrase, Volksgemeinschaft, which strongly echoes the rhetoric of the Nazi era.

In an interview with the Austrian far-right magazine Aula in June 2011, Hofer heralded this move as a "reversal of Haider's prostration", referring to the ex-leader's toning down of overtly nationalist rhetoric before joining government in 1999. "It looks odd when people deny their own roots," he said.

When taken to task on the manifesto commitment, the presidential candidate has repeatedly denied that Austria should form part of a greater Germany rather than remain an autonomous republic.

Surprisingly, given how unpopular notions of pan-Germanism are in contemporary Austrian society, he has not always done so in unambiguous terms. "For me, Austria is a nation", he told Die Presse newspaper on Tuesday. "But I won't condemn anyone who sees it differently."

Critics point out that Hofer's actions send a different message. He is an honorary member of the student fraternity Marko-Germania zu Pinkafeld, which in its 1994 founding document rejects the "history defying fiction of an 'Austrian nation'".
the Guardian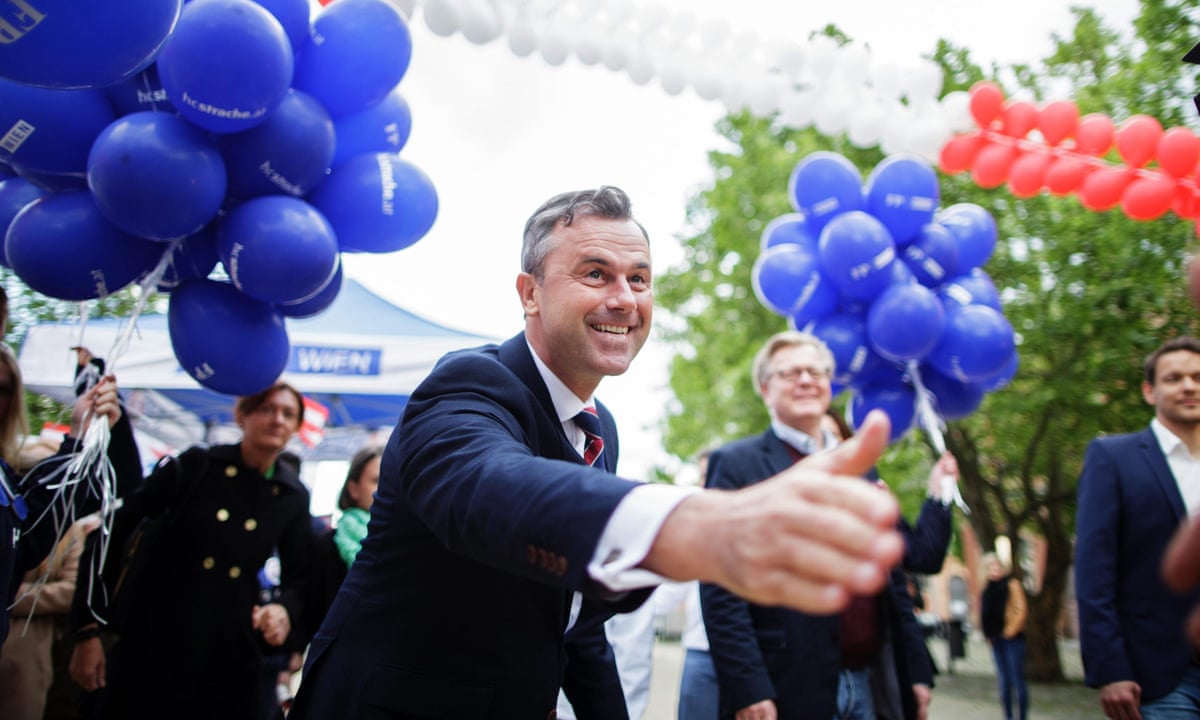 Norbert Hofer: is Austria's presidential hopeful a 'wolf in sheep's clothing'?
The man who could on Sunday become Austria's first rightwing populist president likes to present himself as a centrist. The Austrian Freedom party (FPÖ), Norbert Hofer argued in a recent interview, was far from rightwing but "to the left of the US Democrats".
View full page →
We have written extensively about the Russian government's connections and support of European far-right parties on multiple levels. Europe's far-right by and large rejects the plurality of the "Western ideal" in favor of rejecting minorities and outsiders. Far-right parties also reject "European" identity in favor of a nationalistic one (or, in the case of Hofer, a German Nazi one). That translates into far-right parties hating the very idea of the European Union, which is helpful to the Russian government since the Kremlin portrays Russia as being locked in a zero-sum game against "the West."
While we are not aware of any direct link between Hofer and Russia, Austria's Freedom Party has flirted with Kremlin-backed far-right groups in the past. Just as he splits hairs on Freedom Party's Nazi roots, he also takes both sides of the issue on Crimea. Earlier this year he was quoted by the Russian propaganda outlet Sputnik as saying that while he believes Russia's annexation of Crimea broke international laws, Crimea never should have left Russia, and sanctions against Russia should be lifted. Here, just like in other matters, Hofer supports the radical anti-Europe agenda while maintaining plausible deniability. 
The Kremlin is also clearly generally excited about the rise of far-right Euroskeptic politicians. For evidence of this, one need look no further than the twin Kremlin-funded propaganda outlets Sputnik and RT. 
In RT's ""Dewey Defeats Truman" moment, the propagandists formerly known as Russia Today tweeted out a gloating article talking about Hofer's victory over Van der Bellen -- but Hofer actually lost the election. The tweet has since been deleted, but we took a screencapture:
That article uncritically sites a far-right thinker, Alexander Markovics, the leader of the far-right Identarian movement of Austria. Russian Eurasianist and infamous far-right leader Aleksandr Dugin, who has close ties to some in the Kremlin, was scheduled to speak to the 2014 Identitarian Congress in Hungary -- a hangout for white supremacists -- but unable to do so because of "pressure surrounding the event." RT notes that Markovics is "far right," but makes no attempt to counter his assertions that are mostly about the significance of Hofer's "victory."
For the first time since the Second World War, the two main centrist parties were knocked out in the election's first round. About half the voters support far-right views.  

"Many are just not satisfied with the coalition government we have had for many years; they just want to have a change," Gaertner said, commenting on what could have caused voters to support Hofer. In his view though, it's not really a right-wing shift what's happening in Austria, but rather a divide - particularly on such issues as migrants and refugees.   

According to Alexander Markovics, the polarization within the Austrian society "is huge" and it has caused a shift of public opinion.

"We have the socialists and conservatives who made the immigrant invasion in summer 2015 possible and who also let the security situation totally get out of hand. And now in Vienna we have 'no-go' areas where Austrians cannot go any longer, we have huge ethnic tensions because of the mass migration which escalated last year," he said. "A lot of people are disoriented and totally disappointed with the political system in Austria because they don't feel represented any longer since they could not participate in these decisions."
RT buries this quote in comments by several scholars who commented on the rise of Euroskepticism and far-right parties (but the experts did not make mention of the far-right's likelihood of succeeding, its overall popularity, or its problematic ideology). In other words, the experts sound like they vindicate Markovics and Hofer. 
In one article on RT's sister channel, Sputnik, the words "far-right" are avoided entirely, except in quotes (other Sputnik articles do call Hofer and the Freedom Party "far-right"). Instead, the propaganda outlet stresses that the rise of "right-wing" parties is a "political earthquake" in Europe:
Sputniknews
'Political Earthquake' in EU as Support for Right-Wing Parties Explodes
Alexander Van der Bellen, an independent candidate backed by the Green party, defeated Norbert Hofer, of the anti-immigrant, Euroskeptic right-wing Freedom Party - but by just 50.3 percent against 49.7 percent, reflecting the Europe-wide rise in right-wing anti-immigrant sentiment. Other countries - mostly in Northern and Eastern Europe - have seen growing support for right-wing parties.
View full page →
As The New York Times points out, the success of far-right parties in Europe is both a trend and an exaggeration. Euroskeptic parties are major players in several EU countries, but far-right parties do not have clear momentum in most places. While there is plenty of reason to be concerned about the rise of radicalism in Europe (and in Russia), and the Kremlin's support for these movements is unnerving, far-right parties have yet to come to power in many places, giving those who oppose them time to turn the trends around before the next election cycles.
-- James Miller