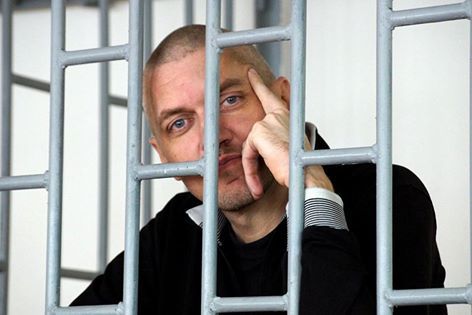 Chechen Court Finds Ukrainian Citizens Guilty After Trial Dogged By Accusations Of Torture
A court in the Chechen capital Grozny has today found two Ukrainian citizens guilty of charges that they fought with separatists during the first Chechen War and killed 31 Russian soldiers.
Mykola Karpyuk and Stanislav Klykh were detained in Russia in 2014 and have been on trial since September last year.
Karpyuk had been involved in the Ukrainian ultra-nationalist UNA-UNSO and Pravyi Sektor organisations, while Klykh was a history lecturer in Kiev. 
Both men have been recognized by Russia's Memorial human rights center as political prisoners. 
RFE/RL's Anton Naumlyuk reports that both men were found guilty of fighting with the Viking unit, made up of UNA-UNSO members, in the winter of 1994-5. 
While the defense team, which includes Ilya Novikov who also defended Nadiya Savchenko, intends to appeal the decision within the next three days, the court has extended Karpyuk and Klykh's custodial detention until August 27.
The trial jury has, in the meantime, recommended leniency for Klykh in sentencing. 
In one of the strangest stories to emerge from Russia in the last two years was the accusation Aleksandr Bastrykin, chief of Russia's Investigative Committee, that Arseniy Yatsenyuk, who resigned as prime minister of Ukraine earlier this year, had fought with the UNA-UNSO in Chechnya.
This was allegedly based on testimony given by Klykh. However one of Klykh's lawyers, Marina Dubrovina, has said that her client had been subjected to "a range of forms of torture."
From a September, 2015 report by Halya Coynash of the Kharkiv Human Rights Protection Group:
These included: being beaten; suspended; electric shocks; being deprived of food and drink; psychotropic substances. "He was beaten until he'd memorized the calibre of the Kalashnikov rifle with which they claimed he shot Russian soldiers"  Dubrovina points out that Klykh is an academic who's never held a rifle in his hands and did not even do military service.  He has lost 15 kilograms and his health urgently needs attention.  All of this was disregarded in the medical examination he was given at the beginning of the summer which found him fit to stand trial.

Klykh totally denies all the charges and has recently lodged a complaint over the torture. Dubrovina describes the procedure they've gone through but acknowledges that it's unlikely that any criminal proceedings will be initiated against Klykh's torturers.

All of the evidence against Klykh is based on testimony from this mystery individual called Malofeyev whom Dubrovina has never set eyes on.  From the file material, it seems that he is a Ukrainian national and was in Chechnya, after which he moved first to Crimea where he committed an armed robbery or something similar and served a sentence.  In 2005 he moved to where his mother lives in Novosibirsk (Russia) and there committed more crimes. In 2009 he was sentenced to 23 years imprisonment.  It is unclear, she adds, whether he has been subjected to physical force, but it is certainly easy to exert influence on him by depriving him of medication since, as well as being HIV positive, he is also suffering Hepatitis B, C and tuberculosis, and is addicted to opium. 
Read more analysis of today's verdict by Coynash
here
:
-- Pierre Vaux
Ukraine Reports 3rd Drone Attack In 3 Days, As Well As Military And Civilian Casualties
Two Ukrainian soldiers were killed and another wounded by enemy fire yesterday, as Ukraine reported 17 attacks by Russian-backed fighters.
Colonel Oleksandr Motuzyanyk, military spokesman for the Presidential Administration, told reporters that both soldiers had been killed by snipers, one in the Avdeyevka industrial park, north of Donetsk, and the other near Stanitsa Luganskaya, northeast of Lugansk.
Two more soldiers were wounded by a landmine blast, Motuzyanyk said. 
In addition, the Donetsk police reported that one civilian man had been killed and another wounded after their tractor was blown up by an explosive device near Pavlopol, northeast of Mariupol.
According to this morning's ATO Press Center report, Russian-backed fighters continued to use heavy artillery in attacks near Donetsk.
To the north of the separatist-held city, Russian-backed fighters reportedly fired on Ukrainian positions on the edge of Avdeyevka with 120 mm mortars, grenade launchers and heavy machine guns.
Anton Mironovich, spokesman for the ATO Press Center, told the 112 television channel that 15 120 mm mortar shells had been fired at Ukrainian positions at the Butovka mine, an exposed position between Donetsk and Avdeyevka. 
To the west, near Krasnogorovka, Ukrainian positions were shelled with 82 mm mortars.
Meanwhile to the south, military press officer Vitaliy Kirillov reported attacks near Novotroitskoye and Beryozovoye, on the highway between Donetsk and Mariupol; Pavlopol; and Shirokino, on the coast.
According to Colonel Motuzyanyk, 152 mm artillery was also used to shell Novomikhailovka once again.
Notably, for the third day running, Ukrainian military sources have reported attacks by armed drones.
The ATO Press Center claimed that a UAV had dropped several shaped-charge weapons near Ukrainian positions.
Soldiers at the Avdeyevka industrial park also reported the use of such armed drones to the TSN television channel yesterday.
According to the soldiers, the ordnance delivered by the drones has proven "impossible to disarm - they explode automatically."
Russia's combat UAV (UCAV) development programme is, officially, at only the prototype stage, with the Mikoyan Skat project abandoned in favour of a long-term joint venture with Sukhoi on a large, stealthy strike done. 
But Justin Bronk, a Research Fellow at the Royal United Services Institute (RUSI), has told The Interpreter that it is perfectly plausible that Russia is experimenting with modifying medium-sized reconnaissance drones, akin to the Orlan-10s that have been shot down several times in Ukraine, to carry light payloads of weapons.
Russia has, as Bronk said, been investing heavily in foreign drone technology, notably from Israel, but also China and even perhaps, given a recent increase in military and industrial collaboration, Iran, whose aviation industry has long made widespread use of drones, including adapting reconnaissance UAVs to a light combat role, such as those that have been documented in use by Hezbollah. 
It would not be a surprise therefore, to see Russia deploying either prototype or jury-rigged UCAVs in the Donbass, which allows the Russian military to field test a whole array of weaponry, from tanks to electronic warfare equipment, in the field against an enemy whose conventional military technology, much of it Soviet-era, is well understood.
That said, we still have yet to see any documentary evidence for the Ukrainian claims. 
-- Pierre Vaux