Ceasefire Violations In Ukraine Continue, But In Lower Numbers
So far, the month of May is bucking the trend in Ukraine. For months the death toll and the number of ceasefire violations have been skyrocketing in Ukraine. However, so far this month the number of ceasefire violations are down dramatically. 
At today's briefing, the Ukrainian military only reported eight ceasefire violations. Ukraine Today reports:
The most aggressive militant attacks were observed in the direction of Donetsk, including the city suburbs. The Russian-backed militants used small arms, grenade launchers, heavy-calibre machine guns, and 82mm-calibre mortars.
Yesterday there was a spike in casualties, but as we reported that appears to be a fluke -- fighting was once again reported at greatly reduced numbers from over just a few weeks ago:
Interpretermag
5 Ukrainian Soldiers Wounded in Battle; 2 Military, 2 Civilians Hurt by Mines; 1 Dies in Car Blast
Although fighting was less than in recent weeks today, violence in Donetsk and the presence of mines meant more casualties.
View full page →
Why are we seeing a lull in fighting? One explanation could be the holidays just celebrated in Ukraine and Russia, first Orthodox Easter, and then the May 8 and 9 celebrations of the end of World War II. Still, those holidays are now in the rear-view mirror and so far there has not been an uptick in fighting.
Of course, with this weekend's events at the Eurovision contest, there is a war of words.  Ukrainian singer Jamala, who is of Crimean Tatar dissent, won the competition after singing a song called "1944," a song which many took as a not-so-veiled political protest against Russia's illegal annexation of the Crimean peninsula in 2014 and the Russian crackdown against the Tatars which is ongoing. 
Washington Post
Eurovision win lifts spirits in Ukraine, raises eyebrows in Russia
Ukrainian politicians hailed their country's surprise weekend victory in the Eurovision Song Contest as a continent-wide endorsement in their smoldering conflict with Russia, while Moscow said the competition had been hijacked by politics.
View full page →
Needless to say, Russia's main English-language propaganda outlet was not happy:
RT International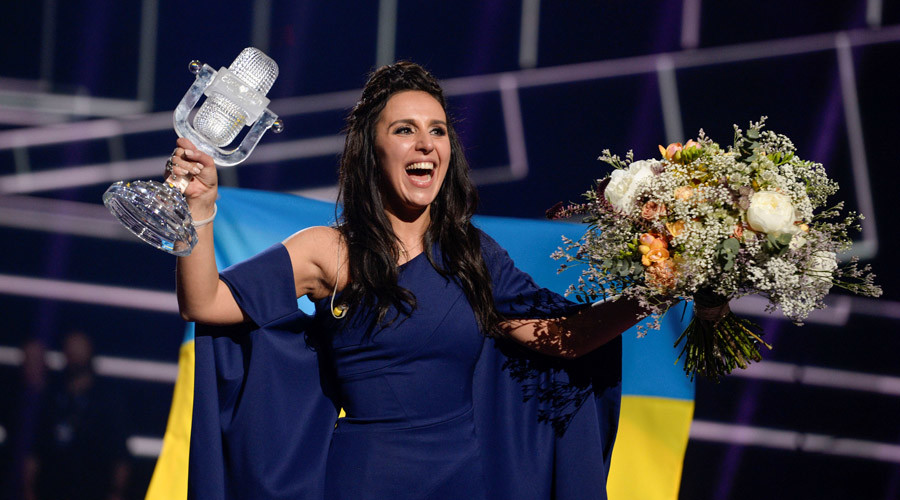 RIP Eurovision, 1956-2016
Neil Clark is a journalist, writer, broadcaster and blogger. He has written for many newspapers and magazines in the UK and other countries including The Guardian, Morning Star, Daily and Sunday Express, Mail on Sunday, Daily Mail, Daily Telegraph, New Statesman, The Spectator, The Week, and The American Conservative.
View full page →
-- James Miller