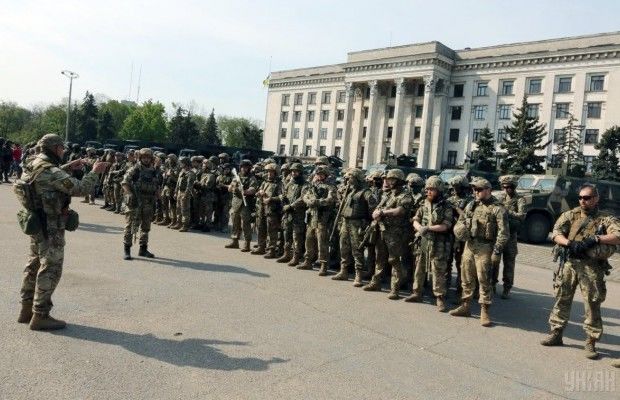 3,000 Police and Soldiers Deployed in Odessa to Prevent Violence During May Holidays; Azov Present
Ukrainian law-enforcers have announced that 3,000 police and soldiers, including 400 soldiers of the National Guard, will be deployed to maintain law and order in Odessa during the May holidays,
Unian reported.
"Taking into account the preparation by pro-Russian forces for violent actions and disorders in Odessa during the May holidays, the head of the SBU made the decision to send in additional troops from the ATO to Odessa. These are several divisions of Shaytanbat. This is one of the directorates of the Alfa special operations center which is permanently based in the ATO zone and takes part in combat operations directly. They are called the 'war surgeons.' They will be on combat duty during the holidays and if there is any additional information about possible threats they will immediately react to it."
Earlier, Unian said troops made a "display of force" in Odessa, Unian.net reported, with a drill of the divisions deployed at Kulikovo Field, which is the site of the tragic fire at the Trade Union Building in which 48 people were killed two years ago. On May 5, 2014, following the shooting deaths of 5 Ukrainian nationalists by pro-Russian forces, nationalists attacked a tent camp in Kulikovo Field and pro-Russian activists fled into the Trade Union Building, where a fire started by Molotov cocktails prevented escape from the area.
Authorities are hoping to prevent further violence this year as the anniversary approaches, coinciding with Orthodox Easter Sunday on May 1 and Easter Monday on May 2.
Tensions were running high last week after local activists in a tent-camp protesting the pro-Russian mayor were attacked and a number injured by thugs believed to be orchestrated by the mayor's supporters.
Giorgi Lortkipanidze, head of the regional command of the National Police, personally conducted a review of the troops who are to maintain order in the coming weeks. He urged them to be vigilant and prevent provocations and the destabilization of the situation. He announced that entry into Kulikovo Field will only be through police metal detectors, and traffic will be blocked from the area.
Lortkipanidze, accompanied by a military orchestra, also announced that 500 National Guardsmen would also be deployed as well as well as 1,000 spetsnaz police and members of civilian organizations. 
The SBU also said they would control the borders with Moldova and Transdnistria during the May holidays. The personnel of the Odessa garrison are all put on heightened readiness for the period of April 30-May 10.
Asked about the Azov troops on April 28, Andriy Dyachenko, speaker for the Azov regiment, which is now part of the National Guard, confirmed they were deployed to Odessa for training "on disabling diversionary groups."
Asked if they would be involving in maintaining order on the streets, Dyachenko said they are "prepared to follow any order of any degree of difficulty," but that local members of the National Guard already stationed in Odessa would take on this 
job. 
"Our divisions is likely there if there are some kind of emergency situations, for reaction to them."
There may have been disagreement between national and local authorities or even withing these bodies about whether and how many extra troops to deploy, given that a situation with insufficient law-enforcers could encourage violence just as over-deployment could cause anger and resentment.
Last week, following the outbreak of violence against protesters at the mayor office, the Interior Ministry had denied that extra troops were being sent in, and one advisor said he thought it was a bad idea.
Mikheil Saakashvili, the former Georgian president brought in by President Poroshenko to serve as the governor of Odessa Region, made a public plea for more forces:
But Ivan Varchenko, an advisor to the Interior Ministry, said that the National Guard should not be deployed to interfere in the "political process" in Odessa.
The next day Saakashvili made an announcement that appeared as if President Petro Poroshenko had in fact authorized sending in more troops.
Subsequently, Interior Minister Shkiryak denied any were being sent; meanwhile, in Odessa, Mayor Trukhanov, the target of protesters' ire, reinforced city hall with his own troops.
Then reports began to appear that Azov Regiment, now part of the National Guard, was sending 300 or 350 soldiers to Odessa.
Azov was also involved in attempts to topple a Lenin statue in Limanskoye, and later a monument to the Chekists (the Bolsheviks' secret police) in Kiev, actions that drew resistance from some people who did not want to destroy symbols of the Soviet past.
They also placed their own monument. 
Nikolai Holmov, who writes as "Odessa Blogger," says the Interior Ministry may have been reluctant to get involved in Odessa -- but then may have been instructed to do so.
As noted above, SBU chief Tkachuk spoke of troops from Shaytanbat, related to the Alfa spetsnaz and did not mention Azov.
But Holmov writes:
"In an attempt to keep track of the law enforcement bodies that will be actively working in Odessa from 30th April, there seems to be approximately 1300 local police officers, 500 National Guard (most of which come from the Azov Regiment) and 1000 drafted in police officers from outside the region."
If indeed Azov is present not merely "coincidentally" for "training purposes" and only as a back-up on call, this could prove a conflict driver for some because Azov is associated with neo-Nazism as some of their members have worn Nazi symbols and expressed extreme-right views. Their former volunteer battalion was folded into the National Guard's Interior Ministry's command. Despite denials and even legislation barring US training of Azov, claims have persisted that the US program to train the National Guard involves Azov fighters.
Holmov noted the arrival of Azov leader Andriy Biletskiy and blogged:
Anton Gerashchenko, a member of parliament from the Popular Front and former Interior Ministry advisor said he believed the situation would be calm in in Odessa because, Gordonua.com reported, citing 112.
"I forecast that it will all be calm in Odessa. After the divisions of the volunteer battalion Azov were brought in, I can't conceive at all who could try to organize some sort of separatist rebellions there. I think they will be rapidly intercepted within the framework of the law."
Gerashchenko called the Azov fighters by their previous name; they themselves on their social media and literature use the name "Azov Regiment."
-- Catherine A. Fitzpatrick
2 Ukrainian Soldiers Killed, 4 Wounded; Kuchma Says Russian-Backed Militants Violate Ceasefire
He said there were 7 powerful mortar attacks along the Donetsk line. More than 80 mortars were fired on Ukrainian army positions (translation by The Interpreter):
"It was quiet only at the Svetlodark bulge, but at other parts of the front (Zaytsevo and the Donetsk suburbs) the enemy waged constant fire."
A civilian was hospitalized after suffering injuries from setting off a mine from a trip-wire in Novobakhmutovka in Yasinovatsky District of the Donetsk Region.
Lysenko said shelling continued along the Mariupol line, along with sniper attacks mainly in Maryinka.
"The situation is very volatile, some strongholds are shelled 6 times a day. The forces of the ATO are forced to open fire. The main 'hot spots' yesterday were Maryinka and Krasnogorovka. There were 33 enemy shellings in the past day along the Mariupol line."
Luganskoye was quiet, and the Stanitsa Luganskaya checkpoint opened up today and will remain open until May 11.
For his part, Eduard Basurin, the "defense minister" of the forces of the self-declared "Donetsk People's Republic" claimed 53 shelling incidents with a total of 335 shells from artillery of the 80-120-mm caliber banned under Minsk, and firing from BMPs and firearms. (The DNR has a report in English here.)
He said fighting continued in Spartak north of Donetsk, Dokuchayevsk, Zaytsevo, Yasinovataya, Sarkhan, Kominternovo, Zhabishchevo, Staromikhailovka, Aleksandrovka, and Petrovsky District in Donetsk.
Baturin added that he believed trips by Gen. Viktor Murzhenko, chief of staff of the Ukrainian military, to Volnovakha to give awards to troops was "for killing civilians" and to "prepare military actions in the coming days," and that a separate trip by US Amb. Geoffrey Pyatt to Mariupol where he "met with commanders of nationalist gropus" and also planned to meet with "sponsors of nationalist units participation in the Kulikovo Field operation in Odessa."
In fact, the Amb. Pyatt met with the mayor of Mariupol, Yury Boychenko of the Opposition Bloc which is the rival to the nationalists who lost the elections in Mariupol
As can be seen from other materials on the US Embassy web site and Facebook page, Amb. Pyatt met with a variety of people including workers at the MetInvest plant.
Baturin also claimed based on reports in the pro-Russian media of unconfirmed documents that supposedly officials in Mariupol were "preparing to evacuate children from the city" in preparation for "terrorist attacks."
There was no independent confirmation of any such plans for evacuation of children. 

The SMM continued to observe a significant number of ceasefire violations, including overnight, in Donetsk region.[1] In the evening hours of 27 April, whilst in Donetsk city centre, the SMM heard seven undetermined explosions 7-10km north-west of its location. The following day, from a position at "DPR"-controlled Donetsk central railway station (6km north-west of Donetsk city centre), the SMM heard 42 undetermined explosions, 46 bursts of heavy-machine-gun fire, and six bursts and 33 single shots of small-arms fire, mostly at locations ranging from west to north 2-10km of its position.

On the evening of 27 April in government-controlled Svitlodarsk (57km north-east of Donetsk), the SMM heard six explosions assessed as outgoing rounds of artillery, 84 explosions (43 impacts and 41 outgoing rounds) of mortar (82 and 120mm), 57 explosions assessed as impacts of automatic-grenade-launcher fire, 24 explosions assessed as caused by rocket-propelled grenade launchers (RPG-7) and 73mm cannon (BMP-1) fire, and nine explosions caused by impacts and nine outgoing rounds of recoilless gun (SPG-9) fire 2-3km south-south-east, as well as two explosions of outgoing mortar rounds (82mm), nine explosions caused by impacts of automatic-grenade-launcher fire and one explosion caused by impact of recoilless gun (SPG-9) fire, all at 4-5km south-west of its position.

Positioned in "DPR"-controlled Horlivka (39km north-east of Donetsk) on the evening of 27 April the SMM heard 23 explosions assessed as impacts of artillery and mortar rounds, five explosions assessed as outgoing rounds of artillery (undetermined calibre) and 34 bursts of anti-aircraft gun, automatic-grenade-launcher, heavy-machine-gun and small-arms fire 4-6km south and south-west of its position. On the following day, whilst at the same position, the SMM heard 83 explosions of outgoing automatic-grenade-launcher fire and 20 bursts of small-arms fire, 3-4km south-west of its position. Whilst in "DPR"-controlled Debaltseve (58km north-east of Donetsk), the SMM heard 20 undetermined explosions and two bursts of heavy-machine-gun fire 8-12km south-west, west, and north-west of its position.

On the evening of 27 April, an SMM camera in Shyrokyne (20km east of Mariupol) recorded 19 bursts of tracer fire from west to east and three flashes of light at an undetermined distance to the north.

In Luhansk region, the SMM observed multiple ceasefire violations, while – unlike the previous three days –  it recorded no ceasefire violations in areas of government-controlled Stanytsia Luhanska (16km north-east of Luhansk), including during the evening hours of 27 April. Whilst in "LPR"-controlled Kalynove (58km west of Luhansk), the SMM heard nine explosions assessed as caused by outgoing rounds of artillery 4km south-west of its position. While positioned at a checkpoint near government-controlled Trokhizbenka (33km north-west of Luhansk), the SMM heard few minutes of continuous bursts of heavy-machine-gun fire 600m to the south.
OSCE also did not find evidence of reports of a couple being killed by a land mine:
The SMM followed up on media reports that a young couple had been allegedly killed by a trip wire explosion while trying to bypass the closed checkpoint in government-controlled Stanytsia Luhanska on 27 April. The SMM spoke to numerous interlocutors, including Ukrainian Armed Forces personnel, a border guard officer, a shopkeeper, hospital personnel in Stanytsia Luhanska, as well as the commander at an "LPR" checkpoint on the southern side of the Stanytsia Luhanska bridge, and none of them had information confirming the alleged incident.
The SMM also followed up on the killing of 4 civilians in an area controlled by separatists which was believed to be caused by Ukrainian fire. OSCE indicated that one woman among the victims was not pregnant as was widely reported:

The SMM continued to follow up on information about civilian fatalities caused by a shelling incident in "DPR"-controlled Olenivka (23km south-west of Donetsk) on 27 April and reports on people wounded in the incident (see SMM Spot Report 28 April 2016). The head doctor of Kalinina morgue in Donetsk city told the SMM that the reported pregnancy of the female victim – one of four human bodies transported to the morgue from Olenivka – had not been confirmed after medical examination. The head doctor of Donetsk traumatology centre told the SMM that five civilians injured during the incident had been medically treated in the centre. According to him, one man (aged 55), who had sustained shrapnel injuries, was under intensive care, one teenager (aged 15) was being treated at the children's trauma unit, and three others (two men and one woman), who had sustained lighter injuries, had been released after outpatient treatment.
Darka Olifer, press secretary for Leonid Kuchma, the former Ukrainian president who represents Ukraine in the Trilateral Contract Group
released a statement from Kuchma
that since the declaration of the latest ceasefire today for the Easter and May holidays, the Russian backed separatists have continued to shell Ukrainian positions,
Unian reported.
Kuchma stated:

Yesterday in Minsk the Trilateral Contact Group announced support for a full ceasefire regimen starting April 30, 2016. However, as of the present time, violations of the regimen are taking place in certain districts of the Donetsk and Lugansk Regions. These were in Shirokino, Avdeyevka, Maryinka and there was mortar fire in particular. Ukraine consistently fulfills the obligations it has taken upon itself and does not reply to provocative shelling.
Elsewhere in the news:
o One woman was killed and a second injured in an accident involving a water tank at a chemical plant in Russian-occupied Crimea owned by oligarch Dmitry Firtash,
Unian reported
, citing Kryminform.
o A conflict among a group of people led to a shoot-out in the center of Kiev on Bessarabsky Square. One man,  30, a resident of Kirovohrad Region injured. Police have characterized the incident as "hooliganism," said Unian
-- Catherine A. Fitzpatrick