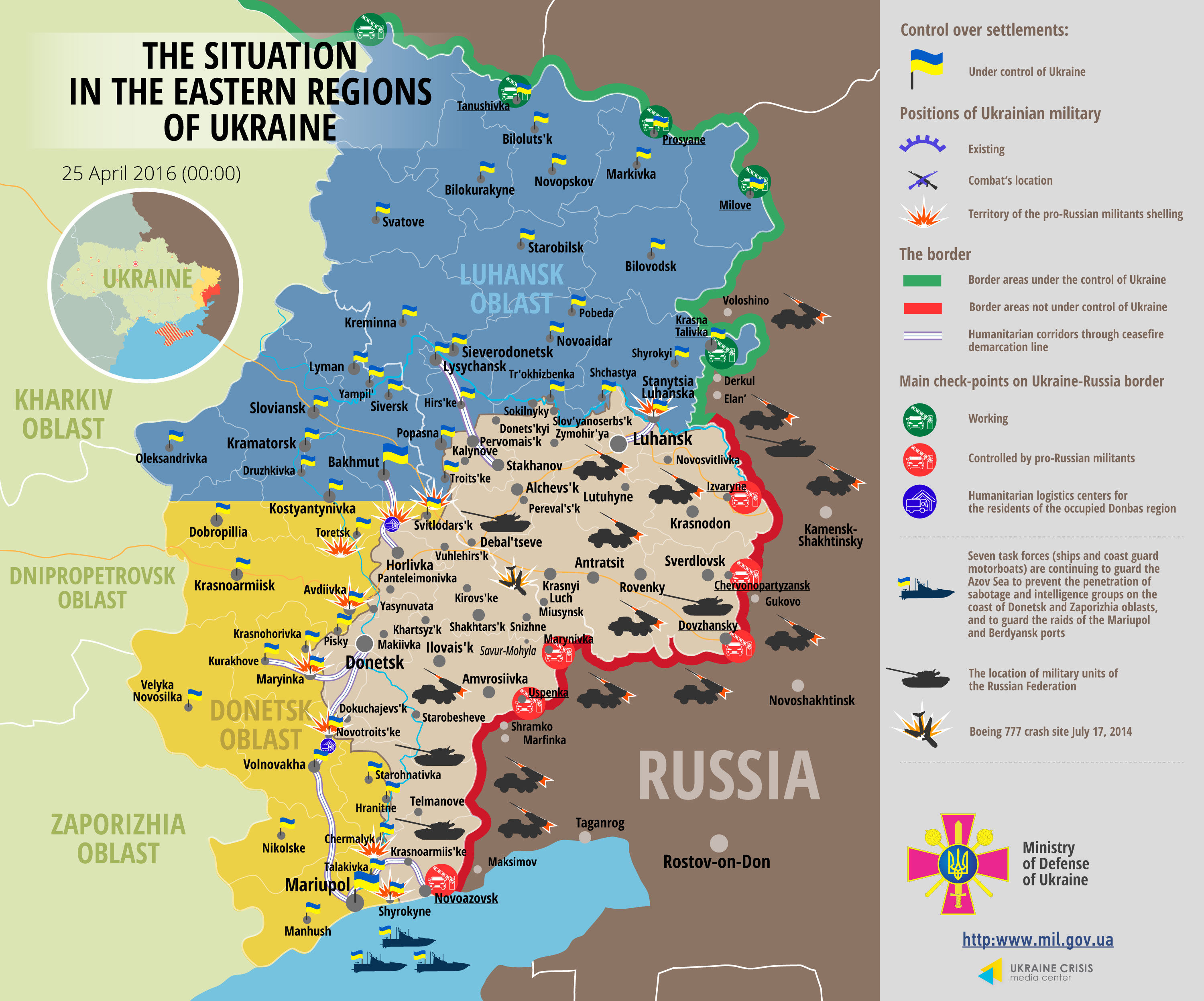 Shelling Reported Today North And South Of Donetsk
Colonel Andriy Lysenko, military spokesman for the Presidential Administration, also reported that one Ukrainian serviceman had died in hospital on April 23 from injuries received earlier near Luganskoye, on the highway between Bakhmut (formerly Artyomovsk) and separatist-held Debaltsevo:
Azov Activist Krasnov, Accused Of Being FSB Spy, Declares Dry Hunger Strike
Ukrainska Pravda reports that Stanislav Krasnov, a former volunteer fighter and activist with the Azov 'Civilian Corps' who was arrested at the end of February and accused of spying for Russia, has declared a dry hunger strike. 
During a court hearing today, Krasnov said that hadn't drunk water for the last three days, having stopped eating 13 days ago.
"I feel very unwell, I'm stressed, my head aches, my vision has deteriorated," said Krasnov.
The Shevchenko District Court has authorised medics to examine him.
Krasnov's health was already reported to be frail after he collapsed during a hearing on March 3:
Krasnov was arrested on February 28 with his girlfriend and fellow activists, Oksana Shelest. The Ukrainian Security Service (SBU) claimed that they had followed their car from a cache of explosives on the highway between Kiev and Kharkiv.
SBU chief Oleksandr Tkachuk told reporters that Krasnov had been working with Russia's Federal Security Service (FSB) since 2014, coordinating with agents and militants inside Ukraine.
Amongst those the SBU says Krasnov worked with, was Maria Koleda, a Russian citizen who was captured in Ukraine's Kherson region in April, 2014, on what they claim was her ninth trip to the country.
According to the SBU, Koleda used firearms to wound three people during clashes outside the Mykolaiv Regional Administration building on April 7.
From our report at the time of her arrest:
Operatives established that on April 8, Koleda reported back to her supervisor in the Russian Federation on the availability to the "activists" of "unlimited quantities" of improvised explosive devices and that an agreement had been reached for them to obtain firearms.

"She also gave an account of the plan for two diversionary groups (7 people from Kherson and 6 from Nova Kakhovka) to be sent to Donetsk to participate in riots", reported the SBU.

The infiltrator was also supposed to "figure out the stances of Ukrainian Border Service employees on the border between the Autonomous Republic of Crimea and mainland Ukraine, and to ascertain the feasibility of entry from Crimea, either legally or by circumventing checkpoints, of people who had been banned by the SBU from entering Ukraine.

During her arrest, a traumatic pistol, adapted to fire live ammunition, and guidelines for preparing diversionary groups were found on the Russian.
Koleda
was returned to Russia in a prisoner exchange deal in September that year
.
But last month, nearly two years after her arrest, the SBU announced that Koleda had implicated Krasnov in her testimony.
Translation: SBU - GRU agent Maria Koleda confessed during interrogation that Krasnov gave her a weapon
The SBU also released a purported audio recording of a phone conversation between Krasnov and Konstantin Goloskokov, former "commissar" of the Kremlin-organised Nashi youth group and notorious for harassing opposition activists in Russia.
The SBU claims that Goloskokov works for Russia's GRU (military intelligence) and that he was acting as a curator for pro-Kremlin subversive activities in Ukraine in 2013 and 2014.
In the recording, the man the SBU claims is Krasnov acknowledges having had contact with an unnamed "girl" and having met her at a metro station.
The man purported to be Goloskokov is worried about the phone used to communicate with the woman and tells his interlocutor that she has been seized. Koleda's name is not mentioned at any point.
Meanwhile lawyers for Krasnov say that the case against their client, who was involved in maintaining the blockade of goods crossing the frontier with Russian-occupied Crimea, has been fabricated and that he has been tortured:
According to Krasnov, he was beaten and tortured outdoors for six-seven hours in freezing conditions.
Krasnov told his lawyer that he wasn't asked any questions about working for the Russians or planting explosives during this ordeal, and was instead told that he would be killed for being a nationalist activist. The local SBU officers were, in Krasnov's version of events, angered by the disruption caused by the Maidan revolution and the nationalist volunteers and activists on the border.
Certainly Krasnov's history would make him a surprising choice for an FSB recruit. In 2013 Krasnov, along with his colleague Oleksandr Kostenko, was driven out of the police force in Crimea for having publicly criticised the Simferopol police leadership for trying to cover up the abduction and trafficking of women into sexual slavery.
In 2015, Kostenko was sentenced by the occupying, Russian authorities to jail on charges of having attacked Berkut riot police officers in Kiev, during the EuroMaidan protests.
Halya Coynash of the Kharkiv Human Rights Protection Group explains that Krasnov was also pulled into the affair by the Russian authorities:
Worth noting that Kostenko's lawyer Dmitry Sotnikov has reported that during this extraordinary trial, Natalya Poklonskaya, installed as prosecutor by the occupation authorities, claimed that Kostenko and Krasnov had tortured 'Berkut' officers and burned their bodies in a crematorium established in the basement of the Kyiv City Administration (occupied at that time by some Euromaidan activists).  No proof was provided. 

Kostenko was sentenced in May 2015.  Then in June 2015 Russia's Investigative Committee initiated criminal proceedings against Krasnov, accusing him of "inciting enmity or hatred towards people of a certain social group, with the use of the media" (article 282 § 1 of the Russian criminal code). He was supposed to have made public statements on two TV channels from April 2014 to Jan 2015  which 'incited enmity' towards former Ukrainian citizens who had expressed the wish to take on Russian citizenship.  Since Krasnov was at the time out of reach, fighting Kremlin-backed militants in Donbas, the de facto authorities harassed his mother.
Coynash reported on the harassment of Krasnov's mother, Nadezhda, in August last year:
Today, Ukrainska Pravda reports that the court is reviewing a request from prosecutors for Krasnov's detention to be extended.
-- Pierre Vaux