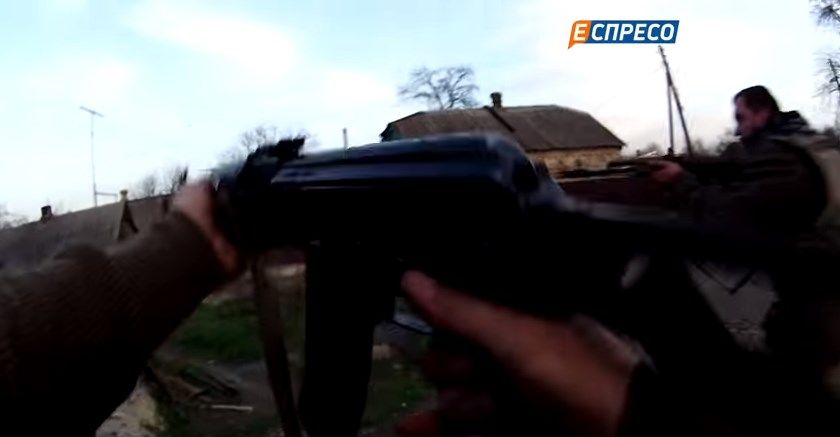 Video Shows Heavy Fighting In Maryinka, Near Donetsk
Artem Shevchenko, the Chief of the Department of Communications of Ministry of Internal Affairs of Ukraine, has tweeted this video of heavy fighting near Maryinka:
Earlier we reported that, according to the Ukrainian military, the town has been under attack by snipers and weapons of various calibres. 
-- James Miller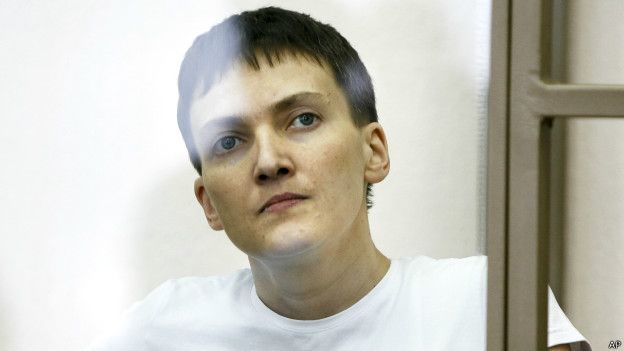 Savchenko Reportedly To Be Swapped For Aleksandrov And Yerofeyev No Earlier Than End Of May
RBC reports that Russian officials have claimed that Nadiya Savchenko, a Ukrainian military officer abducted and illegally jailed in Russia, will be returned to Ukraine in exchange for Aleksandr Aleksandrov and Yevgeny Yerofeyev, Russian soldiers who were captured by the Ukrainian military in the Donbass, no earlier than the end of May.
RBC was told this by two unnamed sources - a Russian "federal official" and another individual "close to the leadership of the Federation Council."
According to the report, the exchange could only take place once the sentences of captured Russian soldiers Aleksandrov and Yerofeyev, who were convicted on terror charges on Monday, come into effect.
RBC reports that the sentences may not come into effect until mid-May, even though lawyers for the pair have so far declined to file appeals so as to speed up the process.
The source at the Federation Council also suggested to RBC that the Kremlin may pursue the release of several other Russian citizens in exchange for Savchenko.
Nikolai Polozov, one of Savchenko's lawyers, told RBC that the exchange was likely to happen, but is complicated by the fact that, in contrast to more traditional swaps of prisoners of war, Russia denies involvement in the war and claims that Aleksandrov and Yerofeyev had resigned from military service before entering Ukraine.
Earlier today, Polozov, while claiming that the political will was there for an exchange, raised the possibility, in an interview with Ukraine's 5 Channel, that President Vladimir Putin would hold back and try to negotiate a weakening of sanctions against Russia in exchange for Savchenko's release. This would be extremely unlikely, however, with regards to US and EU sanctions.
Another lawyer, Oksana Sokolovskaya, who represents Yerofeyev, told RBC that an agreement on an exchange has indeed been reached, but believes that it will come in the form of a pardon. 
Sokolovskaya confirmed that, if negotiations on a swap deal continue to make progress, she and her fellow lawyers will not appeal the Ukrainian court decision. But the ultimate outcome still depends on the choice of Presidents Poroshenko and Putin.
-- Pierre Vaux
Two Ukrainian Soldiers Wounded As Kiev Reports 30 Attacks Yesterday
Two Ukrainian soldiers were wounded yesterday as fighting in the Donbass continued to rumble along, albeit at a reduced pace compared to last week.
According to Colonel Andriy Lysenko, a military spokesman for the Ukrainian Presidential Administration, both soldiers were wounded by enemy fire in the village of Verkhnetoretskoye, northeast of the separatist-held city of Donetsk.
Ukrainian positions in Verkhnetoretskoye were, in addition to neighbouring Avdeyevka, attacked with mortars, grenade launchers and machine guns, claimed the ATO Press Center this morning.
To the west of Donetsk, Ukrainian troops in Maryinka were attacked by snipers, under cover, Colonel Lysenko said, of fire from weapons of varying caliber.
Near Gorlovka, positions in Zaytsevo were shelled with mortars while those to the east near Luganskoye, on the highway between Bakhmut and separatist-held Debaltsevo, came under fire from BMP-1 and 2 infantry fighting vehicles.
In Debaltsevo itself, locals allegedly  heard a powerful explosion this morning. According to a 62.ua report, users of a local VKontakte group described hearing a "terrible bang nearby," rattling windows.
62.ua cites residents as saying that the VK group was then closed by the administrators without any explanation. The Interpreter could not find any of the original reports on the site.
Further east, in the Lugansk region, Governor Georgiy Tuka reported that in the early evening, Russian-backed fighters attacked a frontier crossing point outside Stanitsa Luganskaya, northwest of the separatist-held regional capital.
According to Tuka, five grenades were launched at the site, followed by sniper fire, as civilian contractors worked to repair damage inflicted by previous attacks. All workers were evacuated and no casualties are reported.
Tuka's administration reported further attacks on the crossing checkpoint between 21:00 and midnight, conducted with automatic grenade launchers and small arms.
Ukrainian troops also came under small arms fire near the village of Tryokhizbenka, the report said. Viktor Shubets, a military press officer, told the 112 televlsion channel this morning that there had been a follow-up attack, with grenade launchers and machine guns, in this area at around 1 am.
Finally, on the Azov coast, Ukrainian troops in Shirokino came under multiple attacks, with the last reported by Shubets taking place at 3 am today.
Given that the Ukrainian military has suggested that the current lull in fighting is due to a lack of ammunition, it should be noted that Ukrainian military intelligence (GUR) claimed today to have recorded the arrival of a munitions train at Ilovaisk station.
According to the GUR report, the train consisted of six wagons, including two containing ammunition and three with spare parts for military hardware.
Meanwhile the 'defense ministry' of the self-declared Donetsk People's Republic reported 21 attacks by the Ukrainian armed forces.
Interestingly, this video, uploaded this morning, purportedly shows a successful attack by Ukrainian troops on a mortar team, supposedly killing five Russian-backed fighters.
According to comments on another copy of the video, the missiles used by the Ukrainian attackers were Stugna guided anti-tank missiles. No details on the time or location of the attack are given.
-- Pierre Vaux