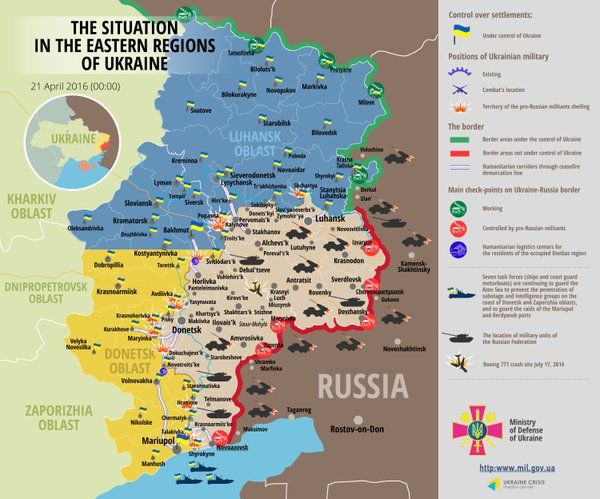 As 51st 'Humanitarian Convoy' Enters Donbass, Kiev Reports 4 Ukrainian Soldiers Wounded, 33 Attacks Yesterday
Four Ukrainian soldiers were wounded yesterday, which saw, Kiev claims, 33 attacks by Russian-backed fighters.
Colonel Oleksandr Motuzyanyk, a military spokesman for the Presidential Administration, said that all of the casualties had been incurred by enemy fire outside Avdeyevka, north of separatist-held Donetsk.
According to this morning's ATO Press Center report, Ukrainian positions here were attacked with mortars, grenade launchers of various types, machine guns and small arms.
In Marinka, to the west of Donetsk, the military reported 14 attacks with Russian-backed fighters employing "their full arsenal of weapons, including 82 mm mortars."
To the north of Gorlovka, 82 mm mortars were used to bombard Ukrainian positions near the village of Zaytsevo, while towards Popasnaya, in the west of the Lugansk region, 120 mm mortars were used.
Fighting was also reported near the Lugansk settlements of Schastye and Novozvanovka.
To the south of Donetsk, military spokesman Yaroslav Chepurnoy reported attacks near Beryozovoye, on the Donetsk-Mariupol highway; Novoselovka Vtoraya, southeast of Volnovakha; and Vodyanoye and Shirokino, east of Mariupol.
The level of fighting, while slightly higher than yesterday's, remains low for the third day in a row. On Tuesday military press officer Vladislav Volodin suggested that Russian-backed fighters may be conserving ammunition.
But if Ukrainian government claims that Russia is resupplying fighters in the Donbass via their 'humanitarian' convoys are right, then expect an upswing in fighting within a few days as the 51st such convoy arrived this morning.

Unian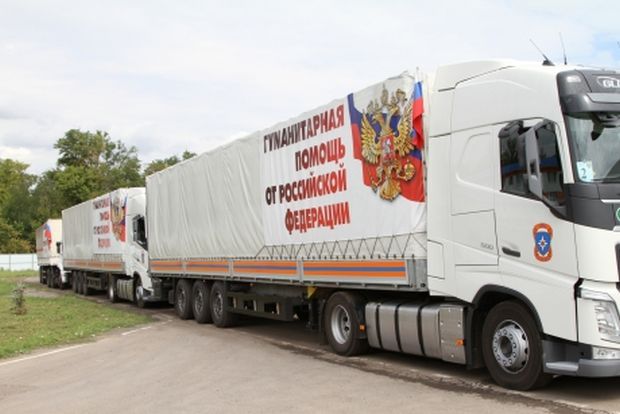 Russia's 51st 'humanitarian convoy' arrives in occupied Donbas
"More than 100 vehicles arrived in Donetsk and Luhansk. They brought more than 1,200 tonnes of humanitarian cargo, including foodstuffs, daily necessities, medications, firefighting equipment, books and educational materials," the Russian Emergencies Ministry's press service said, adding that there were no unforeseen situations on their way to Donetsk and Luhansk, TASS wrote.
View full page →
There are other worrying signs. According to the April 19 report of the OSCE Special Monitoring Mission to Ukraine (SMM), considerable amounts of heavy weaponry have been spotted in separstist-held territory beyond the Minsk withdrawal lines, notably in Donetsk city, where the SMM saw five 9K35 Strela-10 mobile surface-to-air missile systems.
In violation of the respective withdrawal lines, the SMM saw seven multiple launch rocket systems (MLRS; BM-21 Grad, 122mm), seven self-propelled howitzers (2S1 Gvozdika, 122mm), and ten towed howitzers (five 2A65 Msta-B, 152mm, and five D-30 Lyagushka, 122mm) in "LPR"-controlled Luhansk city; five surface-to-air missile systems (9K35 Strela-10, 120mm) at a military-type compound in "DPR"-controlled Donetsk city*; and, one anti-tank guided missile system (9K111 Fagot, 120mm) near government-controlled Toshkivka (61km north-west of Luhansk). 
This is perhaps the largest concentration of Strelas we have seen in the conflict so far. Even around the time of the May 9 Victory Day parades in Donetsk and Lugansk last year, we saw only three such units at each location.
Another three can be seen at around 25 minutes into this footage of the Donetsk parade:
Of course, with Victory Day less than three weeks away, this hardware may be deployed for that very purpose.
However there are also reports, from the Information Resistance group, founded by Ukrainian MP and military analyst Dmytro Tymchuk, that two battalions of Russian-backed fighters, supported by armoured vehicles, are being deployed towards Dokuchaevsk, near Berozovoye to the south of the city, and a recent repeated flashpoint.
Now this afternoon there are reports of heavy shelling to the northeast of Donetsk, near the front line with Avdeyevka:
Translation: Scheglovka. Thundering from all directions, seems like Budyonny's Cavalry are attacking beyond the cemetery, from the direction of Mineralnoye...
Translation: Scheglovka. I don't know, maybe this is due to the weather and the sound is carrying and rebounding, but it seems like a battle is under way somewhere very close.
Translation:  Makeyevka 17:05 frequent bangs in the west.
Translation: From the direction of Yakovlevka can see smoke and gunfire for 15 minutes already.
Translation: Powerful blasts near Mineralnoye and the Yasinovataya checkpoint, a proper sh*tstorm.
-- Pierre Vaux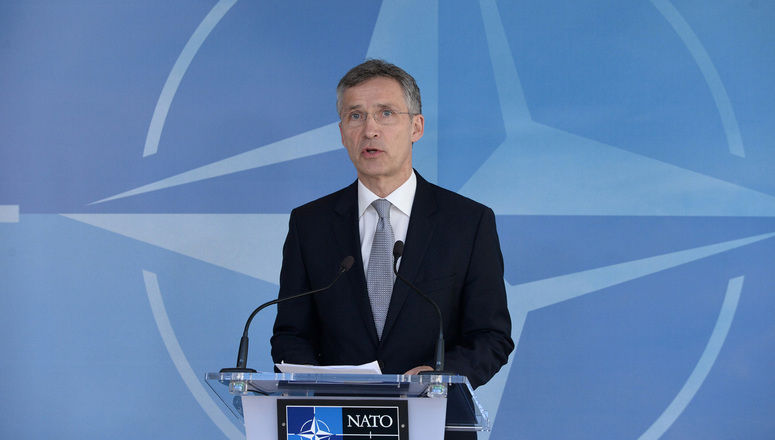 NATO Says 1,000 Pieces Of Heavy Military Equipment Have Crossed From Russia Into Ukraine In One Year
The Wall Street Journal reports that NATO is on edge over recent Russian actions, and US officials are warning that not only is Russia not abiding by the Minsk agreements that were supposed to resolve the conflict in the eastern Ukraine, but Russia is still pumping military equipment into the conflict:
A U.S. defense official, however, said the Pentagon has seen about 1,000 pieces of heavy military equipment flow across the Russian border into the Donbas region in the past 12 months. The U.S. official said Russian grad rocket systems and TOS-1 flame throwers remain inside the rebel-held territory.
Ambassadors for both NATO and Russia met yesterday for the first time in two years to hold "frank dialogue" following recent rising tensions. The major topic of discussion were the incidents on April 11 and 12 where Russian aircraft flew dangerously close to the USS Donald Cook, a guided missile destroyer in the Black Sea:
"Our aircraft were acting fully in line with our agreements," Mr. Grushko said. The basic issue was why a destroyer equipped with cruise missiles with a range of 1,550 miles that could be nuclear, came so close to Kaliningrad, he added.

[...]

In the meeting—and speaking with reporters after—Mr. Grushko said NATO was militarizing the Baltic region.

NATO officials said it was Russia's aggression in Ukraine that compelled the alliance to begin reinforcing the east.

"Everything NATO does in the Baltic region is proportional, it is defensive and it is fully in line with our international agreements," NATO's Mr. Stoltenberg said after the meeting. "We are responding to the substantial military buildup by Russia."
WSJ
NATO and Russia Hold 'Frank' Discussions
BRUSSELS-Ambassadors from Russia and the North Atlantic Treaty Organization met together Wednesday for the first time in nearly two years, amid rising military tensions between Russia and the U.S. While there were no agreements, officials described the meeting as constructive and substantive.
View full page →
The Russian narrative is spin, which is why NATO Secretary General Jens Stoltenberg stressed in a statement released after the meeting that serious differences remain:
Political dialogue among nations that share the same Euro-Atlantic area is both necessary and useful, especially in times of tensions as we experience now.

However, this does not mean that we are back to business as usual.       

[...]

We had a frank and serious discussion.

NATO Allies and Russia hold very different views. 
But we have listened to what each of us have to say.
The NATO Secretary General stressed issues of threat reduction and transparency, and contrasted this with Russia's aggressive behavior and its yet-to-be-fulfilled obligations to the Minskagreement regarding Ukraine:
We also discussed transparency and risk reduction.

We have a responsibility to ensure predictability, confidence and stability across our region. The armed forces of every nation and every military alliance have the right to exercise. But in recent years, Allies have seen a decrease in transparency in military activities. Combined with an increase in military activity and forces, and strong rhetoric. This is a dangerous combination.  

NATO Allies expressed concern about last week's incidents in the Baltic region involving Russian military aircraft. It is important to consider what steps we can all take to increase transparency and predictability.

In the OSCE, all NATO Allies and Russia have agreed on rules governing military activities in Europe, including the observation and notification of exercises. Those rules must be respected.

The NATO-Russia Founding Act recognised that strengthening the OSCE will prevent any possibility of returning to a Europe of division and confrontation.
Reading between the lines, however, it seems that there is in fact very little common ground between NATO and Russia. Both Russia and NATO disagree about key facts. On the Ukraine issue, Stoltenberg more clearly defined the fault line between the narratives:
During the meeting it was reconfirmed that we disagree both when it comes to the facts, the narratives, and the responsibilities for the crisis in and around Ukraine. And many Allies also conveyed a very strong message that we disagree when Russia try to portray this as a civil war. This is Russia destabilizing Eastern Ukraine, providing support for separatists, ammunition, funding equipment and also command and control. So there were profound disagreements related to the crisis in Ukraine, but we agreed on the importance of full and rapid implementations of the Minsk agreements, meaning respecting the ceasefire, withdrawal of heavy weapons, and also, of course, full access for the international monitors to monitor the situation on the ground. And I think it is important that this is a clear message and is something which we agree on. And then of course we have to be able to see that this is not only something which is stated in meetings, but also then implemented on the ground and Russia has a special responsibility because Russia continues to support separatists in Eastern Ukraine. 
Stoltenberg didn't exactly downplay the April 11 and 12 incidents, but he refused to comment on them or mention whether there were additional incidents, preferring instead to stress that they were moving forward "to prevent that kind of incidents" that we witnessed with the USS Donald Cook. However, as our analysis points out, there were several other incidents reported last week, including a Russian jet which barrel rolled just meters above a US surveillance flight, and a historic level of mobilization from Russia's submarine fleet.
Interpretermag
The Kremlin Is Escalating Its Military Aggressiveness To Cold War Levels
The videos and pictures taken by the crew members of the USS Donald Cook are as spectacular as they are disturbing. In several of the videos, American sailors can be heard nervously observing the low passes from the Russian jets, but the brazen aggressiveness drew the occasional nervous smile from crewmen who were likely equally relieved that there was no accident and entertained by their front-row seats to an air show which should never happen.
View full page →
-- James Miller
EU Ties Next Tranche Of Financial Aid To Reforms Within 100 Days
Johannes Hahn, the European Union' Commissioner for European Neighbourhood Policy and Enlargement, has told Ukraine's prime minister, Volodymyr Groysman, that EU funding support is dependent on his government achieving priority reforms within the next one hundred days.
Hahn flew into Kiev yesterday after the EU Commissioner for Migration and Home Affairs, Dimitris Avramopoulos, announced that the Commission was proposing that visa-free travel for Ukrainian citizens be introduced as soon as approved by the European Parliament and Council.
Avramopoulos said:
"Today we follow up on our commitment to propose short-stay visa-free travel to the EU for Ukrainian citizens with biometric passports – facilitating people-to-people contacts and strengthening business, social and cultural ties between the EU and Ukraine. This is the result of the success of the Ukrainian government in achieving far-reaching and difficult reforms in the Justice and Home Affairs area and beyond, impacting on areas such as the rule of law and justice reform. I am very satisfied with the progress achieved, it is an important achievement for the citizens of Ukraine, and I hope that the European Parliament and the Council will adopt our proposal very soon." 
The Commission's press release explains the process to come:
Once the proposal will be adopted by the European Parliament and the Council, Ukrainian citizens with biometric passports will no longer require visas when travelling for short stays of up to 90 days to the Schengen area. The visa-free travel will apply to all EU Member States except for Ireland and the UK, as well as the four Schengen associated countries (Iceland, Liechtenstein, Norway and Switzerland). The exemption concerns only short-stay visas valid for up to 90 days of travel in any 180-day period for business, tourist or family purposes. The visa exemption does not provide for the right to work in the EU.

Other entry conditions for accessing the Schengen area will continue to apply, including the need to be able to prove sufficient financial means and the purpose of the travel. 
Interfax-Ukraine reported that Hahn said that the EU Association Agreement with Ukraine had now, "preliminarily" come into effect, following the ratification of the Agreement by 27 EU member states despite the Dutch no-vote in a consultative referendum on April 6.
-- Pierre Vaux