Russia Update: April 18, 2016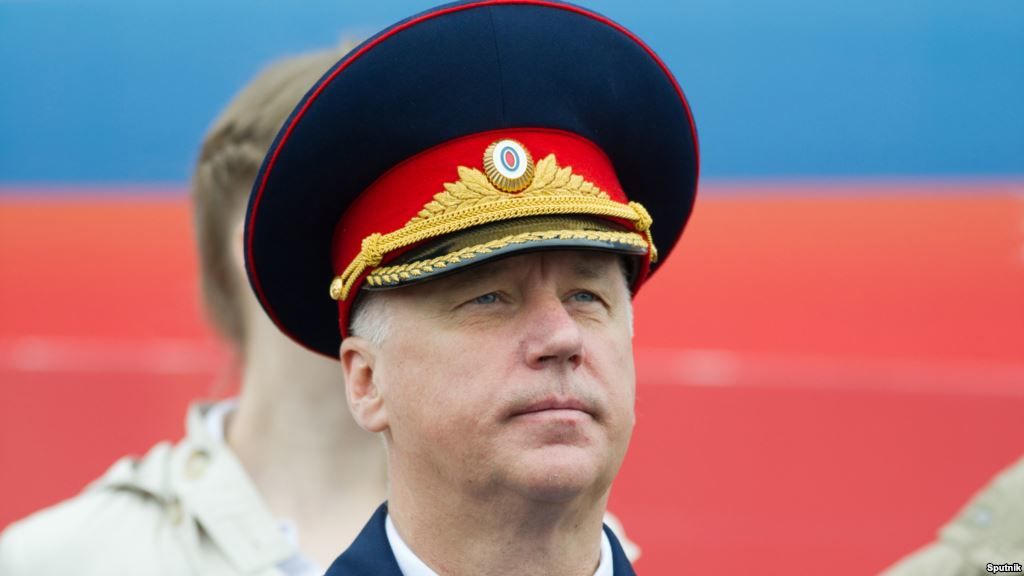 Bastrykin, Head of Investigative Committee, Calls for Massive Vetting of Religious, Youth Organizations & Internet Censorship to Counter West's 'Info War'
In an interview with Kommersant Vlast [Power], a publication of the business daily Kommersant, Aleksandr Bastrykin, the head of the Investigative Committee, outlined his thoughts on the war on extremism and terrorism and his belief that the US is waging an "information war" and even a "hybrid war" against Russia.
Because the US is spending more on defending Europe and countering Russian aggression, Bastrykin believes a "symmetrical" response is required from Russia -- heedless that the US and European programs were induced by Russia's own aggression against Georgia and Ukraine. He believes a massive vetting of religious and youth organizations is required, along with Internet censorship and further prosecution of "extremism" to cope with the challenge of the West's "information war."
As Paul Goble reported in Windows on Eurasia, Sova Center, a Russian NGO which tracks actual and purported extremism,
issued a report last month
detailing the misuse of the concept of "extremism."
Bastrykin also complained that the involvement of extremist groups in crimes was up (an increase of 42 groups or 2.4%), as was the number of crimes characterized as terrorism (increased by 36.3% -- 1,538 in 2015 as opposed to 1,128 in 2014.) He added that 133 terrorist attacks involving the Internet were committed, and that 70 crimes involving plans for attacks were intercepted.
Most of the terrorist attacks, 75.9% (1,168 crimes), occurred in the North Caucasus Federal District, in the southwest of the Russian Federation, which includes Chechnya, Dagestan, Ingushetia, Kabardino-Balkaria, Karachay-Cherkessia, North Ossetia-Alania, and Stavropol Territory. This represented a 24% increase over 2014 (883).
Bastrykin didn't contemplate whether this increase in terrorism might be due to the return of fighters from the Caucasus who joined ISIS, since that would require an admission that a) there might be some left although President Vladimir Putin implied some 2,000 had been killed -- out of the 2,700 officially claimed -- and b) that some returned, although a recent report from the International Crisis Group said that the FSB had started blocking returns in 2014, long before Russia's September 2015 bombing campaign began.
Curiously, Bastryki himself reduced the figures in his statement, saying "more than 1,000 Russian citizens went to the Syrian Arab Republic to take part in armed conflict." He added that 469 criminal cases had been opened up regarding these persons and only 135 of them had been killed "as a result of clashes with Syria government troops."
Unwilling to look at the causes of these phenomena inside Russia, instead, Bastrykin turned the tables, using a term that first began to be used by Western analysts recently with regard to the war in Ukraine -- "hybrid war," or a war that is part clandestine, part open, part through conventional military methods of tank battles and part through subversive operations of sabotage of facilities and terrorist attacks.
Says Bastrykin:
"In the last decade, Russia, and even a number of other countries, are living under conditions of the so-called hybrid war, unleashed by the USA and its allies. This war is waged along different lines - political, economic and informational as well as legal. In fact, in recent years, it has moved to a qualitatively new phase of open resistance."
Bastrykin complained about sanctions, what he characterized as "dumping wars" in the oil and gas market and "misuse of international law," such as the decisions in the Yukos case in favor of Yukos made by the European Court of Human Rights, which ruled that Russia had to pay 1.86 million euros in damages to shareholders; and the Permanent Court of Arbitration in the Hague, which maintained that Russia must pay $50 billion in compensation of shareholders. He blamed the fall of the ruble on the lack of Western investment following the sanctions and thus blamed the West for Russians' lower living standard.
For Bastryukin -- unlike the rest of the world -- examples of "misuse of international law" also include the finding by the British High Court that President Vladimir Putin was "probably" involved in ordering the poisoning of Aleksandr Litvinenko with polonium; the finding of the Netherlands Security Council that Russian-backed militants responsible for shooting down MH17; the expose of corruption in FIFA related to the awarding of the world championships in soccer to Russia and Qatar; and the sentencing of arms trader Viktor Bout and drugs trader Konstantin Yaroshenko by the US government.
The most destruction in the world has been the consequence not of Russia's actions, but the American "information war," complained Bastrykin.
"By supporting radical Islamist and other radical ideological tendencies, the US completely destabilized the situation in the Middle East." Bastrykin said the US sponsored "artificially-instigated coups, revolutions and crises" which Europe then suffers from with a deluge of refuges "who preached a qualitatively different socio-cultural traditions and who squeeze out the local population."
Fighters from mainly the North Caucasus make their way out of Russia through Turkey and Egypt to Syria to fight for ISIS. Sometimes they go to Georgia, Azerbaijan, Belarus, Ukraine or Moldova under the pretext of vacationing, or to obtain theological education, or to engage in commercial activity, says Bastrykin.
He blamed Western agitation for radicalization as well, saying that the "US manipulated the ideology close to a certain social group through its radicalization." Because religion, ethnicity and cultural values are so important to people and they are willing to fight to the death for them at times, the US ostensibly went for this aspect in countering Russia. Conversely, the US is to blame also for undermining that people of different confessions and ethnicities supposedly had before the collapse of the Soviet Union, he says:
"The undermining of the ideological foundation of the USSR,  he basis of which was laid the principle of the brotherhood of peoples was also initiated from outside and built on the methods of ethnic enmity. It is no accident that in the early 1990s, practically all at once, numerous ethnic emerged -- Nagorno-Karabakh, Georgia vs. Abkhazia, Northern Ossetia vs. Ingushetia, and Transnistria. At the same time, mass rallies of nationalistically-minded citizens took place in Kiev. Aside from this, the undermining of statehood was waged via anti-Soviet agitation and funding of the political opposition in Latvia, Lithuania, Estonia, Georgia and others."
Bastrykin ties all of these disparate conflicts together and says that while they while locals imagine they were regional conflicts, in fact "all of these clashes were an element of the initial, as yet hidden phase of the information war." The State Department has increased its funding for "developing institutions of democracy in countries bordering Russia" and also Central Asia which is explicitly stated as "opposing Russian aggression through citizens' diplomacy and programs of external aid and also the creation of a stable government in Europe."
That Russia's own wars against Georgia and more recently Ukraine might have something to do with the perception of the Kremlin as "aggressive" isn't something Bastrykin concedes as he is in the mindset prevalent since the Soviet era, when propagandists who had seen Russia's wars of conquest and influence throughout Eurasia would still speak hysterically of the "allied intervention" that fought the Bolsheviks -- and failed.
While Kremlin propagandists often falsely invoke the "$5 billion" supposedly spent by the US on Maidan (that figure was actually all US aid to Ukraine, including to the Ukrainian government under Viktor Yanukovych, for 20 years), now Bastrykin has a similar figure to invoke -- $4.3 billion -- which has been
avidly picked up by Kremlin propagandists
because it's true.
According to the White House press office, the US has indeed allocated $4.3 billion:

Countering Russian Aggression and Supporting European Allies. The Budget includes $4.3 billion for political, economic, public diplomacy, and military support to build resilience and reduce vulnerabilities to Russian aggression among NATO allies and partner states in Europe, Eurasia, and Central Asia. As part of that effort the Budget includes $3.4 billion for the Department of Defense's European Reassurance Initiative (ERI).
And sometimes with these kind of programs, existing funds that went to Europe for defense in general anyway can be "repurposed" with more of a focus on Russia which the Department of Defense now declares is part of "recent strategic threats and changes". As the DoD writes in its proposal:
We are countering Russia's aggressive policies through investments in a broad range of capabilities.  The FY 2017 budget request will allow us to modify and expand air defense systems, develop new unmanned systems, design a new long-range bomber and a new long-range stand-off cruise missile, and modernize our nuclear arsenal.

The budget quadruples last year's request for the European Reassurance Initiative (ERI) to $3.4 billion in FY 2017 to reassure our NATO allies and deter Russian aggression.  This funding supports prepositioning additional combat equipment, conducting additional training exercises, and enabling a continuous brigade-size rotation which will ensure we have three Army brigade combat teams in Europe at all times
Russia's close encounter with the USS Donald Cook and its barrel roll over a US recon flight last week likely did more to help that proposal get passed than not.
While increased funds haven't flowed yet, Bastrykin believes that it is the US -- not numerous provocations by Russia's air force and navy against its Baltic and Scandinavian neighbors -- that has caused "anti-Russian sentiment" in these regions. He also believes the US incited the recent outbreak of fighting in Nagorno-Karabakh -- which Russia has resisted solving for years. 
As a solution to this "encirclement" by the Western "information war," Bastrykin proposes the following: 

"It seems that it is time to put a real obstacle in place against this information war. A firm, relevant and symmetrical response is needed. This is particularly relevant under the conditions of the forthcoming elections and possible risks of the activization of forces destabilizing the political situation. Enough playing at false democracy and following pseudo-liberal values. After all, democracy of popular power is none other than the power of the people itself, realized in its interests. The achievement of such interests is possible only by means of universal welfare and not absolute freedom and arbitrariness by certain representatives of society."
Here Bastrykin is invoking the Soviet notion of "the people's democracy," where an "avant-garde of workers," i.e. unelected or appointed leaders, impose "welfare" by revolutionary means. The fact is, with control of the media and suppression of such small patches of dissent that arise in Russia, the Kremlin's rulers wouldn't have to stage any kind of revolution in order to secure their seats -- as one straw pollster found today, 60% of respondents support Putin. His popularity rating is in the high 80s and has only dipped slightly, so that even those who express doubts about his programs will still vote for him and his ruling party as they see no other alternative.
If democracy in the liberal sense can't be allowed now, what will take its place? Not surprisingly, Bastrykin calls for "the creation of a conception for the government's ideological policy" whose foundation would be "the national idea, which would really unite the united multi-national Russian people" (here Bastrykin doesn't find it odd that these "already united" Russian people need more unification, and also uses the term rossiyskiy which means "Russian Federation" or the Russian state, as distinct from russkiy, the ethnic Russian people.)
After the defeat of the coup in August 1991, Russia outlawed any state ideology as such -- a kind of "separation of ideology and state" -- in its constitution under the Yeltsin reforms, in order to abolish the "leading role of the Communist Party" from the Soviet era.
Since then, nationalists in particular have called for some sort of state ideology nevertheless to be declared. Bastrykin, like other conservatives, believes that such an ideology needs to be declared officially to aid in "ideological education and enlightenment of our growing generation." 
"Precisely such a deliberate firmness toward radical religious and other ideology of this type could knock out the foundation on which modern extremist ideologies are built. With such defense present, even the most lavish financing to destabilize the situation in Russia from outside will be useless."
Bastrykin likely means Islamist religious extremism here, and doesn't seem to mean the kind of radical Russian Orthodoxy espoused by Aleksandr Dugin or other prominent activists like Russian Orthodox businessman Konstantin Malofeyev who
has appeared on the same platform as Leonid Reshetnikov
of the Russian Institute for Strategic Studies and others.
Following the model of Ingushetia, Bastrykin also wants to create patriotic youth military clubs, but before he gets to the positive program, Bastrykin calls for:
"a wide-scale and detailed inspection in accordance with federal law of the activity of all religious, national-cultural and youth organizations for which there is a basis to suppose they are involved in banned extremist activity."
Such a sweep would likely be directed first at the North Caucasus but could affect Buryatia or Karelia or various Siberia towns where alternative or separatist movements, even very tiny, have been observed.
Bastrykin proposes "working with information youth groups" to get information about "negative processes" -- in other words, to infiltrate them, as Kremlin grey cardinal Vladislav Surkov once did with the nationalist groups Nashi and others, some of whom went on to become killers of ethnic minorities, human rights activists and judges ultimately arrested and investigated by Bastrykin's office.
To accomplish these goals, Bastrykin says that "it would be prudent" to "define the limits of censorship in Russia of the global network of the Internet," since this issue has caused "sharp discussions" by those defending the freedom to receive and disseminate information, something affirmed by international covenants and the Helsinki Accords.  Here Bastrykin admires the Chinese precedent set of banning foreign Internet service providers from disseminating news. Since recently Russian law-makers have proposed defining news aggregators and search engines as "news media," this could have a wide-ranging impact.
Finally, Bastrykin wants to focus on recruitment into ISIS and other extremist groups via the Internet and crack down more in this area by making it a crime even to possess content related to terrorist groups and to make evidence collected from electronic sources showing ties between communications and their origins available in court.
To distinguish radical Islam from the Islam that the Russia state will tolerate, given its large Muslim population, Bastrykin proposes holding regular hearings in the State Duma on the subject.
Bastrykin wants to make "falsification of history" -- as determined by the state -- a crime, and points to the "success" of this effort in Russian-occupied Crimea -- where there has been an enormous crackdown on the Crimea Tatar people and the declaration of the Mejlis or parliament as unlawful.
Will Bastrykin, who is only head of the Investigative Committee, and not head of the Federal Security Service (FSB) or the Security Council much less the Kremlin, get to implement his ideas?
The fact that he has been given so much space in a nominally independent newspaper and been reprinted by all the state media indicates that likely he will succeed in implementing at least some of it, especially as Internet censorship and crackdowns on civic groups have already long been underway. 
-- Catherine A. Fitzpatrick
Parnas Activist Organizing Kasyanov's Visit to Samara Region Jailed for 3 Days; Site Hacked; Pelevina Searched
A local activist in Samara Region who was organizing the appearances of opposition candidate Mikhail Kasyanov in Samara and Togliatti has been jailed for 3 days, Kasyanov and the Parnas opposition party
reported on Facebook
.
Andrei Balin was jailed for 3 days in relation to a suspended sentence for including a Nazi image in a collage critical of Putin for which he was tried in September 2014.
The same prejudiced Eshnik [officer of E-Center or the Interior Ministry's Extremism Center--The Interpreter] found another swastika 3-4 mm in size in my post of a photo-collage on September 26, 2014 (!!!). Really, of course, this is a special operation to disrupt the visit of Mikhail Kasyanov to Samara Region. Morozov, the head of all the precincts, is calling the precinct agent Sergeyev every hour with detailed instructions. He is evidently being called himself by an FSB agent in the police every hour at the level of chief or deputy chief of the police precinct.
Balin was charged with "propaganda or public demonstration of Nazi attributes or symbols" under Art. 20-3. Kasyanov said he was going ahead with his speeches.
The Parnas party has been plagued with troubles in recent weeks. State NTV aired a sensational broadcast obtained from clandestine taping likely done by Russian intelligence of Kasyanov meeting privately with Natalya Pelevina, a member of the Party's federal council. This led to allegations of a sex scandal and Pelevina's resignation from the council for the sake of the party. She has condemned this intrusion of privacy by the FSB as a tactic to knock the opposition out of parliamentary elections in September.
Over the weekend, the Parnas web site was hacked and Pelevina's personal data and Whatsapp communications were leaked.  Pelevina issued a statement on her Facebook page:
"The leaked correspondence and photos from my telephone are a confirmation that the government, by the hands of the FSB and Investigative Committee have long been working together to destroy the opposition and me personally. The state machine is waging war against a woman. Bravo, you are real heroes."
The state machine is trying to crush a person through your hands and your criminal methods. But you will break your teeth on me.
A Ukrainian journalist who read the files said there was nothing incriminating about any "super grants" in them, and that the party was supported "on Kasyanov's meager funds."
In March, Pelevina's apartment was searched and she was summoned to the Investigative Committee and accused of "discrediting police" in coverage of political prisoners from the May 2012 Bolotnaya demonstration with a grant fro National Endowment for Democracy.
Today, April 17, Pelevina's apartment was searched again and various electronic devices were seized, and she was taken in for questioning, OVDInfo, the police monitoring NGO reported.  She was informed that she is a "suspect" in the Bolotnaya case and under investigation for "financial improprieties."
Ilya Yashin, deputy of Parnas, has demanded that Kasyanov step down from the top of the party list in light of the scandal, which he believes will harm Parnas' efforts to attract votes. A lawyer has also resigned from the party.
Kasyanov was previously attacked by Chechen leader Ramzan Kadyrov who posted a clip of surveillance tape of Kasyanov and Vladmir Kara-Murza, Jr. in Brussels with a sniper's scope superimposed over the images. Authorities refused to open a case against Kadyrov, who later said it was meant as a joke. Chechens believed to be in Kadyrov's forces have thrown cakes and eggs at Kasyanov as well. 
Despite these attacks, he has decided not to be deterred in his campaign.
A local pro-government news site in Togliatti
has attacked Balin
for "insulting Vladimir Putin and his associations and expressing a negative attitude toward the peoples of the Caucasus" as well as "giving secrets to the US [CIA] resident in Moscow" and for advocating that the US and Russia should join into one country.
-- Catherine A. Fitzpatrick
AM Headlines: No Agreement in Doha, Ruble Falls; Bastrykin Claims US Wages 'Hybrid War' on Russia