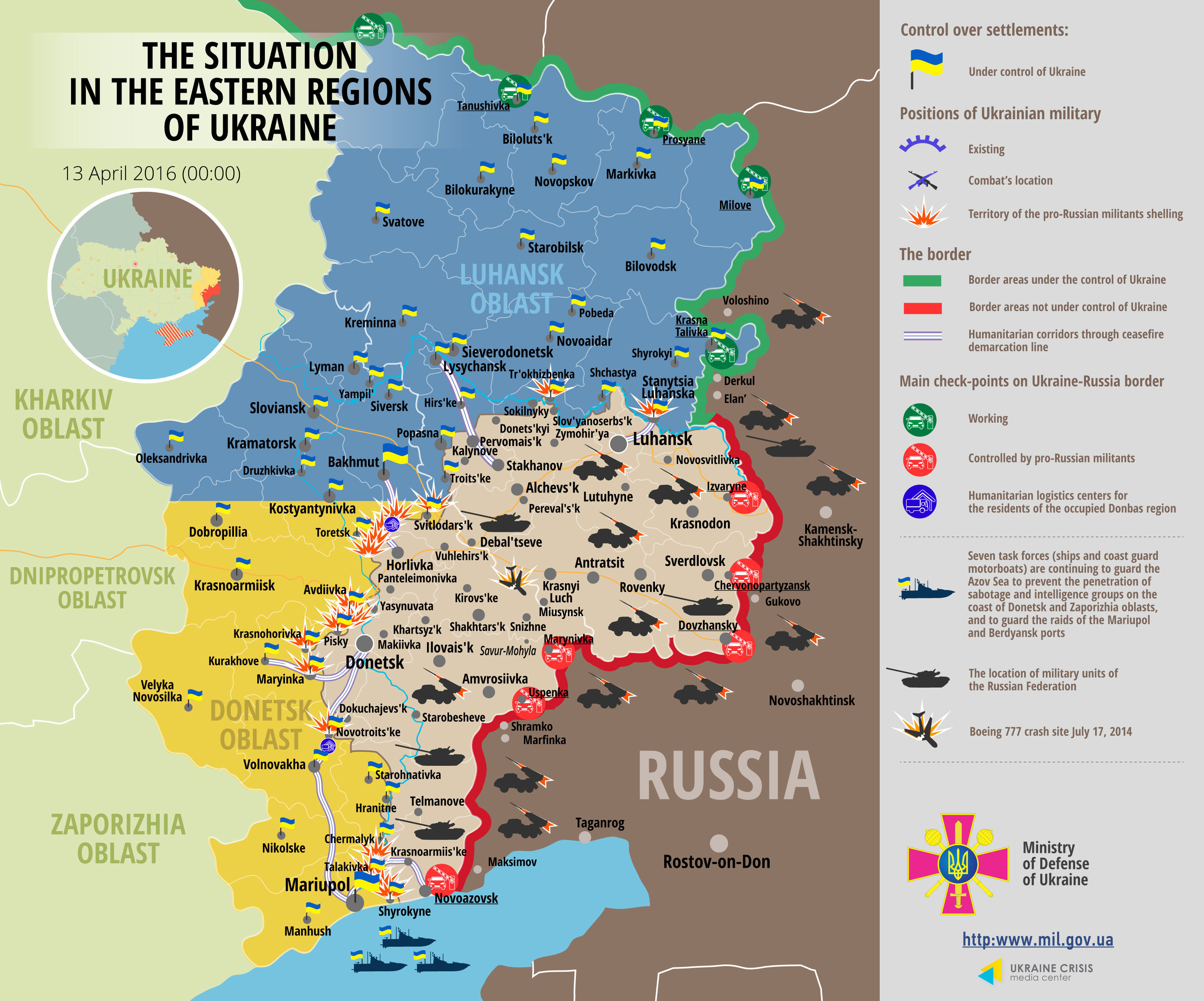 Kiev Reports 87 Attacks Yesterday As Russian-Backed Fighters Mount 'Exercise'
The Ukrainian military reports 87 attacks by Russian-backed fighters yesterday, wounding three Ukrainian servicemen.
Colonel Andriy Lysenko, military spokesman for the Presidential Administration, announced that another five had been wounded when an infantry fighting vehicle (BMP) struck a landmine.
All the casualties were incurred in the Donetsk area, he said.
According to this morning's ATO Press Center report, Russian-backed fighters used mortars in 22 attacks yesterday, firing 114 shells.
The worst fighting was again seen near Avdeyevka, north of separatist-held Donetsk, which saw 9 mortar attacks.
Ukrainian troops were also shelled near Marinka, west of Donetsk; Peski and Opytnoye, to the north; Novgorodskoye and Zaytsevo, near Gorlovka; and Talakovka and Shirokino, near Mariupol. In this last area, military press officer Aleksandr Kindsfater also reported mortar shelling near Pavlopol, northeast of the port city.
The military claims that BMPs opened fire on Ukrainian soldiers 12 times yesterday, targeting positions near Luganskoye, Novgorodskoye, Mayorsk, Marinka and Novotroitskoye.
In the Lugansk region, Russian-backed fighters reportedly used automatic grenade launchers and small arms in attacks, between 22:00 and midnight, near the footbridge over the Seversky Donets river outside Stanitsa Luganskaya.
Other attacks were conducted with grenade launchers, machine guns and small arms, the ATO Press Center says. 70 percent of the fighting occurred after nightfall, the military claims, with Ukrainian troops "forced to return fire" 25 times, "exclusively with small-caliber weapons.
Meanwhile the pro-separatist Donetsk News Agency (DAN) reports that two civilians were wounded by Ukrainian shelling last night.
According to DAN, one civilian was wounded in the western Petrovsky district of Donetsk, while another suffered injuries after an attack on a separatist-controlled area of Zaytsevo, a contested village north of Gorlovka.
In addition, the self-declared Donetsk People's Republic (DNR) claims that one of their fighters was killed by Ukrainian fire within the last day, but Eduard Basurin, a military spokesman for the DNR, did not give any further details.
Amidst this backdrop of sustained, heavy fighting, with daily attacks reported by Kiev numbering well above 60 for almost two weeks, the DNR began a large military 'exercise' last night near Ilovaisk, scene of Ukraine's most devastating defeat during the Russian invasion of August, 2014.
Patrick Lancaster, an American associate of notorious pro-Kremlin propagandist Graham Phillips, posted this footage last night, showing at least 34 BMPs and four MT-LB armoured personnel carriers on the move:
-- Pierre Vaux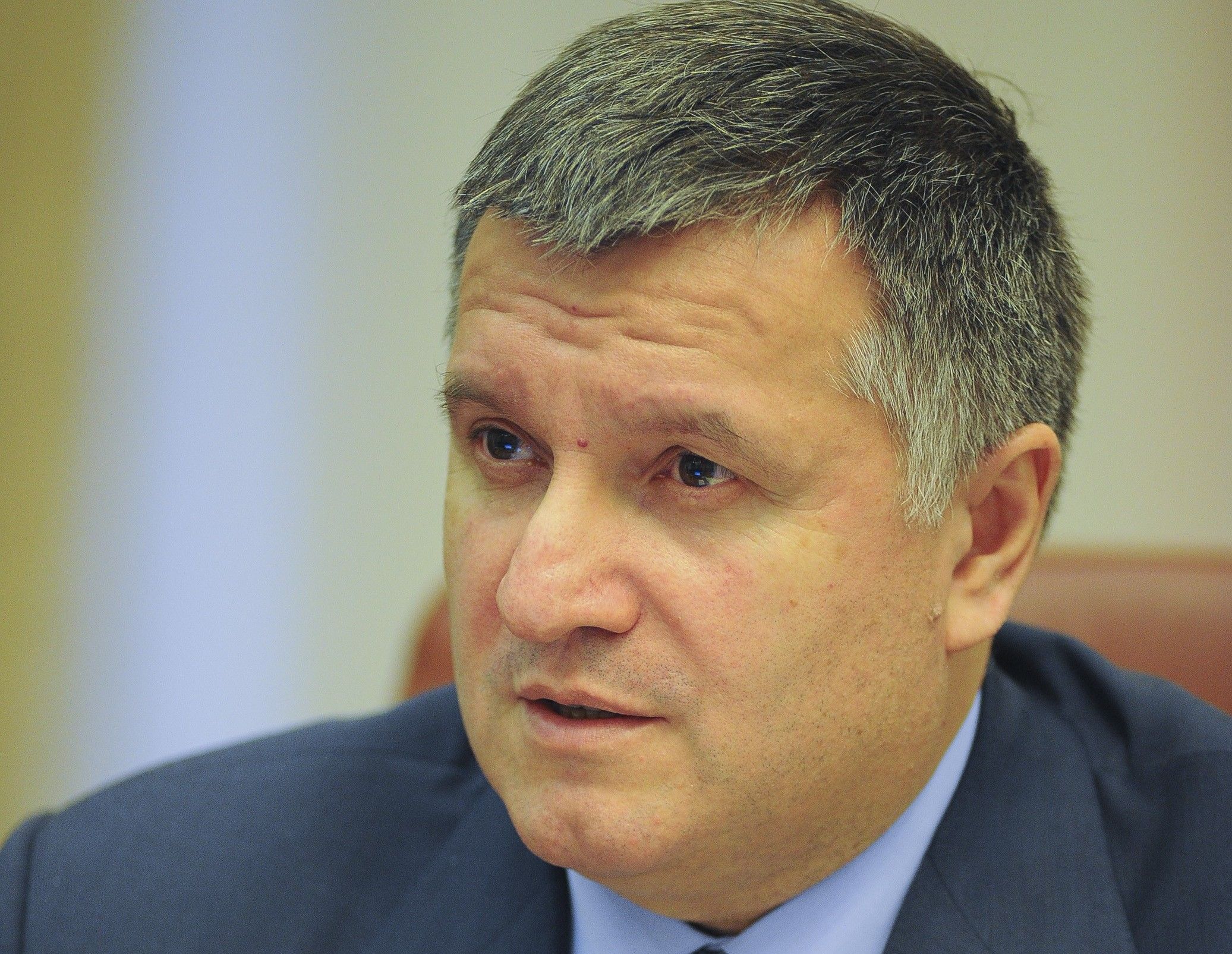 Negotiations On New Government Continue With Popular Front Still On Board Despite Warnings From Avakov
Three days after Arseniy Yatsenyuk announced that he was resigning as prime minister, lurching negotiations and horse trading continues as Ukrainian politicians attempt to form a new government.
Rada Speaker Volodymyr Groysman remains Yatsenyuk's apparent successor, having proposed a list of candidates for his would-be Cabinet of Ministers yesterday. But the situation remains dynamic this morning, after reports that members of Yatsenyuk's Popular Front party, which would remain in coalition government with Bloc Petro Poroshenko (BPP) under Groysman, were threatening to pull out of talks.
In the early hours of this morning, Arsen Avakov, the interior minister and a member of the Popular Front, told Liga.net that no balance had been reached in the negotiations and that there was a "high probability" that his party would pull out.
Some members of the party told Liga that BPP's position was "stupid" and "hopeless," along with other "unpublishable" words .
But at 11:00 today, Maksim Burbak, parliamentary leader of the Popular Front assured Ukrainska Pravda that the Popular Front was committed to the talks, calling on BPP to formally name their candidates.
A little later, MP Andriy Ivanchuk specified that the Popular Front was prepared to make compromises if BPP failed to find a balance in negotiations, but added that the process could not "go on forever."
"For me it's strange when the candidate for prime minister changes several times over two days. You yourselves can imagine what is going on with the simple members of the government." 
Ivanchuk wouldn't specify which Cabinet posts the Popular Front was willing to abandon in any power-sharing compromise with BPP, saying only:
"I'm saying this to you hypothetically. We need to seek out some sort of exit, if necessary, at our expense - we are even prepared to make such sacrifices."
Meanwhile Oleksiy Honcharenko, deputy leader of BPP, was rather more confident.
"To my knowledge, all the agreements have been reached and there are no outstanding questions. There are some internal issues in the Popular Front faction, and they will deal with that in a meeting... We have never discussed any other candidate than Volodymyr Groysman. We simply have no other candidate. Hopefully, the Groysman cabinet will be formed tomorrow."  
Just after noon, BPP MP Serhiy Leshchenko told a Liga correspondent that the final decision on the make up of the Cabinet may come tomorrow morning.
Despite reports yesterday that Groysman had acceded to the appointment of Vitaliy Kovalchuk as first deputy prime minister, Leshchenko claimed that the Speaker had succeeded in having Kovalchuk replaced by Stepan Kubiv, former acting head of the National Bank of Ukraine.
-- Pierre Vaux
UN Staff Member Detained By Russian-Backed Separatists
The United Nations has issued a statement, calling for the immediate release of a UN staff member detained by Russian-backed separatists in Donetsk.
 12 April 2016 - The United Nations is deeply concerned about the fact that one of its staff members is being held captive in Donetsk. Information available is that the staff is well treated.

The UN has mobilized all channels to ensure his immediate and unconditional release.

The UN appeals to all parties, including the media, to respect the staff member and his family in this sensitive phase of the discussion around his release.
While the UN has released no further details, both Interfax-Ukraine and Liga.net report that a member of the UN Monitoring Mission in Ukraine was detained by Russian-backed fighters on April 8 in Donetsk.
According to Interfax-Ukraine, the staff member is being held in a basement and the UN is not being granted access or information.
-- Pierre Vaux