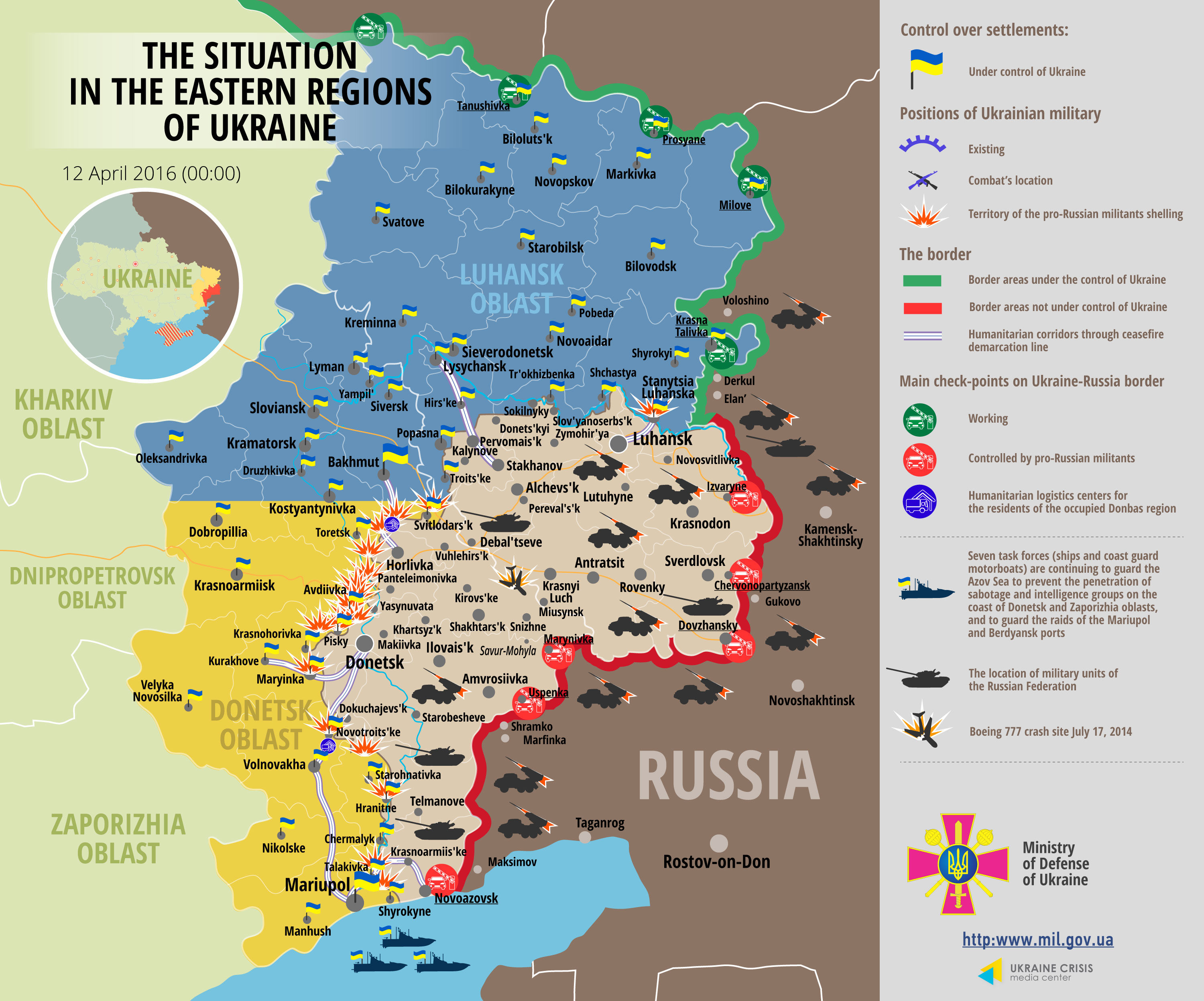 Ukraine Reports 79 Attacks Yesterday
Three Ukrainian soldiers were wounded and one civilian killed in the Donbass yesterday, which Kiev claims saw 79 attacks by Russian-backed fighters.
According to this morning's ATO Press Centre report, Russian-backed fighters used 120 and 82 mm mortars in 16 attacks yesterday near Donetsk and Gorlovka, striking positions near Peski, Kamenka, Mayotsk, Zaytsevo and Luganskoye.
In addition, there were 19 attacks, using mortars and smaller-calibre weapons, on Ukrainian troops in the Avdeyevka area, north of Donetsk.
It was in Avdeyevka that the Donetsk regional police department reported that a school was damaged by enemy fire.
The damage was light, with the photos suggesting either small arms rounds or shrapnel rather than a direct hit from artillery. According to the police, classes are continuing at the site, which lies about 2 kilometres northwest of the industrial park that receives the brunt of attacks at the moment.
BMP infantry fighting vehicles fired on Ukrainian defensive positions near Luganskoye, east of Gorlovka; the Butovka mine, near Avdeyevka; and Novotroitskoye, on the highway between Donetsk and Mariupol.
Shelling could also be heard in Mariupol itself last night, according to a correspondent for the 112 television channel. 
The Ukrainian military also reports one attack in the Lugansk region, near Stanitsa Luganskaya. According to press officer Dmitry Gorbunov, Russian-backed fighters used automatic grenade launchers, small arms and sniper rifles to attack Ukrainian positions on the northern banks of the Seversky Donets rive between 10 and 11 yesterday morning.
Meanwhile the 'defense ministry' of the self-declared Donetsk People's Republic (DNR) claimed that Ukrainian forces had conducted 30 attacks over 24 hours, firing 308 shells, most from mortars, but also 122 mm artillery and infantry fighting vehicle cannons.
Notably, around two hours after the Ukrainian reports that a school had been struck in Avdeyevka, the pro-separatist Donetsk News Agency ran a report claiming that Ukrainian troops had shelled a school building in a separatist-held area of Zaytsevo, north of Gorlovka.
-- Pierre Vaux
Groysman Proposes Candidates For New Cabinet, But Negotiations Continue
Despite reports last night that Rada Speaker Volodymyr Groysman had backed away from becoming Ukraine's new prime minister, Groysman has today submitted his proposals for a new Cabinet of Ministers to his party.
Ukrainska Pravda reported this morning on the make-up of the list, which notably includes Vitaliy Kovalchuk, in the role of first deputy prime minister.
According to a report yesterday evening on the news site by Roman Romanyuk and Roman Kravets, Kovalchuk's appointment was a sticking point in the negotiations with Groysman, who reportedly opposed allowing him into the Cabinet.
The journalists also suggested that, due to a souring in relations between Kovalchuk and UDAR party leader Vitaliy Klitschko, the appointment of the former would risk the voting support of their party, which forms part of Bloc Petro Poroshenko in parliament. As far back as January, it was reported that the President was attempting to persuade Klitschko to support the appointment of Kovalchuk.
As expected, several key offices of state remain unchanged, with Pavlo Klimkin and Stepan Poltorak remaining as foreign and defence ministers. No mention was made of the fate of the interior minister, Arsen Avakov.
Three candidates reported yesterday appeared again, with Ivanna Klympush-Tsintsadze to become the deputy prime minister for Euro-integration; Liliya Hrynevych for the education minister post; and Yuliya Kovaliv, who would become the first deputy minister for the economy. However, there is no candidate so far to head the economy ministry, nor is there one for energy minister.
Oleksandr Danylyuk, currently deputy head of the Presidential Administration, would replace Natalie Jaresko, who was a contender for prime minister until just a few weeks ago, as finance minister.
Oleksandr Saenko would be appointed as cabinet minister, with Pavlo Rozenko becoming deputy prime minister for humanitarian affairs and Volodymyr Kistion filling the new role of deputy prime minister for "ATO affairs and the occupied territory." 
For the remaining posts, Groysman proposed Oleksandr Reva for health minister; Volodymyr Omelyan for infrastructure; Ostap Semerak for ecology; Taras Kutoviy for agrarian policy and food; Yevhen Nyshchuk for culture; and Maksim Nefyodov for social policy.
However Reva's appointment has apparently been opposed, as deliberations over this vacancy, and those for the energy and economy portfolios continues, preventing a Rada vote on the new Cabinet.
The new Cabinet would be supported by a narrower coalition, made up of Bloc Petro Poroshenko and Popular Front MPs, with both parties working in recent weeks to draw in other deputies so as to bring their total vote tally above the 226 required for form a parliamentary majority.
Four more MPs joined Poroshenko's party today. Two of them - Yuriy Bublyk and Serhiy Rudyk - are former members of the far-right Svoboda party. Also joining are independent MP Sergei Mishchenko and Andrei Nemirovskiy, from the Volya Naroda group.
-- Pierre Vaux