Russia Update: April 7, 2016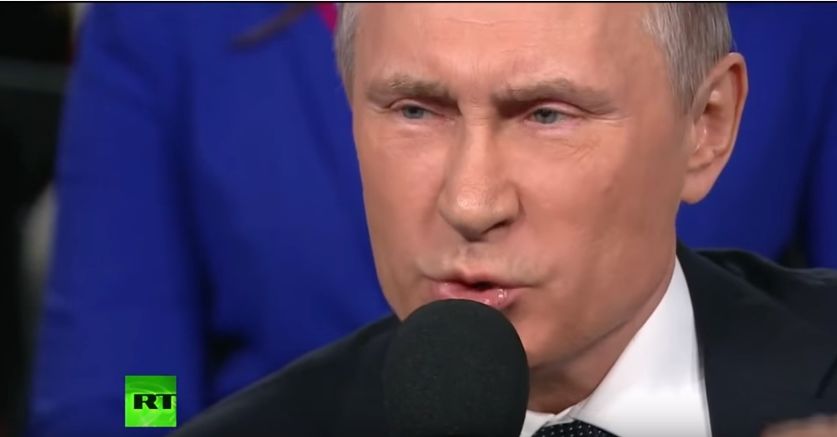 Russian Reporter Asks Putin About Rodulgin's Offshore, and He Blames West for Smear; Defends His Friend
Today President Vladimir Putin is in St. Petersburg, speaking at a media forum. Most of the journalists there are either state employees or from pro-Kremlin outlets loyal to him and his policies. A few have asked some hard questions, although while still finding a way to express loyalty.
Kostya Kochenko, a popular pro-government blogger under the name Kremlin Russia with 548,000 followers on Instagram, asked Putin to comment on what he called "the information plant of the so-called Panama Papers," which is now widely reported in the Russian state media as a plot of the West funded by USAID and Soros merely to discredit Putin.
Putin launched into a stem-winder for nearly 4 minutes, talking about how the West sent only potatoes to Russia when it was poor and struggling after the collapse of the Soviet Union, and how even when President Boris Yeltsin asked NATO not to bomb Serbia over its war against Kosovo, Western "ruling circles" wouldn't listen.
Scowling and nearly spitting out his words, Putin went on to complain about other hurts, and implied the US had a motive to orchestrate the Panama Paper leaks -- because Russia "wouldn't give up Snowden." He said "we know from WikiLeaks who is behind" the Panama leaks and "we know who is the contractor" -- ostensibly the US government.
Putin then said, "Your humble servant isn't there. Not there." Then he complained about how the story was covered, nonetheless:
"The photographs of your humble servant are in the foreground."
Finally, he got to the point about famous Russian cellist Sergei Roldugin, one of Putin's friends: "He isn't just a musician; but a people's artist and a brilliant artist." Many people in the performing arts have businesses, said Putin, who justified Rodulgin's activity:
"As far as I know, Sergei Pavlovich did too. But what sort of business does he have? He is a minor shareholder in one of our companies. And there he earns some money. But of course it's  not billions of dollars. That's nonsense. There is nothing like that. He earns something.

But what's intriguing and interesting -- I'm proud of such people like Sergei Pavlovich from among my friends and on the whole. Almost all the money he earned there he spent on obtaining musical instruments abroad, and brought them back to Russia...Expensive items...But we always welcome when someone does something like this. But he goes even further. I know. For several months now, he has been involved in making these instruments the property of a state institution.

And for many years, he has been involved, not advertising himself, the organization of concerts, the promotion of Russian culture abroad, essentially paying for this out of his own funds. The more people we have of this type, the better. And I am proud that I have such friends."
Most of the reporters in the room clapped and were satisfied with the answer. 
Russian broadcasters have remained silent about the content and implications of the mammoth disclosures of the Panama Papers, or have stressed the "Western information war" angle, or have carried only a few terse wire-service reports.
Kochenko posted an image of Google search result's in Russia for the phrase "Putin's site" showing a Voice of America link to coverage of the Panama Papers which appears above the link for Putin's own web site, concluding it was a US government plot.
Even independent media which has done a better job of not only reporting it but adding to the research has pulled its punches; Novaya Gazeta featured a front page on day one of the story talking about the international dimension of the leak, not mentioning Putin above the fold, and featuring a photo of Ukrainian Petro Poroshenko, whose own links to an offshore with several thousands dollars in an account are being researched but appear to be lawful. 
Even so, unlike any other newspaper, Novaya Gazeta tried to get Rodulgin on the record. 
When Novaya Gazeta confronted Roldugin with the names of the offshore companies, and also their deals with domestic companies, notably KAMAZ, AVTOVAZ, and Video International (a key player in Russia's advertising market), and asked him if he had any relationship with these companies, he said (translation by The Interpreter):
"Guys, honestly, I can't give any commentary now. I must take a look and understand what can be said and what can't be said. I simply fear giving an interview. When I refused to give an interview to some Germans an interview, they wrote that Putin had so intimidated his acquaintances and friends that they are afraid to talk. That's the form they display me as. I understand that there are very important things here. Do you do business or not do business? Where's the money from? Whose is it? I do know that. These are delicate things.

I was connected to this business a long, long time ago. Even before perestroika. It so happened. And then it began to develop and the such things came of it. From this money, among other things, Music House [which Roldugin heads in St. Petersburg was subsidized. This is a subject of a separate conversation."
However, he refused to take any phone calls after that. Novaya Gazeta conducted an extensive study of the firms and found they weren't registered before the perestroika era of Soviet President Mikhail Gorbachev, but in 2006-2009 and existed up until 2014-2015, after which they were closed. The amounts of the transactions -- some involving millions performed within a day -- are up to $2 billion.
-- Catherine A. Fitzpatrick 
7th Russian Soldier Reported Killed in Syria; Former Internal Troops Spetsnaz, Contractor
Orenday said Vadim Tumakov from Sol-Ilets City District was killed in battle "liberating Syria from ISIL terrorists," the second native of Orenberg to die there (the first was Aleksandr Prokhorenko).
 Vadim Tumakov
Tumakov, born in 1984, was from the small town of Pokrovka near Orenberg, located 1,478 kilometers southeast of Moscow, close to the border with Kazakhstan. He studied in a rural school and then served in the army and spetsnaz. Orenday said he did not speak of his work with his family because it was classified.
His wife traveled to identify his body in Rostov-on-Don, the Russian military center where "Cargo-200," the military term for the bodies of soldiers killed in service, is handled. Orenday cited a source in the local ZAGS [Civil Registration] district department on his death.
The source said Tumakov had long ago moved out of Orenberg Region with his wife and daughter, now age 9. Says the ZAGS source (translation by The Interpreter):
"This was a shock for her. Vadim didn't tell anyone about his business trips, he didn't want to upset his family...We didn't know anything til the end, after all the Tumakovs have lived in Moscow for a long time."
Relatives told Orenday that Tumakov was a contract soldier:
"His business trips would be long. But Vadim tried to avoid our questions. He never shared where he was and what he saw. Kind, strong, and caring. A real Russian bogatyr. We don't know the details of his death. We only know that he was killed during approximately the same fateful days as Aleksandr Prokhorenko. Let the earth be his pillow!"
The relatives' used a historic Russian term [bogatyr] for legendary warriors as well as a common idiom for condolences.
Tumakov's wife was from Kabardino-Balkaria in the North Caucasus. 
The discussion by readers below the Orenday article is also interesting, as some argue strenuously that Tumakov couldn't possibly have served abroad as by law, soldiers of the Interior Ministry's Interior Troops are not sent abroad. We know this isn't the case as they have been killed in combat in Ukraine.
Some readers, including one man who said he himself was a lieutenant of the Internal Troops in the reserves, disputed the claim of strictly domestic service.
But another man who said he had also served in the Internal Troops insisted such forces are never sent abroad and this was "a fake plant from the Leberals" [sic].
Yet another reader said the regional draft board had not confirmed Tumakov's death in Syria.
Lenta.ru reported
that Vasily Panchenkov,  head of the Internal Troops' press bureau, gave a statement to Interfax saying he had not served in the Internal Troops in 12 years:
Vadim Tumakov passed his military service from 2002-2004 after drafting into the Russian Interior Ministry Internal Troops, in the position of baker for the material support group of the Vityaz Spetsnaz. In accordance with the law on military service, he was released from the Internal Troops as having served his stipulated term.
Panchenkov also added that under Russian law, Internal Troops do not perform their service abroad. "Not a single soldier or officer [from the Internal Troops] is beyond the borders of Russia."
Vityaz, which means "Knight" in Russian, is a historic Spetsnaz unit from the Soviet and later post-coup era that was part of ODON [Separate Operative Purpose Division] within the Internal Troops. It was used in counter-terrorism operations within Russia and was also trained to deal with internal forces' rebellions. Vityaz was deactivated in 2008 and merged with another unit, Rus, into the 604th Red Banner Special Purpose Center, still under ODON command. 
Colonel Cassad, a pro-Russian blogger in Sevastopol, published the story of Tumakov's death and said "most likely he was a chastnik," which is slang for "private military contractor."
If confirmed, Tumakov would be the 7th soldier to die in Syria. As we reported regarding the 6th soldier, Sergei Chupov, since the start of the Russian bombing campaign in Syria September 30, 2015, the Kremlin acknowledges only the combat deaths of only 4 soldiers, who were given posthumous awards, and says a 5th soldier committed suicide.
(Lenta ru has counted "6 dead in Syria" but in fact lists only 5; one is the specialist killed in November 2015.)
They are:
Vadim Kostenko, said to commit suicide on Hmeemim Air Base.
Oleg Peshkov, commander of Russian Su-24M downed by Turkey.
Aleksandr Pozynich, naval infantryman who died in rescue attempt to save crew of down Su-24m
Ivan Cheremisin, military advisor wounded in shelling of Syrian training center.
Fyodor Zhurvavlyov, spetsnaz involved in cruise missile guidance killed in November 2015.
-- Catherine A. Fitzpatrick