Ukraine Day 748: March 6, 2016
Protesters Rally In Front Of Russian Embassy, Some Throw Rocks
The Russian embassy in Kiev was the site of a large protest on Sunday as anger is mounting in Ukraine over the fate of prisoner of war Nadezhda Savchenko who is on trial for murder in Moscow.
Savchenko's trial for the deaths of two Russian war reporters in eastern Ukraine has reached its end and the Russian prosecution is asking that she be imprisoned for 23 years. Savchenko -- a prisoner of war who was captured in Ukraine and brought across the border into Russia -- maintains she is innocent. She is also in the late stages of a hunger strike, and has reportedly started a dry hunger strike as well.
Some of the protesters at the rally in Kiev attacked the Russian embassy. BBC reports: 
On Sunday, several thousand people began the protest in Kiev's central Maidan Square, before hundreds of protesters moved on to the embassy several kilometres away.
Demonstrators were later seen throwing eggs and stones at the embassy and removing a security camera.

The Russian embassy has formally complained to Ukraine about separate attacks on its property overnight on Saturday.

Three cars were "seriously damaged" by unknown assailants, who also set off smoke bombs, embassy spokesman Oleg Grishin said.
BBC News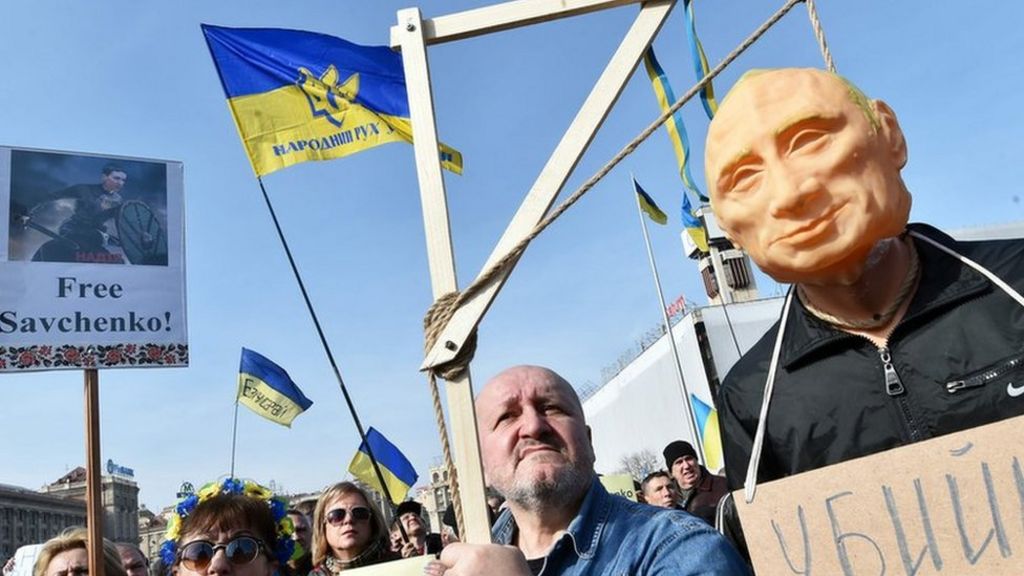 Ukrainians attack Russia embassy over captured pilot - BBC News
Protesters have thrown eggs and stones at the Russian embassy in Kiev to demand the release of hunger-striking Ukrainian pilot Nadiya Savchenko. She is on trial in Russia after being captured while fighting pro-Russian rebels in eastern Ukraine in 2014. Ms Savchenko is accused of directing artillery fire that killed two Russian journalists - a claim she denies.
View full page →
According to the BBC, separate protesters threw eggs at the Ukrainian embassy in Moscow as dozens gathered there.
-- James Miller