Russian Airstrikes Targeting Hospitals, First In Idlib And Now In Aleppo
Some of the first targets Russia struck inside Syria were
ambulances
belonging to Orient Humanitarian Relief. Soon after this, Russia airstrikes hit the Orient Hospital in Kafranbel, Idlib province.
Now hospitals in Aleppo have been hit. International Business times reports:
A hospital in al-Hader sustained a direct hit and is no longer in use. Another hospital in el-Eis was nearly-hit, but medical staff decided to evacuate and close the hospital for fear it would be further targeted by regime or Russian forces.

"Right now there is no hospital that covers the southern Aleppo region," said Zaher Sahloul of the Syrian American Medical Society, who has been critical of Russian involvement in Syria. The hospitals reportedly served an area of some 350,000 people.

Patients were immediately transferred to a hospital near the border with Turkey. Sahloul said medical sources on the ground told him fighting has intensified between rebels and pro-government forces in the area near the hospitals in recent weeks. The hospital strikes and subsequent closures have furthered fears on the ground of increased fighting, and Sahloul said he expected more residents to flee southern Aleppo in the coming months.

"It's always been difficult, there's always new challenges that come up related to changing dynamics on the ground… right now it's Russian airstrikes," Sahloul said.

International Business Times
Syrian War Update: Aleppo Hospitals Close Following Airstrikes As Medical Organizations Blame Russian Campaign For Targeting Civilians
Medical organizations operating in Syria say hospitals have become regular targets of Russia's airstrike campaign that began in Syria late last month. Over the weekend, two hospitals operating in Aleppo were reportedly hit by airstrikes, prompting residents and medical staff to flee the area.
View full page →
A look at the footage of the damage to the hospital. What it shows is a low-tech facility, likely one already stretched beyond its limits by the daily violence, now effectively destroyed:

The video is analyzed here:

-- James Miller

Russian Drone Footage Shows Apocalyptic Landscape Of Northeast Damascus
This footage, apparently taken by a drone, shows the Jobar district of Damascus. As people run for shelter among the pot-marked and bombed out residential buildings, Syrian Arab Army (SAA) T-72 tanks blast away at the moonscape.
One of the men involved in making this video is Russia's infamous war correspondent Evgeny Poddubny of the state-operated organization VGKTR, which means "All-Russian State Company for Radio and Television." Poddubny is a well-known propagandist who has distorted the news in both Syria and Ukraine. In October 2014 a video showed him counseling the Russian-backed separatist leaders from the so-called "Donetsk People's Republic,"  Alexander Zakharchenko, about how to best spin the story that the headquarters of the International Red Cross was hit by a shell in Donetsk.
This video is titled "Syrian Army Offensive on the Position of Militants in Damascus. Storm of Jobar, Harasta and Zamalka," and the description says "T-72s of the Syrian Army pound militants' positions, the sun is invisible from the smoking region, SAR destroyers, mortar-launchers, Sus [Sukhoi aircraft] at work. Offensive."

Jobar, Harasta, and Zamalka are located on the northeast outskirts of Damascus. These areas saw large anti-Assad protests before the crisis became an outright war, and the area has long been held by stubborn moderate rebel groups.
It's also worth noting that Jobar was reportedly attacked by chemical weapons in August 2013, and all of these areas were affected by the huge August 2014 chemical weapons attack in East Ghouta, the name of this region of suburbs. Those attacks came after multiple failed regime offensives to retake those areas from the rebels who still hold them to this day.

-- James Miller, Catherine A. Fitzpatrick, Pierre Vaux

Russian Air Force Working Closely With Syrian And Iranian Militaries In Attacks On Rebels
The Russian Ministry of Defence claims today that they have conducted 33 sorties against 49 targets in Syria over the last 24 hours.
Only one of the areas the Russian MOD claims to have struck is in ISIS-held territory.
According to the Ministry, Russian jets bombed an arms workshop in Djedeide, south of al-Bab: 
There were also reports, from the Local Coordination Committees, that Russian jets struck the Marj area of eastern Ghouta, a suburb of Damascus, in coordination with regime artillery.
To the north of Homs, Russian jets were reported to have attacked Teir Maaleh again, this time with Syrian Arab Air Force (SyAAF) helicopters dropping devastating barrel bombs on the town.
The level of coordination between the Russian Air Force and the Syrian and Iranian armed forces was demonstrated today in rural Idlib, to the south of Aleppo.
Mohammed Rasoul, an activist reporter in Syria, uploaded the following video this morning:
Here we can see aircraft from all three states operating in close succession, with Russian Su-25 and Su-24 jets preceding an air strike.
A short while later, Rasoul uploaded another video, showing the aftermath of a Russian air strike on the village of al-Eis.
This afternoon, the Russian MOD claimed to have located and destroyed a Jabhat al-Nusra (JaN) command centre near al-Eis.
Interestingly, the MOD said that the target was spotted by Russian drones: 
While the Russian Forpost UAV does, with its twin-boom tail and pusher-propeller design, somewhat resemble the drone seen in Rasoul's footage, the trapezoid wing shape indicates that @green_lemonnn was correct in identifying the aircraft as an Iranian Mohajer 4.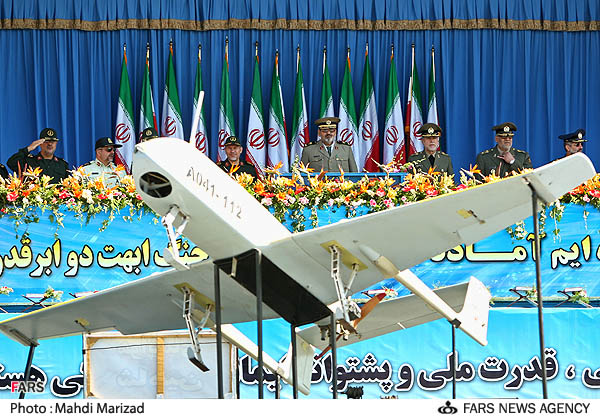 SyAAF markings can be seen on the Mi-25 Hind gunships that appear towards the end of the video.
Incidentally, there are reports today (so far unverified by Iranian state media) that another Iranian commander, Muslim Khizab of the IRGC, has been killed in the Aleppo province.
Another drone was reportedly shot down by rebel fighters in the south of Aleppo province. This time, it appears to have been a Russian Orlan-10:
-- Pierre Vaux