Russian TOS-1 Buratino Thermobaric Missile Launcher In Syria
A pro-regime Facebook page, dubbing itself the Special Task Force, has posted photos of a Russian TOS-1 Buratino thermobaric missile launcher, purportedly in the Hama province.
The missile system can be seen loaded onto the back of flat-bed truck:
The post claims that the system has been given by Russia to the Syrian army.
The TOS-1 Buratino is capable of inflicting devastating destruction by use of thermobaric missiles, which spread a mist of fuel on impact, before igniting the mix with the surrounding air used as an oxidiser. The result is an explosion with an extremely powerful blast wave that burns up all available oxygen in an enclosed space. This means that such weapons are best suited to targeting enclosed spaces or built-up areas. They are largely ineffective in open-field warfare.
What this means then is that Russia is deploying weaponry ahead of a regime push into an urban or fortified area.
This missile system is new to Syria but was exported to Iraq last year and has been used in battle against ISIS forces in Jurf al-Sakhar.
Russia has also deployed Buratinos to Ukraine, with the OSCE spotting one such system in the Lugansk region on September 26 this year.
The Ukrainian government also claimed that Russian troops had used Buratinos during the storming of Donetsk airport in Janurary.
-- Pierre Vaux and Ronak Housaine
Iranian General Killed As ISIS Advance Near Aleppo
Iranian state media have acknowledged the death of Brigadier General Hossein Hamedani in Syria yesterday.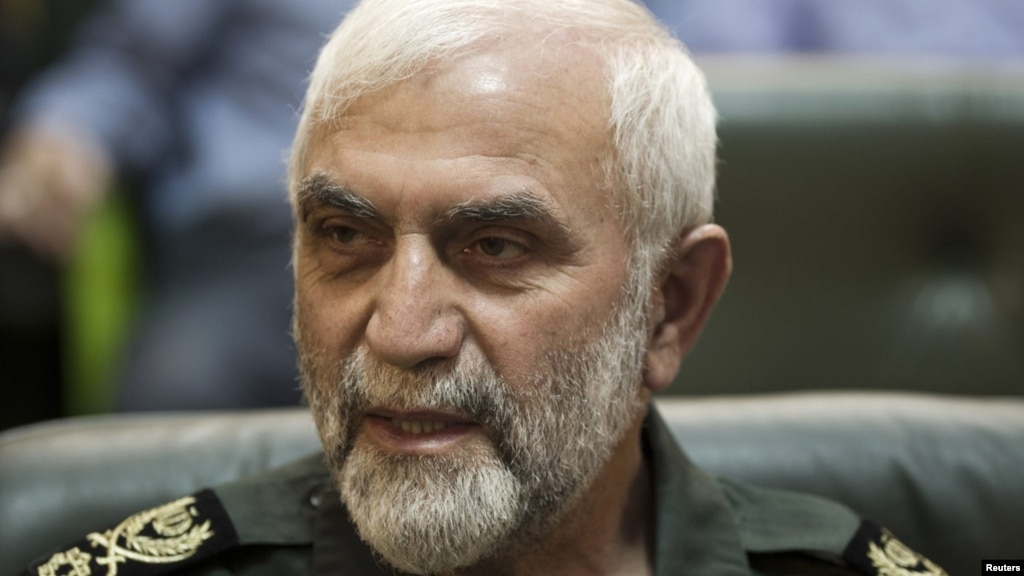 A statement from the Iranian Revolutionary Guards Corps (IRGC) today said that Hamedani, a commander in the IRGC, had been "killed by ISIS terrorists during an advisory mission on the outskirts of Aleppo last night."
In May last year, Hamedani was quoted by the Iranian Fars news agency as saying that Iran was militarily involved in Syria. The quote was subsequently pulled from the Fars site.
RFE/RL reported at the time:
"Today we fight in Syria for interests such as the Islamic Revolution. Our defense is to the extent of the Sacred Defense," Hossein Hamedani was quoted as saying by Fars. "Sacred Defense" is the term used by Iranian officials to refer to the bloody 1980-88 war with Iraq.

Fars reported that Hamedani made the comments on May 4 at an administrative council meeting in the province of Hamedan.

The news agency, close to the IRGC, removed the text of Hamedani's remarks from its website a few hours after posting it. A cached copy of the report is still available here.

Iranian news agencies have a record of removing content deemed sensitive or controversial without providing any explanation.

The IRGC commander said Iran shared its war experience with Syria. "In this conflict, without any expectations, the experiences were transferred, and training was provided to the Syrians," Hamedani was quoted as saying by Fars. "We provided training that included the separation of armed forces from the people and reduced the number of casualties."

Fars also quoted Hamedani as saying that the Syrian regime was no longer "at the risk of collapse."

Hamedani, the former commander of Tehran's Rasulollah division of the IRGC, was also quoted as saying that the Islamic republic had established a "second Hizballah" in Syria, referring to the Lebanese Shi'ite militia allied with Tehran. "The prime minister of Israel had said, at the time when the U.S. was ready to attack Syria, come, weaken Hizballah and cut the hand of Iran. But Iran has formed a second Hizballah in Syria," he said.

He also claimed that 130,000 "trained" members of Iran's Basij force were ready to enter Syria.
The news of Hamedani's death came as ISIS advanced into rebel-held territory to the north of Aleppo:
Russian strikes have targeted those very same Syrian opposition groups under attack by ISIS in this area over the last few days.
As we pointed out on October 7, Russia's much-vaunted cruise missile strikes hit, by the Russian Ministry of Defence's own account, positions in rebel, not ISIS-held territory around Aleppo.
Weakening the Syrian opposition in this area only aids ISIS. 
-- Pierre Vaux
Refugee Camp In Idlib Province Struck With Cluster Munitions Last Night
There are reports this morning that Russian and Syrian regime forces conducted intense rocket barrages and air strikes on rebel-held areas of the Hama and Idlib provinces last night.
One target struck, apparently by MLRS cluster munitions, was a refugee camp in al-Naqeer for civilians fleeing government-controlled Hama to the south.
Another video uploaded last night records similar cluster munitions in use. Once again, according to the uploader, this is in the southern countryside of the Idlib province.
It is uncertain whether these weapons are being used by Syrian Arab Army (SAA) or Russian soldiers.
Yevgeny Poddubnyy, a star propagandist for the state-owned Rossiya 24 channel, tweeted on October 7 that the SAA was using Grad MLRS in their offensive.  
Translation: Breaking. The armed forces of Syria are using Grad MLRS in their offensive against the militants.
However not only Syrian reporters, but US government officials, have claimed that Russian troops are operating MLRS and artillery batteries in the Hama province.
The attack on al-Naqeer follows two days of heavy fighting immediately to the south, as SAA tanks, supported by Russian jets and helicopters,  have attempted to push north into territory held by the Free Syrian Army (FSA).
This footage shows Russian Mi-24 Hind helicopters attacking rebel positions yesterday near Kafr Nabudah, less than 10 kilometres south of al-Naqeer.
FSA troops have been inflicting significant losses on the SAA by using US-supplied TOW anti-tank missiles, halting the regime advance.
There are reports today of fighting between Jaish al-Fatah, another rebel coalition, and the regime's forces in Ma'an, to the east of Morek. 
There are also reports today of Russian air strikes on al-Rastan, which lies to the south of Hama, towards Homs:
-- Pierre Vaux