Russia Update: August 10, 2015
Russian GDP Contracts 4.6% in 2nd Quarter, Crude Oil Hits 6-Month Low
The long-term economic news for Russia is dismal. Bloomberg reports that the Russian Gross Domestic Product shrank 4.6% in quarter 2, continuing Russia's slide which has been worsening since the close of 2011: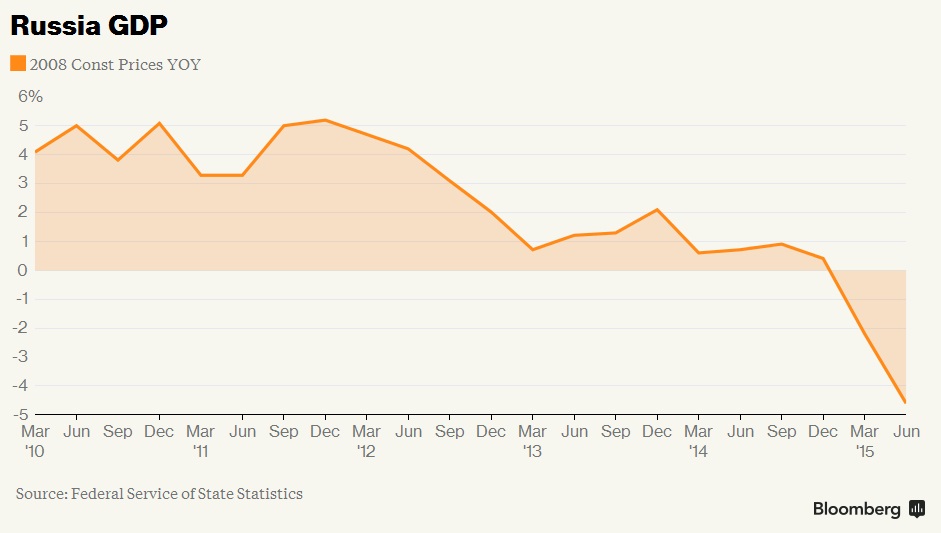 Gross domestic product contracted 4.6 percent in the second quarter from a year earlier after a 2.2 percent decline in the previous three months, the Federal Statistics Service in Moscow said on Monday, citing preliminary data. That was worse than the median forecast for a 4.5 percent slump in a Bloomberg survey of 18 analysts. The Economy Ministry had projected that output shrank 4.4 percent in the period, calling it "the lowest point" for Russia.

The rout on commodities markets has overshadowed the first signs of stabilization in Russia by hammering the ruble and shaking a country that relies on oil and gas for about half of its budget revenue. The world's biggest energy exporter is enduring its first recession in six years after the nation's biggest currency crisis since 1998 and a surge in inflation eroded consumer buying power as sanctions over Ukraine choked access to capital markets.
Business Insider reports that this contraction was worse than expected:
This was a greater contraction than expected: Analysts in a Bloomberg survey were forecasting a 4.5% contraction, while Russia's economy ministry projected 4.4%.


Earlier this morning the ruble was trading at 64.62 to the US dollar, the worst performance since February. Brent crude oil also hit six-month lows on Monday morning, trading at $48.24 per barrel. Though the value of the ruble and the price of crude oil have gone up since those lows, both short and long term outlooks look bleak for the Russian economy which relies so much on the high prices of fossil fuels. Reuters reports:
Two OPEC delegates said the group had no plans to hold an emergency meeting to discuss the drop in oil prices before its next scheduled gathering in December.

"Up to the December 4 OPEC meeting there is no reason for OPEC to hold back production," Bjarne Schieldrop, chief commodities analyst at SEB, said in a note.

The latest weekly data from ICE showed that money managers and hedge funds had cut their net holdings of Brent for a third straight week and raised their bearish bets by the largest amount in a year in the week to Aug. 4.
The Russian Central Bank made a statement today that there was no reason to panic and it was working to strengthen the currency. The Wall Street Journal reported that there was little sign of those comments having an impact on the ruble's value, however:
The ruble showed little reaction to the comments, losing 0.5% on the day to 64.34 versus the dollar as of 1137 GMT, close to its weakest levels since mid-February seen last week. The market expects the ruble to drop further later this year because of stronger demand for dollars and euros needed to pay back foreign debt.
Since then, however, the ruble has recovered and was trading at 63.23 to a dollar at 15:55 GMT, according to Bloomberg. One reason -- the stock markets in both China and Brazil rallied today, easing fears that the Chinese economy would once again slump this week. Bloomberg reports:
Bets China will accelerate mergers of state-owned enterprises to bolster the economy spurred a second day of gains in Shanghai. Petroleo Brasileiro SA helped lift the Brazil's Ibovespa and Russia's ruble rose for the first time in four days with oil.
The MSCI Emerging Markets Index advanced 0.3 percent to 887.25 as of 10:49 a.m. in New York. China is considering combining China Shipping Group and Cosco Group, its two major shipping companies, according to people familiar with the matter.

The Shanghai Composite Index climbed 4.9 percent and Hong Kong's Hang Seng China Enterprises Index climbed 0.6 percent. The State Council-approved shake-up will probably result in two new companies similar to Temasek Holdings Pte, Singapore's state-owned investment company, which will channel funds to SOEs and pressure them to turn a profit, the South China Morning Post reported, citing unidentified sources close to the decision-making process.
Gazprom, Russia's energy giant, was also able to turn a weak ruble into significant profit. Market Watch reports:
Net profit was up 71% to 382 billion rubles ($5.97 billion) in the first quarter, the company said Monday. Revenue was up 6% to RUB1.65 trillion despite a 10% fall in sales volume as the average price of foreign sales soared as the ruble weakened.

Gazprom reported shipments to Europe, its most lucrative market, down 16% to 39.1 billion cubic meters. Volumes to former Soviet countries and domestic customers were also down.
Another reason why crude oil is more expensive today -- a refinery malfunction in the U.S. pushed gasoline supplies down and prices up. But oil prices typically rally during the summer, and it's now mid-August. Daily fluctuations are a reality, but long-term trends do not favor a significant rally in either oil prices or the value of the ruble.
-- James Miller