6 Police, 8 Civilians Wounded in Mukhachevo Gunfight; 2 Right Sector Killed, 5 Wounded
A shootout in a western Ukrainian town involving the ultrarightist Right Sector and former fighters at the front which led to a total of 6 police and 8 civilians wounded, some seriously, is seen as a test for Ukrainian President Petro Poroshenko's reforms.

President Petro Poroshenko will discuss the Mukachevo (Mukacheve) shootout in a military cabinet meeting at the National Security and Defense Council (NSDC), Unian.net reported. Oleksandr Turchinov, secretary of the NSDC, said serious personnel changes would have to be made in Zakarpatia.
In a statement on his Facebook in Ukrainian (translated into Russian by Unian.net and into English by The Interpreter) he said:
"The parliament must finally vote for removal of immunity from deputies and judges. We have to purge the country of gangsters and corrupt officials," he said, adding that law-enforcers not only had to detain the gunmen but those who were running extortion rackets and smuggling contraband in the region.

"When you shoot from a machine gun or a grenade-launcher at the enemies at the front, you are a hero, but when you began to shoot from that same weapon in the deep rear, and people die from that, you are a gangster and a murderer. And here there are no  other options. Gangsters and murderers must answer before the law. The government is obliged to protect its citizens."

Yesterday as we reported, members of a Right Sector gang in the Zakarpatia (Zakarpattia or Transcarpathian) Region of Ukraine were involved in a shootout with police that started with a turf war between groups smuggling cigarettes abroad for euros.

Vasyl Gubal, governor of the Zakarpatia Region, said in a post on his Facebook page (in Ukrainian) that he visited the wounded today (translated into Russian by Unian and into English by The Interpreter) he said:

"Very difficult days (and now nights already) and difficult negotiations and important meetings. But I had one particularly important one today. I went to the central district hospital in Mukachevo in order to visit those wounded as a result of the events you know well. By the way, this is both my initiative and an assignment from the President. As is known. 11 people were wounded in all, and 9 were hospitalized, and that is not counting the Right Sector fighters, the numbers there are still being clarified. Among these wounded some are home already but the majority, understandably, are in the hospital, and the status of two wounded is serious; they are in intensive care, one with a wound to the head, another to the hip, and the artery was hit. Three -- all law-enforcers -- are in satisfactory conditions and are in one wing."

The Interior Ministry said today that 6 policemen were wounded, 3 of whom were hospitalized.

The law-enforcers were wounded when they were hit by a spray of machine-gun fire from Right Sector fighters and also shrapnel from grenade-launchers. Among those wounded is a forensics specialist, a criminal investigation department officer, and four spetsnaz (special forces) from the regional Interior Ministry. Seven police cars were damaged; of these 3 were completely burnt.

Five Right Sector fighters were wounded and 2 were killed in the gunfight, Unian reported, citing the group's statement.
 The body of one of the men killed, in combat gear, was left behind in the village of Lavka, the local site Mukachevo.net reported.

At 23:29 Kiev time this evening, Unian.net refuted an earlier statement by parliamentarian Anton Gerashchenko claiming that two Right Sector fighters had laid down their weapons and 12 remained at large still.

The Popular Front said that they "didn't rule out" the possibility that Mikhail Lano, who was involved in the Mukachevo tragedy, could be stripped of his parliamentary immunity. Lano was claimed to be involved in criminal activity in the region. But Lano himself said that the Right Sector fighters had come to him for help in getting places in a sanitarium for fighters returning from the front.

Right Sector said in a post on their Facebook page that Lano was a "criminal kingpin and smuggler" of contraband including drugs who was "responsible for our brothers shooting in Mukachevo" and claimed he had fled abroad, Unian.net reported.

Meanwhile, journalists at The Insider reported at 20:35 Kiev time today that they have found a Right Sector roadblock on the Zhitimir highway where flags of the group were visible.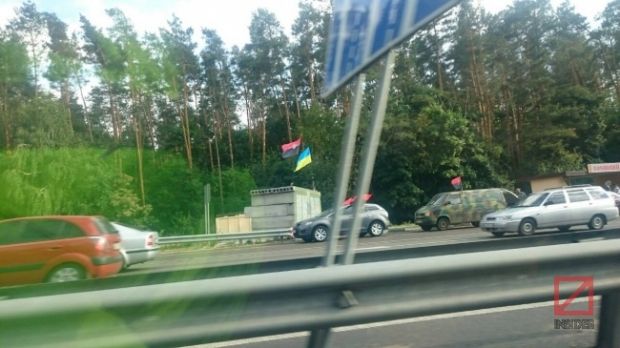 Right Sector sources said that they had put up the "checkpoint" outside of Kiev in order not to allow any more police forces and National Guard members to go to the Zakarpatia Region. Aleksey Byk, press secretary for Right Sector's 13th Reserves Battalion, said the roadblocks had been put up not only outside Kiev but in a number of other regions in Ukraine. They said they were prepared to use force if any more law-enforcers came to Mukachevo.

Reporter Tetiana Danylenko said Right Sector's 5th battalion commanded by Chorniy has left the front and is said to be on their way to support their rebel comrades.
The Ukrainian media does not have much news on where the Right Sector fighters were now.

The Russian media has been ruthless in covering this story, and making it stand for all of Ukraine.

Pro-Kremlin war correspondent Dmitry Steshin from Komsomolskaya Pravda said on his Twitter account:


Translation: the Right Sector members blockaded at Mukachevo have disappared, says Zakarpatia head Vasiliy Gubal. [In Ukrainian:] This is a victory! This is the first kettle that the svidomity have been able to get out of.
Svidomity, literally "the enlightened ones," is a pejorative term for Ukrainians.

Translation: According to some information, fighters from the Right Sector have managed to escape from the cordon outside Mukachevo.
-- Catherine A. Fitzpatrick