Fighting Increases Along the Line of Contact; 6 Ukrainian Soldiers Killed, 14 Wounded
Six Ukrainian soldiers were killed in the last 24 hours, military spokesmen said in a briefing today, Reuters reported.
The situation is particularly tense around the airport near rebel-controlled Donetsk city, military spokesman Andriy Lysenko said.

"The enemy threw tanks, armored personnel carriers and heavy artillery into battle. We emphasize that rebels are also firing at residential areas," he said in a briefing.

The casualties were a result of shelling by pro-Russian separatists as well as encounters with mines, he said.

Meanwhile separatist officials accused Ukrainian forces of firing at the village of Oktyabrsky near Donetsk, wounding two civilians, and shelling three districts of the city over the past day, rebel press service DAN reported.
As Unian reported today, Ukrainian military spokesmen say fighting along the front line in the last few days is the worst it has been in a month.
Last night in a Facebook post, the ATO [Anti-Terrorist Center] reported that Russian-backed militants carried out about 60 attacks on the positions of Ukrainian troops near Donetsk in Vodyane, Marinka,  Pesky, Opitnoye, Avdeyevka, and Novomikhalovka with 122-mm howitzers and 120-mm mortars, tanks, rocket launchers and small arms.

Along the Artyomovsk line at Lozovoye, Mayorsk and Luganskoye, militants struck with 122-mm and 152-mm caliber artillery.

Near Popasnaya, militants blew up a stretch of the railway, but the hope is to restore rail transport in a day.

Ukrainian representatives of the Joint Center for Control and Coordination of ceasefire issues (JCCC) said a collection of pro-Russian armor was found in the Telmanovo area, and near the mine, there were two Tor-m2 anti-aircraft missile systems.

At today's briefing, the ATO said there were now a total of 65 shelling attacks in the last day, with the most difficult area near Donetsk, with attacks on Pesky, Vodyanoye, Marinka, Krasnogorovka, and Opytnoye from 120-mm and 122-mm Howitzers.

After a short reprieve, shelling has begun near Mariupol again with 8 attacks on Ukrainian positions in Shirokino from mortar-launchers and Howitzers larger than 100-mm as well as large-caliber machine guns, grenade launchers and small arms.

In the Lugansk region, there was firing from 120-mm artillery on Schastye, Krymskoye and Bolotnaya.

The ATO said it was "actively increasing its combat capacity to repell possible attempts to break through the line of defense and seize Ukrainian territory."

Ukrainian troops shot down a reconnaissance drone manned by Russian-backed fighters around 11:00 am near Nikolayevka.


Translation: Moskal: fighters began shelling the village of Rodyna with heavy artillery.
-- Catherine A. Fitzpatrick

Vandals Attack Ukrainian Consulates in Rostov, Moscow; Possible Retaliation for Kharkiv Action
Unknown vandals attacked the Ukrainian consulates in Rostov and Moscow yesterday June 12, Russia Day,
Ukrainska Pravda
and Unian reported.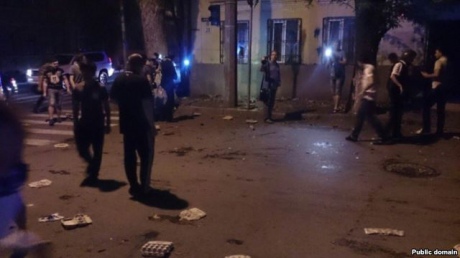 User photo from cityreporter.ru group for Rostov.

In Rostov, unidentified vandals threw bricks and food at the consulate, breaking windows, Ukrainska Pravda reported, citing a report by RIA Novosti from Ukrainian consul Aleksandr Kovtun in Rostov (translation by The Interpreter):


About 1:00 am on the morning of June 13, an organized mob of people came to the consulate.

They broke the windows. They are all around the consulate. They tore the signs down and threw bricks, eggs, tomatoes and all kinds of garbage.


He said Consulate General Vitaly Moskalenko as well as police investigators went to the scene.

The Russian Interior Ministry had no comment.

In a briefing today, the Ukrainian Foreign Ministry said about 50 unidentified people were involved in the attack in Rostov, Ukrainska Pravda reported, citing Interfax-Ukraine. They said significant damage was done; 90 percent of the windows on the first and second floors were smashed, including the office of the general consul and the reception room. Computers and office equipment were also damaged.

The attackers shouted anti-Ukrainian slogans and also set off smoke bombs and fireworks.

"Within 5-7 minutes after the start of the attack, the camera crews from TV1 and LifeNews were already on the scene and filmed the entire attack," said the Ukrainian Foreign Ministry.

In Moscow, about 100 young people came to the Ukrainian consulate in Moscow on Leontyevsky Lane at 22:30 June 12 after celebrations of Russia Day.
Immediately following after them came 10 buses with OMON riot troops. As OMON officers were attempting to talked to the mob, about 20 young men did an end run around the police and threw eggs at the consulate. The eggs hit the cars of consulate workers and a memorial to people who died in an explosion in that building in 1919 which is a protected Russian state memorial site.

The attackers shouted "We Won't Forgive/We Won't Forget" and "We Will Not Allow Disrespect of Our Flag"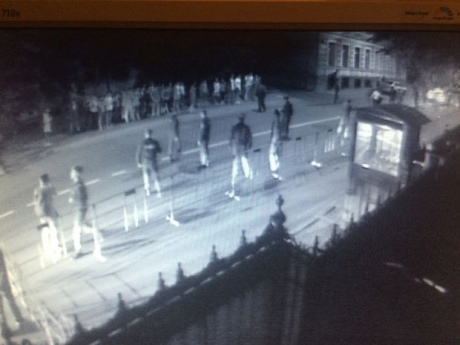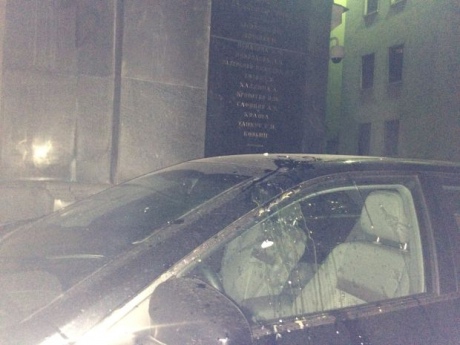 The attacks may have been related to Russia Day (formerly informally called Independence Day), which marks the date Russia declared its sovereignty from the Soviet Union in 1990. It was re-named "Russia Day" in 1998 and became a day emphasizing patriotism.

But the attacks may also have been in retribution for an attack on the Russian consulate in Kharkiv last week.

On June 11, demonstrators came to the Russian consulate in Kharkiv to "prevent local officials from greeting the consulate representatives on Russia Day," Ukrainska Pravda reported. The Ukrainian police said the action took place "without serious violations of public order" although "several activists threw bottles of zelyonka." Zelyonka is an indelible disinfectant often used in Russian and Ukrainian protests to shame targets.

Ukrainian police said they were working on identifying the attackers but it was not clear yet whether the incident would be recorded in the unified register of criminal investigations.

The Russian version of the story differed: they said there were 100 demonstrators, and that they behaved "aggressively"; they damaged a consulate sign, threw eggs and paint and blocked the consulate.

-- Catherine A. Fitzpatrick