A Few Thousand Rally in Dnipropetrovsk; Kolomoisky in Switzerland
A rally took place in Dnepropetrovsk today to see off the outgoing leadership of the region, but former governor Igor Kolomoisky did not take part as he had flown to Geneva, Gordonua.com reported.

Local authorities took "unprecedented" measures of security, Gordonua.com reported, likely due to fears of "provocations" and mindful of the recent bombing of a rally in Kharkiv in which 4 people were killed.

A 34-year-old resident of Pavlograd was detained and accused of preparing a terrorist attack at the rally, the Ukrainian Security Service (SBU) reported.

"Security measures are unprecedented. The roofs are being worked, and a hound named Yuniy knows his job," said parliamentarian Borys Filatov on his Facebook page.

Turn-out was modest as rain began to fall, photojournalist Yevgeny Feldman reported. Organizers said "7,000 attended," but Gordonua.com also showed a photo which looked like there were less in attendance, closer to the 1,500 estimated by the publication Bukvy.
Gennady Korban, Kolomoisky's former deputy, Svyatoslav Oleynik and Filatov spoke, thanking people for their support.
Kolomoisky was forced to resign last week after conflict with President Petro Poroshenko over the removal of the director of Ukrnafta, an oil company where Kolomoisky owns 43% of the shares, and the issue of Kolomoisky's financing of the volunteer battalions which have been fighting Russian-backed separatists.
Translation: I managed to get to Dnipropetrovsk to the rally with Kolomoisky's team, there aren't many people, it's raining.

Translation: Filatov: we are leaving. God is our witness, we did not steal and did not put our own people in all over in comfortable positions.

Translation: Parasyuk Sotnik thanks Dnipropetrovksk: we are united and we will defeat the Kremlin scum.
Translation: Lyashko thanked Dnipropetrovsk by video communication and "all of Benya Kolomoysky's team."
Oleg Lyashko, head of the Radical Party, is a member of parliament.

Anton Gerashchenko, former advisor to the Interior Ministry and now a member of parliament was spotted at the rally.
Translation: Anton Gerashchenko is walking along and writing in his Facebook.
On his Facebook, Gerashchenko posted a picture of the rally and had this comment (translated by The Interpreter):
Dnipropetrovsk, Maidan Heroes Square - now!

Multi-thousand rally of Dnipropetrovsk residents in support of United Ukraine!


I came to support my comrades - courageous and strong people, thanks to whose help a year ago we managed to keep Ukraine from collapse.
Other bloggers were not as charitable:
 (Translation by The Interpreter):

Not a f**king whole lot of dillweeds in fact. It's hard for the patriots without the budget workers ).


Gentlemen, this is a cold shower for Benya's lackeys. And the problem wasn't a little rain.

"Dillweed" is a pejorative name for Ukrainians and "Benya" is a nick-name for Kolomoisky often used scornfully to emphasize that he is Jewish. The implication is that without the ability to turn out state employees, rallies don't get much attendance.
-- Catherine A. Fitzpatrick

Ukrainian Military Claims Russian-Backed Fighters Shelled Village With Grads
The Ukrainian military claims that Russian-backed fighters fired Grad rockets at the Ukrainian-held village of Novotoshkovka last night.
Ukrainska Pravda reports that the ATO press centre announced that 20 rockets had struck a residential area of the village, in the Lugansk region, and another 40 had been fired at the nearby 29th checkpoint, the foremost Ukrainian position on the Bakhmutka highway.
The rockets were reportedly launched from the direction of separatist-held Stakhanov.
The military reported no civilian or military casualties. Photos of the affected area of Novotoshkovka were published: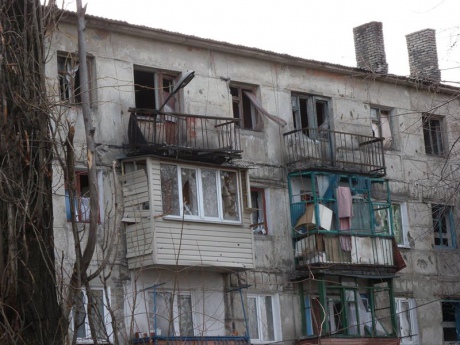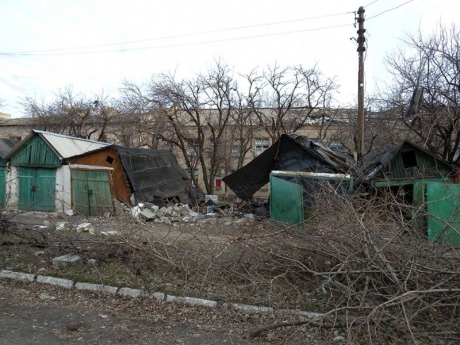 The press centre claimed that, after the shelling, two scouting parties attacked the Ukrainian positions. They were repelled by Ukrainian fire.
This is not the first time since the ceasefire that there have been allegations of Grad MLRS (which, under the Minsk agreement, must be withdrawn beyond range of the front line) being used.
Most recently, Anatoly Stelmakh, spokesman for the ATO press centre, claimed on March 23 that the village of Orekhovo, to the west of Novotoshkovka, had been struck with Grads. 
The governor of the Lugansk region, Hennadiy Moskal, reported that there had also been skirmishes between Ukrainian forces and Russian-backed 'Cossack' fighters near Krymskoye, to the north-east of the 29th checkpoint.
To the east, bursts of machine gun fire and mortar blasts were periodically heard in Stanitsa Luganskaya between 21:00 and 23:00.
Meanwhile, the ATO press centre also claimed today that the Ukrainian-held town of Avdeyevka, north of Donetsk, had been shelled last night with with 120 mm mortars, another heavy weapon that ought to have been withdrawn. There were also, they claimed, small arms attacks on the village of Leninskoye, near Artyomovsk.
To the south, outside Mariupol, Christopher Miller of Mashable reports:

-- Pierre Vaux
Fire at Plastics Factory in Dnipropetrovsk
A fire broke out last night March 27 at the Mekhanichesky Factory in the town of Novomoskovsk in Dnipropetrovsk Region, Unian.net reports.
The plant manufactures plastics and foam rubber.
Translation: Factory in Dnipropetrovsk Region in Novomoskovsk in smoke.
According to a local news site, a call to emergency services was received at 17:40 and five fire departments have responded to the blaze, which has engulfed about 1,800 square meters.
There are no reports of injuries.
Law-enforcers are still trying to determine the cause of the fire.
Today a rally is expected in Dnipropetrovsk featuring former governor Ihor Kolomoiskiy and other officials.

-- Catherine A. Fitzpatrick