Ukrainian Intelligence Intercepts Russian-Backed Fighters Call Admitting Shooting on Civilian Areas
Russian-backed fighters have been caught by Ukrainian intelligence discussing how they have accidentally aimed artillery fire on civilian areas.

A YouTube was uploaded today by the Ukrainian Security Service (SBU) December 6 labeled "Conversation of Terrorists about Firing of Their Artillery on Residential Areas." It claims to be an intercept of a conversation on December 3 between two Russian-backed fighters which reveals that the rebels discovered that they had fired accidentally on civilians.

The conversation takes place on December 3 after the separatists fired on the town of Novobakhmutovka (Novobakhmutivka) in the Yasinuvatsky District of Donetsk Region, which is about 32 kilometers north of Donetsk, and about 23 km north of the Ukrainian forces' position in Avdeyevka.
The first fighter is said to be named Andry Vyacheslavovich Shpiegel, whose nickname is "Rubin." He is said to be a member of the military police of the self-proclaimed "Donetsk People's Republic." The second person's name is not known, but he is reporting to Rubin.

The Interpreter has provided a translation:


Fighter: Can you call up, I don't know, the unified headquarters or somewhere...They just aren't picking up the phone for me...

In brief, right now they're working over Novobakhmutovka. They are just firing blindly on housing blocks.

That is, they are not landing where the "Dillweeds" are [nick-name for the Ukrainian troops], they are hitting the local population, civilians.

In 10 minutes, I'll find out where they are hitting, exactly. And then I'll report the information.

Shpigel: Well, alright.

Fighter: Let them...what can I say...the artillery...

Then next part of the conversation is said to be between Shpigel and a man nicknamed "Kolizey" [Coliseum], the DPR duty officer.

Shpigel: Yes, yes, Kolizey?

Kolizey: Yes, I hear you!

Shpigel: Kolizey?

Kolizey: Yes, I hear you!

Shpigel: Some news came in: we've got a friendly...hello on Novobakhmutovka.

The coordinates are incorrect, they're not landing where they should. People are prepared to correct it.

Kolizey: I understand.

Shpigel: Don't go there where you're going now.

Kolizey: I understand. So how to...how to say...think up something so it will be pretty?

Shpigel: Now, in 10 minutes, they will call and give specific information.

Kolizey: Alright

Shpigel: So stop it in that direction for now, it's clearly wrong, the wrong people are suffering.

Kolizey: I get it, good, good. Just a second, I'll report it.


We haven't seen any news today regarding civilians injured in Novobakhmutovka.

As we reported On October 18, Russian-backed separatists fired on Novobakhmutovka among other towns in Donetsk Region.
On December 2,  Oleg Boyko, head of the Ukrainian staff and Aleksei Matveyev, the Russian military representative at the Joint Center for Monitoring and Coordinating the Ceasefire in the Donbass issued a video message  in which they spoke of three areas as the most problematic in keeping the ceasefire: Novobakhmutovka, the Donetsk Airport, and Schastye, Vkulake.com reported. They said there were multiple instances of artillery fire in these three areas.
The two officials went with OSCE to speak with representatives of the various areas to discuss implementation of the ceasefire.
-- Catherine A. Fitzpatrick

Vinnitsa Protesters Storm Regional Building; 7 Police Injured, 1 Demonstrator; Multiple Injuries, Arrests
Several hundred protesters stormed the Vinnitsa Regional Council this morning December 6, Vinnitsa.info, Novosti Donbass, TV Rain reported. Some threw rocks and smoke-bombs. At least 7 policemen and 1 demonstrator were reported injured, and a number of arrests were made.
The building has been surrounded by police and the Vinnitsa Batallion which recently returned from combat, says Vinnitsa.info, a local news site.

The demonstrators gathered this morning at the Regional Administration Building, unhappy with the officials they claimed were corrupt, starting with Anatoly Oleynik, head of the regional administration, or governor,
Vinnitsa, info
reported.

Injured police officer. Photo by Novosti Donbassa

The demonstrators burned an effigy labelled "Oleynik," and chanted "Police are with Gangsters!" Some held posters urging Svitko to "get out."
Others held up signs of former Party of Regions officials.
The Vinnitsa Regional Council was being convened for the third time by Sergei Svitko, head of the regional council, when the crowd assembled.
Vinnitsa is about 250 kilometers southwest of Kiev, and has not been a site of conflict in recent months.

Local reporters said the Interior Ministry confirmed the police injuries, but currently the Ministry's website is down with server error messages.
Demonstrators demanded that Igor Morenets, head of the regional police, resign after severe beating of people near the regional council.

Morenets came out to meet with protesters twice.

A local news agency, 20 minutes, reported on his remarks (translation by The Interpreter)


At first he said that he was analyzing the situation and would make a decision about his possible resignation. The next time he reported that 7 policemen had been insured in clashes outside the regional council. An investigation will be conducted. The initial results will be published on Monday, De3cember 8. Then, said Moronets, he would make a decision regarding his possible resignation from the post of chief policeman of the region.

Translation: Vinnitsa: 7 police hospitalized, demonstrations demand 'lustration' for the head of the regional Interior Ministry.
-- Catherine A. Fitzpatrick

Russian-Backed Separatists Fire Grads in Debaltsevo; 1 Ukrainian Soldier Killed, 2 Wounded
Russian-backed separatists fired Grad missiles in a battle in Debaltsevo this morning, killing 1 Ukrainian soldier and wounding 2, Unian.net reported.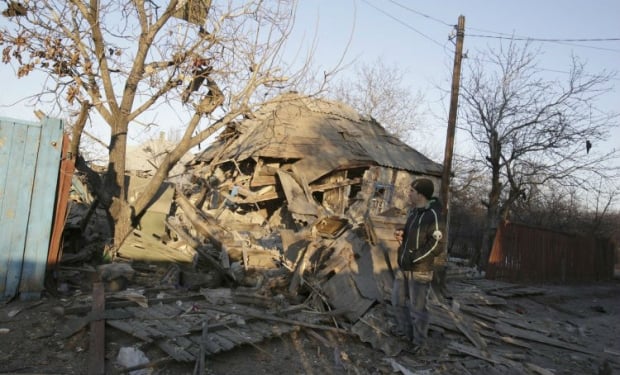 House hit by shelling in Debaltsevo. Photo by Unian.

The Ukrainian soldier was nicknamed "Granddad" because he was 61 years old. He died of a head wound, Vitaly Panich, a Ukrainian parliamentarian from Kiev reported on his Facebook page.