All Chechen Fighters Have Returned Home from Donbass, Says Kadyrov
7 years
Chechens who volunteered to fight on the side of the Russian-backed separatists are returning home to Chechnya, Chechen leader Ramzan Kadyrov said in an interview with RIA Novosti today (translation by The Interpreter):

There were volunteers there, now they aren't there. When the ceasefire came, all of our volunteers were invited home: come sit at home...Now there shouldn't be a single person [from Chechnya] there at all. The hooligans we had there, we've brought home.

Kadyrov had once said that he himself would take leave from office to lead the troops in support of Russia's interests if need be,
RBC.ru reported.

Kadyrov had admitted to Chechen volunteers in the past
as we have reported
, but denied they were sent on mission from the Chechen Interior Ministry troops which he virtually controls, although they are supposed to be under federal control.
Even so, Chechen policemen and special forces have been reported fighting at the Donetsk Airport and other battles. Chechens under the  leadership of a commander with the call-sign Dikiy ("Wild") have
taken over the town of Krasnodon
near the Russian border. Chechen fighters have also been reported as killed in action in Ukraine.
Kadyrov continues to deny that Russia is even involved in the conflict:
If there was such a policy, if we had the need to go out to the Donbass, why would I go to the Donbass, when there is Kiev? Until a person smells the scent of gunpowder, he doesn't understand what war is. And those politicians who sit there in parliament and other offices, it is easier for them to speak of war when war is far from them. When they sense what war is like, they will quickly make a decision. If, as the say, Russia were taking part in this, they would have long ago sensed this.

Last year, at one point Kadyrov
threatened to send 74,000 Chechen fighters to Ukraine
-- but couched it in terms of a denial that he was sending any at all, and only a handful of volunteers happened to have gone.
"If I had sent them, it wouldn't only be 14, and not just to Donetsk. Why Donetsk, if the enemies are now in Kiev?"

He implied that he was restraining volunteers champing at the bit to help Russia's cause in the Donbass, and made one of his typical over-the-top remarks
to a Nedelya journalist
:
If I didn't restrain them, there'd be not 14, but 4,000. War is in the blood of Chechens. They like it. I love this cause myself. I could even kill you, but you don't think of that.


Kadyrov has also issued ultimatums to Chechens fighting on the side of Kiev, such as the late Isa Munayev, who was killed at Debaltsevo. "Return home immediately, it's your only chance to stay alive," he warned.

The Chechen president has had a busy week. While Moscow pundits frequently speculate that he needs "reining in" by the Kremlin and poses a challenge to them, he fills his Instagram feed with numerous pictures of himself with Russia's top leaders.

Recently he took a selfie with Prime Minister Dmitry Medvedev:
Then he posed with Security Council head Nikolai Patrushev:
And finally, he met with Vyacheslav Voldin, the first deputy chief of staff of the presidential administration, in front of a mural showing that President Vladimir Putin loves puppies and daisies.
He also has pictures from a visit by Sergei Melikov, the presidential representative to the North Caucasus.

All of these top official meetings in either Grozny or Moscow followed some muscle-flexing by Kadyrov earlier this month when he put all his troops on combat readiness for inspection.
Kadyrov also took time out of his busy schedule -- which included prayer at the mosque and handing over to tenants 44 apartments that a landlord was going to evict them from -- to wish the FSB's Alpha Division a happy birthday.

In that post he mentioned -- without showing any picture -- Daniil Martynov, a Russian veteran of Alfa from the Soviet era who serves as his aide and who was shown in a rare picture not long after the assassination of Boris Nemtsov, when there was speculation about how the FSB might not have control over Kadyrov.

And among Kadyrov's many photos of relatives this week was one of his cousin, the boxer Adam Yandiyev-Boroda, where he and his three young sons opened a room with the Prophet's relics.

Kadyrov also featured a buddy shot with Sagid Murtazaliyev whom he calls a "BROTHER" (this all-caps version of the word in his posts is reserved for actual relatives and very close friends) whom he called  "a true patriot of Russia" who was put  under investigation this week by federal authorities -- though Kadyrov says it is merely revenge and persecution over a misunderstanding. Murtazaliyev is rumored to have fled to the United Arab Emirates.

Lenta.ru tells the colorful tale (translation by The Interpreter) of the arrest of Murtazaliyev's associate, Andrei Vinogradov, head of the Kizlyar District in Dagestan:

The arrest and searches came on Constitution Day -- one of the main republican holidays -- a day off, when no one is at their desk. Dagestan Leader Ramazan Abdulatipov, for example, according to the official version, left Makhachkala for the mountains and was not available for up-to-date commentary. Thus, all the investigative actions "in the field" took place far from many interested eyes. The deployment of the "federals" -- FSB spetsnaz -- was through Chechnya to Dagestan from Mozdok in Northern Ossetia. There was a brief storming of the home of Kizlyar District head Andrei Vinogradov, imposition of a KTO (counter-terrorism operation) regimen and the now-traditional procedures with helicopter evacuation of the detainee. There was a search of many hours at the mansion of Sagid Murtazaliev, deputy of the Dagestan legislature and head of the Dagestan Department of the Russian Pension Fund who is now outside of Russia -- a home at Chernyye Kamni (Black Rocks), a prestigious district of Makhachkala on the shore of the Caspian Sea.

One did not have to guess for long the reason for his arrest -- a special thanks to the investigation for that. If even some of the rumors long established in Dagestan are true, then investigators of the case against Murtazaliev, who known as Golodny (Hungry) and his group, will be long and quite diverse. A collection of possible charges are circulating on various sites about the North Caucasus -- contract murders, theft  of oil from the pipeline from Baku to Novorossiysk, smuggling of caviar, racketeering and kidnapping, and unlawful confuscation of budget funds.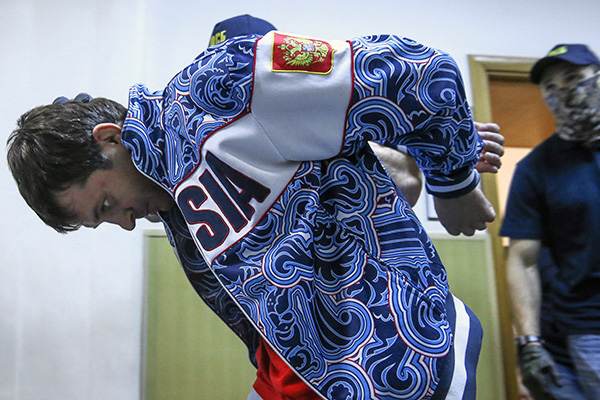 Anton Vinogradov. Photo by Anton Novoderezhkin/TASS
If the long-tolerated Murtazaliyev and his lieutenants are going down, could the noose be tightening around Kadyrov himself? He shows no sign of it.

His most crowd-pleasing post from recent weeks (27,100 likes already) was an admonition that women should not be allowed to handle guns.

-- Catherine A. Fitzpatrick