The Evidence About Who Shot Down MH17 Is Overwhelming
7 years
The Russian-backed fighters shot down MH17, with a Buk missile which was spotted in Russia both before and after MH17 was shot down. That is the conclusion of the report published by
The Interpreter
in
The Daily Beast
, our attempt to make
the most comprehensive examination yet
of the MH17 disaster.
The Daily Beast
How We Know Russia Shot Down MH17
It's been a year since Malaysia Airlines Flight MH17 was shot out of the sky, killing all 298 civilians onboard. The results of the official inquiry have yet to be released, and while the fact that this Boeing 777 was immolated has not been disputed, various theories have been floated by the Ukrainian government, the Russian government, and other interested parties as to how it was and who ultimately bears responsibility for this tragedy.
View full page >
One item in the report focuses on audio tapes released by the Ukrainian government which reportedly prove that the Russian-backed fighters had received a Buk, thought they were about to shoot down a military aircraft, and then learned that they had actually shot down a civilian airliner.
In one conversation, the voice of separatist commander Igor Bezler can be heard talking to one of his fighters about an aircraft which was approaching his territory:
Soon after the first audio leaks were released, and perhaps in a hurry to deny responsibility for an incident that had killed so many innocent civilians, Igor Bezler released a statement in which he admitted that it was indeed his voice on the recording with Geranin. But that conversation, Bezler insisted, happened before July 17, when a different plane was shot down. Bezler accused the SBU of editing the recording to make it sound like he was referring to MH17.

So Bezler confirms the authenticity of the conversation but denies its context. Yet in his confirmation is an important revelation: In his phone call with Geranin he describes a plane traveling over Enakievo, a town MH17 passed over before it was struck above Snezhnoye. This plane is described as flying at a high altitude (as was the one discussed between Bezler and Naymanets in the other intercepted conversation).

And yet according to the ARES analysis of all downed Ukrainian military aircraft until November 2014, no plane or helicopter was hit anywhere near Enakievo before July 17. (A MiG-29 fighter jet was downed close to the town on August 7.) Bezler cannot have been right in claiming that his conversation with Geranin occurred before MH17 was blown up
As you can see from this map, no aircraft were shot down in the area of MH17 before July 17:

Another important point in the report -- the Russian narrative has constantly changed. At one moment the KRemlin is saying that a Ukrainian Su-25 fighter plane shot down MH17, and at another moment they claim it was a Buk, but a Ukrainian Buk. Both theories are debunked in the report, but the point is that these two mutually-exclusive stories keep being spread by the Russian government and the Russian state-run media:
In a separate article for Reuters, I gave my reflection on the results of the report:
I have been compiling and analyzing information gathered over the last 12 months by field reporters and bloggers, statements from the Russian and Ukrainian governments, and the investigations launched by various government and non-government agencies, including the official inquiries of the Dutch Safety Board. The goal is to find and address similarities and discrepancies, and to use new information to verify or debunk parts of the narrative put forth by either the Ukrainian or Russian governments.

One theme struck me — just how well eyewitness testimony, the investigations of many journalists, videos and pictures uploaded by citizens of Ukraine, and even the intelligence assessments of the Ukrainian and Western governments all dovetail together with, ironically, the initial statements of the Russian-backed separatists in Ukraine to form a more complete and largely-harmonious picture of what happened that day.

Reuters
Russia-Ukraine conflict: Proof of MH17 tragedy's real culprits grows
One year ago, Malaysian Airlines Flight MH17 was shot out of the sky over the war zone in eastern Ukraine, and one year later we are closer than ever to proving who is ultimately responsible for this tragic act.
View full page >
Today I was a guest on RFE/RL's "Power Vertical" podcast, discussing the implications of MH17 for Russia's relationship with Europe. That recording can be heard
here
:
RadioFreeEurope/RadioLiberty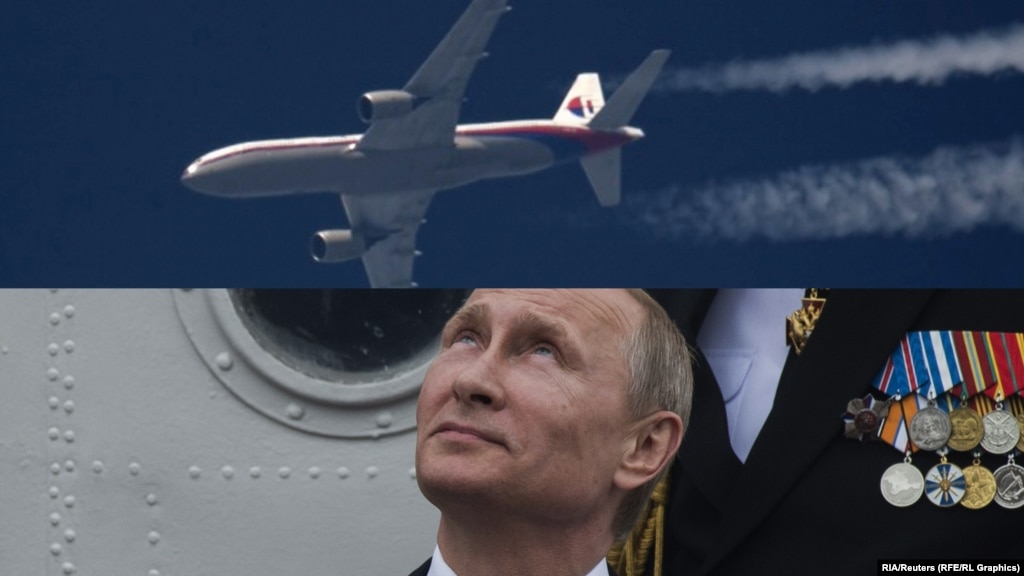 Podcast: When Putin's Ukraine War Went Global
One year after the downing of Flight MH17 killed 298 people from 10 countries on four continents, the evidence continues to mount that pro-Moscow seperatists in Ukraine -- and perhaps Russia itself -- were responsible. And as the evidence piles up, pressure is building for an international tribunal to prosecute the guilty parties -- pressure Russia is strenuously trying to resist.
View full page >
-- James Miller