Druzhinniki Volunteer Police Patrols, a Staple of Soviet Era, Revived in Russia
5 years
Street patrols which President Vladimir Putin called to renew in his speech to the Interior Ministry in March are now being deployed, Kommersant and Gazeta.ru report.

Right after opposition leader Boris Nemtsov was assassinated in March, President Vladimir Putin spoke at the annual meeting of the Interior Ministry and called for "an end to political murders" in Russia.

This part of his speech was widely reported as a positive and even exculpatory statement, but it was only one quote from his speech. After that he used the fact of this murder on the street to make a larger point about the need to patrol city streets and deter street crime -- although Nemtsov's murder was a planned assassination, not a street fight.

Putin noted that the number of crimes in public places had increased by 8.5% and extremist crimes of "militant nationalism, intolerance and aggression" by 15%.
"What this can lead to we see very well with the example of our neighboring country, Ukraine," he cautioned -- although he meant not the Russian-backed militants, many who came from corrupt law-enforcement or the criminal underworld who took over buildings in the Donbass, but Ukrainian ultranationalist groups, some of which have fought in voluntary battalions.

There have been several incidents of fist-fights, gunfights and even murders of policemen in Russia that have been committed by fighters returning from the Donbass. The reasons for the sharp increase in street crime and extremism haven't been stated, but many associate it with a more aggressive tone in state media.

Putin outlined a plan to revive the druzhinniki or auxiliary police following a law passed in April of last year. The people with red arm-bands were known in Soviet times and were sometimes used to harass activists at the rare demonstration or more common political trial but were mainly deployed to add to the already intrusive police presence in apartment complexes and to handle crowds at public events.


Druzhinnik in Moscow in 1978 near the Kremlin. Photo by Catherine A. Fitzpatrick
Now the ruling party, United Russia, has announced that they will provide the volunteers in a project called "Safe Capital," Kommersant reports.

United Russia says they will patrol Moscow streets and courtyards. They are looking for volunteers of "strong athletic build" from the "around the fighting brotherhoods" -- a reference to an organization of veterans called Battle Brotherhood, founded by former Afghan major Boris Gromov, who was governor of Moscow Region for a time, and now promoted by Dmitry Sablin, member of the Federation Council.

Other groups they said they would recruit from included the Union of Paratroopers of Russia, the Union of Veterans of the Vilnius and Riga OMON or riot police, and also among Cossacks. The participants will cooperate with the system of police public security booths known as OPOP and will wear the "party uniform" with its trademark bear.

United Russia says they won't be tied to the Anti-Maidan movement although Battle Brotherhood is among its founders and they concede that they will maintain order at public rallies along with police. They said they will focus on illegal parking and illegal drug sales. They expect to make raids on stores to see if all the goods in them are legal and swoop down on people getting high in playgrounds.
Even though we are recruiting strong guys, they must be able to talk -- for example to the grandmothers on the benches about what concerns them.
Currently, they undergo 12 hours of training says Kommersant.

The patrollers are going to make a map  of "crimogenous zones" and "conflict centers" in concert with the department of public safety in the mayor's office.
A volunteer dons the druzhinnik armband. His vest says "Migration Control" in Russian and English to enable him to chase illegal migrants.

The druzhinniki say they are needed because there is only one cop on the beat per 2,000-3,000 residents. They tested the program in three districts of Moscow including Lyublino, which aside from being known as an area of gang fights is the electoral district of Inna Svyatenko, the United Russia member who is head of the Moscow City Duma safety commission and who will lead the Safe Capital program.

Mikhail Velmakin, municipal deputy from the Otradnoye District told Kommersant that "nothing useful" would come out of the project.

"It's a PR move, nothing more. There have been many attempts to create the institution of druzhinnikov and nothing has come of it. In any event, they don't have the authority the police officers do."
The patrols are expected to raise the ratings of United Russia, which have slumped in recent years.
Druzhinniki existed in the tsarist era and were institutionalized in the Soviet era as part of the oppressive police state. After the fall of the Soviet Union, they were not entirely discontinued but the emphasis on them waned, depending on the situation in different cities.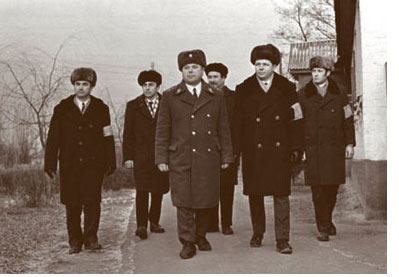 Druzhinniki in Estonia in the 1980s.

In surveys made by the Public Opinion Foundation in Russia last year,  64% said druzhinniki were necessary; 31% did not see the need for them. Fifty-five percent of Russians said they weren't opposed to having the druzinniki check their documents in the presence of police. But 62% did not want them searching their personal belongings or automobiles.

Asked what the druzhinniki were supposed to do, 11% said they were supposed to "help people" and 9% said they were police helpers; 5% said they should "monitor the behavior of children and youths on the street."

-- Catherine A. Fitzpatrick