Riot Police Block Human Rights Day Rally In Simferopol
7 years
In Russian-occupied Crimea, OMON riot police and pro-Russian 'Self-Defence' units have cordoned off Lenin Square in the centre of Simferopol, preventing a rally due to be held by Crimean Tatars to mark Human Rights Day.
A metal fence has been established around the square and is being patrolled by police and paramilitaries.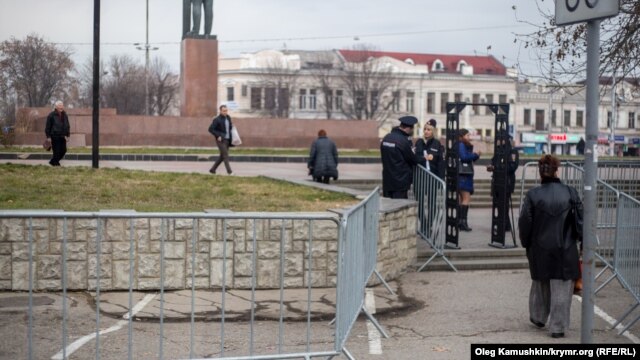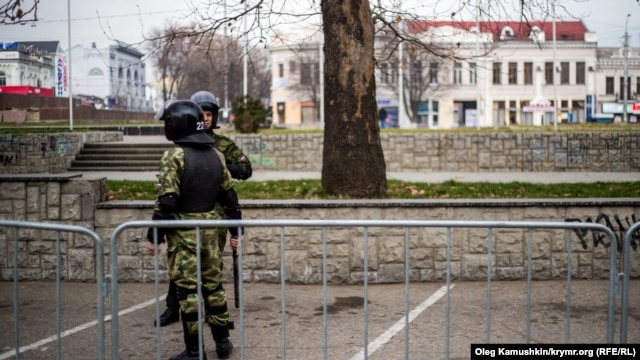 Crimea's QHA news agency reports that both 'self-defence' personnel and soldiers in combat gear are on guard outside the building housing the Council of Ministers of the Republic of Crimea. Police are patrolling the streets of the city centre. 
QHA notes that (translated by The Interpreter):
closing the city's central square ahead of actions initiated by the Crimean Tatars has already become a "tradition" in Simferopol.
RFE/RL's Ukrainian Service, Radio Svoboda, reports that the security forces told journalists to leave the square and demanded that photographers hand over their memory cards.
Yesterday, Laura Mills and John-Thor Dahlburg reported for the Associated Press on the continuing persecution of Crimean Tatars living under the Russian occupation. They focus on the Tatar community in Sary-Su, where armed troops have cracked down on protests following the abduction and disappearance of two young Tatar men in September.
Their full report can be read here.

-- Pierre Vaux